What Happened to Rebecca on 'This Is Us' and What Has Mandy Moore Said?
Rebbeca Pearson breathed her last breath on the penultimate episode of This is Us, which aired on Tuesday, May 17.
Fans of the show have been preparing for the character, played by Mandy Moore, to meet her end for some time, but the moment proved to be a poignant one nonetheless.
Here is everything you need to know about what happened to Rebecca in the episode, titled "The Train," and how Moore has reacted to reaching the end of her character's story after six seasons.
What Happened to Rebecca Pearson on 'This Is Us'?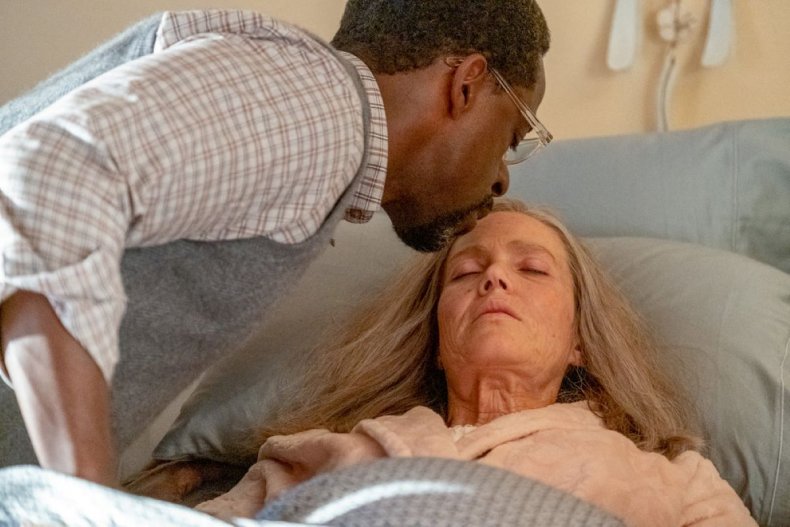 "The Train" was set in two locations, at Kevin Pearson's (Justin Hartley) home and on the titular locomotive, where Rebecca is seen as a young woman.
At Kevin's home, Rebecca is unresponsive to nurse Laila were she tells Kevin and Randall (Sterling K. Brown) that their mother is not long for this world.
Kate (Chrissy Metz), Kevin's twin sister, is not at the house because she is on her way back from London to be there with the family.
On the train, Rebecca meets William (Ron Cephas Jones) who helps guide her through the vehicle as she professes that she is "waiting for someone," but the pair reminisce about her life.
Everything that her children and their significant others say to her in the real world can be heard by Rebecca on the train, and she reflects on things like Kevin's painting and discusses her children with Dr. K (Gerald McRaney) and she also sees her second husband Miguel (Jon Huertas) on the train, albeit too briefly.
Although William tells Rebecca that the train is "moving fast" she continues to say that she is waiting for someone, and it's soon revealed that someone is Kate, who arrives home in time to say her farewells to her mother.
On the train, after hearing her children's goodbyes Rebecca speaks to William about how "the end" is sad, to which he says it means what came before was "pretty wonderful."
Back in Kevin's house, Randall tells his mother to "tell him 'hey'" which prompts a reaction from Rebecca, who squeezes his hand.
On the train she heads into a carriage with a bed in it, and when she lies down and turns over she sees her first husband Jack (Milo Ventimiglia), and the episode ends with the two saying "hey" to one another.
What Has Mandy Moore Said About Rebecca's Fate?
Moore took to Instagram after the episode aired to share some photos from set and to bid a final farewell to Rebecca.
Her first post contained images from her scenes with Jones that showed her heading into the final train car, which she captioned with the quote: "I'm waiting for someone."
The second post featured pictures and videos of her and Ventimiglia, one behind-the-scenes video showed the actors hugging each other, while in another photo they were shown filming their last scene together.
Marking the moment, Moore wrote in the caption: "'If something makes you sad when it ends, it must have been pretty wonderful when it was happening'... and with that, one last car. The caboose."
Moore also shared a video to her Instagram stories prior to the episode airing, in which she told fans she'd seen the episode at a private screening and felt it was something "really special."
She added that the episode was "probably [her] favorite of the entire series, of the almost 106 episodes," and she heaped praise on writer Dan Fogelman for "the most beautiful script [she's] ever read" and the crew for their "precision and grace."
The finale for the This is Us final season airs Tuesday, May 24 on NBC at 9 p.m. ET.