Thousands of Americans Reportedly Join Ukraine's Fight Against Russia
Thousands of American volunteers willing to defend Ukraine against Russia's invasion have signed up to join the International Legion of Territorial Defense, according to Military Times.
The legion was created by Ukrainian President Volodymyr Zelensky to help strengthen Ukraine's military against the Russians. Some Americans who have signed up to join forces with Ukraine are on the ground already.
The country under siege has received more than 3,000 applications from people in the United States who want to fight, a defense official with the Ukrainian Embassy in Washington, D.C., told Military Times on Thursday. Many veterans are reportedly among them, but specific figures have not been given.
"The first groups are already in the battlefield," a Ukrainian official told Military Times Monday. "A new group goes to the combat area every day."
"Volunteers from the United States, Great Britain, Sweden, Lithuania, Mexico, and even India. More to come," Ukraine's Armed Forces reported on Twitter.
Zelensky reported roughly 16,000 foreigners in total have volunteered to join.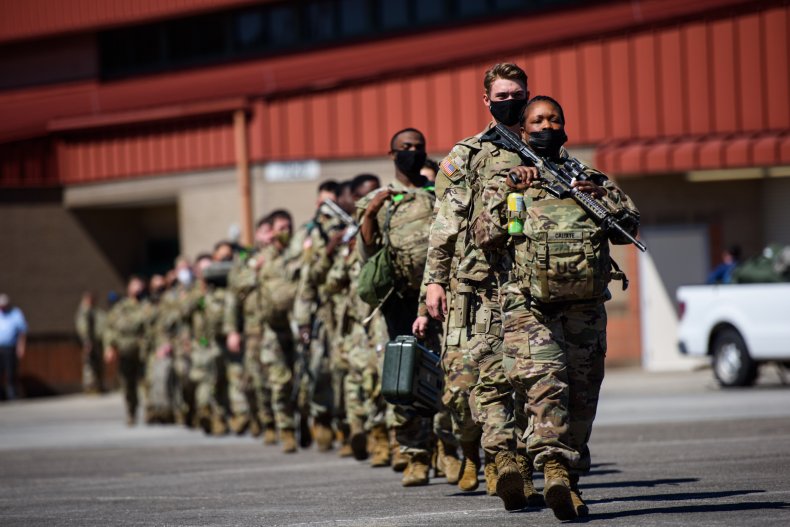 Ukraine isn't just looking for any kind of volunteers: Officials stressed that they are looking for foreign volunteers with combat experience who require little training before being armed and sent to the frontline.
"We are asking for trained people to come," said an official in Ukraine. "We don't have time for training."
Pentagon spokesman John Kirby urged Americans to stay home and not travel to Ukraine as volunteers.
"I don't have an estimate of Americans who might want to be volunteering to go there," Kirby said, according to Military Times. "I would say what I said last week, if you're an American and you want to do right by Ukraine, the best thing you can do is find a way to donate to so many agencies that are trying to deal with what is now clearly a humanitarian crisis in the region, and certainly there in Ukraine. We still do not believe that Ukraine is a safe place for Americans to go. We urge them not to go and if any are still there, we urge them to leave."
The State Department has also warned that being "recruited or hired" to join a foreign military while in the U.S. may violate a Supreme Court decision.
"The Supreme Court endorsed a lower court ruling that it was not a crime under U.S. law for an individual to go abroad for the purpose of enlisting in a foreign army; however, when someone has been recruited or hired in the United States, a violation may have occurred," the State Department said in a release.
Newsweek reached out to the U.S. Embassy in Ukraine for comment on U.S. military volunteers.