Thousands Expected to Form 'Ring of Peace' Around Oslo Synagogue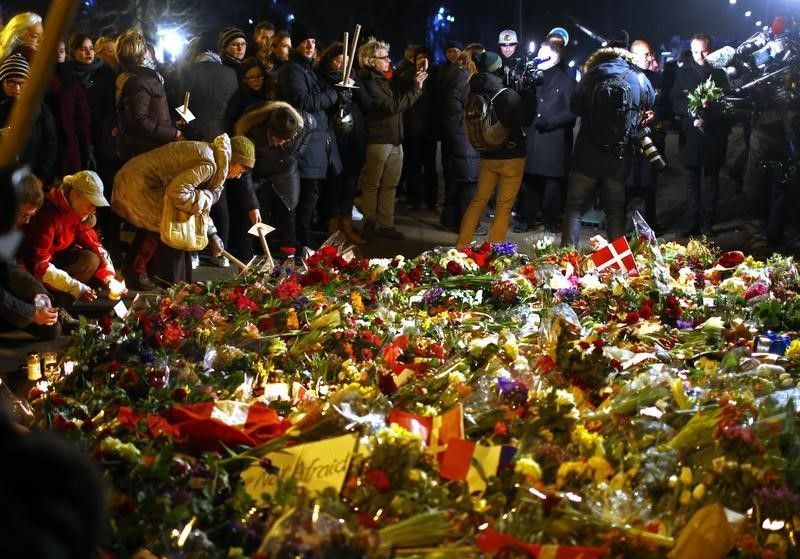 Updated | Thousands of people are expected to protect an Oslo synagogue on Saturday by forming a human ring of peace in an event organized by a group of young Norwegian Muslims.
There has been no specific threat against the synagogue. The "Fredens Ring," or Peace Ring, is a symbolic act designed to protect the Norwegian capital's only synagogue from radicalist violence after the deadly shooting at a synagogue in Copenhagen last week killed one man, a guard at the synagogue. The synagogue attack followed a shooting at a free speech debate in a Copenhagen cafe hours earlier, where one man was killed.
The ring of peace will start forming at 5:30 p.m. and will last until around 7:30 p.m., allowing Shabat to finish and for members of the Jewish community to join in the ring, according to the group's Facebook page. Nearly 2,000 people are expected to show up.
"We the people have to decide what kind of society we want to live in, that's the main idea behind the ring," said Zeeshan Malik, 37, one of the organizers.
Organizers of the event are determined to show that Muslims "strongly condemn all type of anti-Semitism and hatred towards Jews," according to the group's Facebook page. Most of Norway's roughly 1,200 Jews live in Oslo, a city of 618,000, according to the World Jewish Congress, and the city has one synagogue.
The synagogue's security, Oslo police and volunteers patrolling the event will help protect worshippers and supporters. Oslo's police, both uniformed and plain-clothes, are preparing for a crowd of 2,000 to 2,500 people, said Malik. Even though the group is drawing a large amount of attention to the synagogue, Malik said the temple's leaders were happy and cooperative with the plan.
The group's seven organizers are all young Norwegian Muslims, ranging from 17 years old to members in their late 30s. While they planned the human shield in four days, just after the deadly attack in Copenhagen, the event symbolizes their frustration at a number of religiously motivated violent attacks in Europe over the past few months, including the burning of two mosques in Malmo, Sweden, in December and threats against Europe's Jews that are causing record numbers of them to emigrate to Israel.
The Copenhagen attacks were seen by the group as the last straw and Malik said the group wants to ensure the Jewish community in Oslo and across wider Europe feels safe despite the threats against them.
After the shootings in Copenhagen, "I felt a bit of shame, that these people say that they're Muslims and they go and kill innocent people," said Hassan Raja, one of the organizers.
Norway, which was struck by tragedy in 2011 when Anders Breivik killed 77 in twin attacks at an island summer camp and an office building, has lived through one bout of terror, but the shooting in Copenhagen is a reminder that the threat still lingers.
"These things are getting very close: Paris, Madrid, Copenhagen," said Malik. "We don't know the kind of people who are behind this."
The group has received negative comments from Muslims and non-Muslims alike, including a pro-Israel Norwegian organization, although the negativity has been vastly outweighed by an international outpouring of support, said Malik.
"The comments have been like, 'OK, you're doing this now, but why didn't anyone take such action when the mosques were burned in Malmo, Sweden,' and questions like that," said Malik. "We have to try and make them understand that you cannot compare incidents with incidents, it's wrong, it's not good. We have to take it one step at a time."
Reaction from international Muslim and Jewish organizations has been supportive of the event.
The World Jewish Congress welcomes the Peace Ring and says combating anti-Semitism shouldn't just be the job of the world's Jews.
"This show of goodwill serves as a model for fighting the resurgence of anti-Semitism in Europe and reminds us that there are voices of reason in all communities," Ronald S. Lauder, president of the World Jewish Congress, said in a statement emailed to Newsweek. "Unfortunately, there are not enough who are willing to act against hate and terror."
"We welcome this initiative as it is not only a great demonstration of interfaith fraternity but a strong stand against radicalism and violent extremism, which has swept our continent," Dr. Moshe Kantor, president of the European Jewish Congress, said in a statement emailed to Newsweek.
"As Europeans, we must work together to send a strong message to the extremists that your hate is not welcome and your violence is anathema to European values," he said.
Ibrahim Hooper, spokesman for the Council on American-Islamic Relations, a Muslim rights organization, said the group welcomes any type of action that will help prevent "this apparent downward spiral of mutual distrust and hostility" between the Jewish and Muslim communities.
"This is the real danger that we all face, that positions on all sides harden and people just quit interacting as normal human beings. I think actions like this go a long way towards stopping that disturbing trend," said Hooper, adding that he hopes a similar ring of peace will happen in the U.S.
"There's been a tremendous spike in anti-Muslim hate rhetoric in the United States and in Western Europe and now, unfortunately, we're seeing that hate rhetoric turned into violent incidents," said Hooper. Recent incidents include the shooting deaths of three Muslim students in North Carolina last week and threatening voicemails left at an Ohio mosque.
"What can you do when you're constantly condemning the ideologies behind the attacks and then you're blamed that you're not doing enough, which is what we hear constantly. Other than parachuting into Mosul, I'm not sure what people expect us to do," said Hooper.
Correction: This story previously stated the population of Oslo as 5.9 million. It has been updated to reflect the correct population, which is around 618,000, according to United Nations data.