Thousands of Indian Women Forgo COVID Protocols to Pray for Pandemic's End
Thousands of devotees violated COVID-19 restrictions when they gathered in the city of Sanand in Gujarat, India, on Monday to pray for the end of the pandemic.
Video of the mass gathering of women offering water at the Navapura village in Sanand Taluka went viral on Wednesday, according to RepublicWorld. The women marched as music played and gathered near the Baliyadev Temple, breaching social distancing guidelines and assembling without wearing face masks. The procession took place amid a local priest claiming the nation's ongoing second COVID-19 surge was because "the gods are angry," which prompted locals to take spiritual action.
The procession comes just the day before state of Gujarat announced tighter safety protocols. Gujarat's Chief Minister Vijay Rupani decided on Tuesday to impose COVID-19 restrictions, including a night curfew, in seven additional cities, and extended existing lockdowns in 29 cities until May 12, according to Yahoo News. The state government has ordered the closure of non-essential businesses, restaurants, pools and shopping areas as well as banned religious, social and political gatherings and other public events.
Despite an existing ban on large gatherings in the city of Sanand in the Ahmedabad district prior to May 3, Monday's processional happened anyway.
"The incident took place on May 3 at Navapura village where women had gathered in large numbers carrying water pots. A police team rushed to the spot on the same day and arrested 23 villagers, including sarpanch Gafabhai Thakor, for organizing this event. Police had also seized the music system from the spot," Deputy Superintendent of Police, Sanand Division, KT Kamariya said, according to Zee News.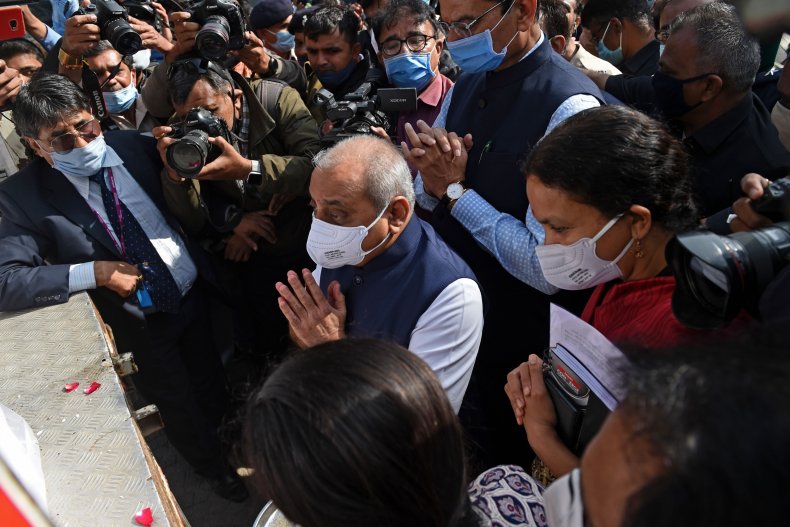 The viral video has spurred frustration amid soaring cases of infection in the world's second most-populous nation. As of Wednesday afternoon, India's Health Ministry reported over 40,000 new cases and 3,780 new deaths since the day before. The nation has reached over 200,000 total deaths as it braces for an "inevitable" third wave of the virus yet to come, India's top scientific advisor said on Wednesday.
And as hospitals, first responders and crematoriums struggle to keep up with the reality of so many sick bodies, misinformation in India about the pandemic is just as rampant.
Kamariya said that all accused people have been charged with violating a police order under section 188 of the Indian Penal Code and the Disaster Management Act and the Epidemic Diseases Act. These laws specifically pertain to "forms of speech that may constitute 'fake news' and have been applied to cases involving the spread of false news regarding COVID-19," according to the Library of Congress' website.
Further, under section 505 of the Penal Code, "statements conducing to public mischief" and subjects to a prison or fine "[w]hoever makes, publishes or circulates any statement, rumor or report...with intent to cause, or which is likely to cause, fear or alarm to the public..."
The Indian government took action against potentially dangerous disinformation about COVID-19 in late March 2020, when the Union Minister of Interior announced that "[r]umours are being spread about COVID-19 in the country leading to misinformation. FIR [First Information Reports or police complaints] will be registered against those involved in spreading of these rumors and strict action will be taken under provisions of the Disaster Management Act."
The federal government has struggled to adopt a national strategy to combat the virus, but high rates of fake news, conspiracy theories and unverified information on social media has exacerbated the issue, DW reported. And this week's procession shows the potency religious messaging has regarding the pandemic compared to the government's guidance, in addition to false information about vaccines, home remedies and the origins of India's second wave.
"Of these, health-related misinformation is more prevalent and diverse, followed by religious misinformation," Syed Nazakat, founder of Health Analytics Asia, a fact-checking initiative, told DW. "Most of the health misinformation deals with the pandemic and that too, when the country is also in the midst of a massive vaccination drive."
Newsweek has reached out to Nazakat for comment.