Thousands of People in U.K. Attend Black Lives Matter Protests
Thousands of people have turned out at a number of Black Lives Matter protests across the U.K., to protest against the death of George Floyd and police brutality, and to join in anti-racism demonstrations.
Different protests took place in cities including London Manchester, Leicester, Cardiff and Sheffield all took place from around 1 p.m. BST (8 a.m. EDT).
A minute's silence for George Floyd, Mark Duggan, Belly Mujinga, Derek Bennett and other black people who died in questionable circumstances, took place in Parliament Square in central London, with protesters kneeling and raising one arm--before beginning a march that took some towards the Home Office and past the Queen's Buckingham Palace residence.
Protesters seemed to be in high spirits, with drummers leading the march away from Parliament Square. Many protesters held signs, some of which were even made out of used Corona beer boxes.
"Institutional racism is rooted in housing, healthcare, the education system, the media, in fashion and beauty," Imarn Ayton, 29, told the crowd through a megaphone, as reported by The Guardian.
"It is rooted in recruitment and employment, in politics, in policing, in immigration, and the criminal justice system. It is seen but you cannot see it. It is everywhere but it is nowhere ... Today is the day where we say goodbye to institutional racism."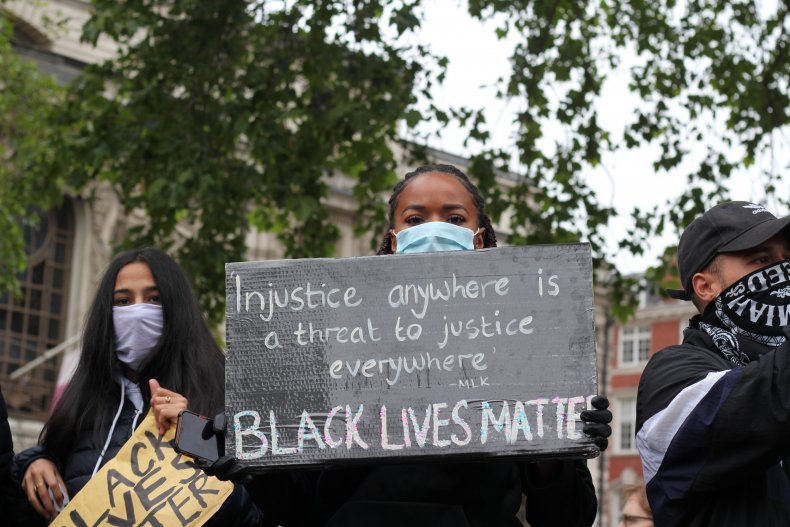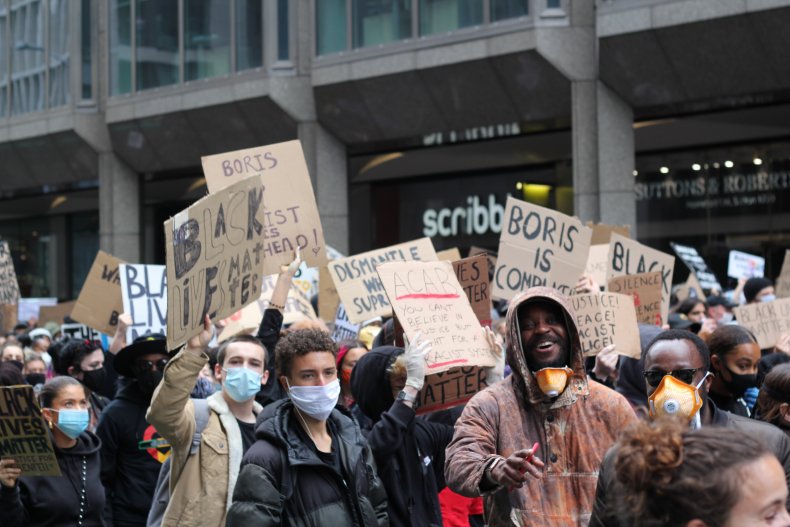 U.K. Health Secretary Matt Hancock had warned against protesters turning out, saying it would be against current health guidelines, limited to groups of six people.
"Like so many, I am appalled by the death of George Floyd, and I understand why people are deeply upset," Hancock said during a media briefing.
"But we're still facing a health crisis, and coronavirus remains a real threat."
Social distancing guidelines of keeping two meters apart were not maintained in Parliament Square, but many were wearing masks and gloves. Some signs said that racism "was the bigger pandemic," comparing it to COVID-19.
In Glasgow, campaigners renamed streets with links to the slave trade, reportedly replaced with signs representing the black community and victims of police brutality.
The protests come as the R-value rate of infections has shifted up slightly towards one, meaning the infection rate is going down more slowly, particularly in the North West and South West of England.
Met Police Commissioner Dame Cressida Dick said the protests were "unlawful".
Speaking on LBC Radio, she said police officers should not "take the knee", as has been seen in the U.S. to show solidarity with protesters and the Black Lives Matter movement.
The previous protest took place on Wednesday in Hyde Park, West London and more are scheduled Sunday around the country, including outside the U.S. Embassy in London.