Thousands of Ukrainians Being Forcibly Transported into Russia: Officials
Thousands of Ukrainians are being forcibly taken to Russia by occupying Russian forces, the city council of the besieged city of Mariupol said.
In a statement released on Thursday, Mariupol City Council said that 15,000 local residents have fallen under "illegal deportation" orders and more than 6,000 have already been taken to Russia.
According to a message shared by the council on Telegram, about half of all residents in the Left Bank district of Mariupol, which is divided by a river, have been forcibly taken by Russian troops. "It is known that the occupiers in the form of an ultimatum force people already exhausted by the war to get into buses," the statement read.
Mariupol council also alleged it has evidence Russian forces are taking away residents' passports and other Ukrainian ID documents.
According to the council, people taken for deportation are first sent to "so-called filtration camps," from which they're then sent to remote cities in Russia.
Mariupol City Council also says that over the last 20 days, Russian troops have blocked evacuation convoys trying to bring people out of the city.
"What the Russian occupiers are doing defies any explanation," said Mariupol Mayor Vadim Boychenko, as quoted in the Telegram message.
"First, they block a peaceful city, purposefully begin to kill people, and then forcibly take them to their territory."
Ukraine's Ministry of Foreign Affairs spokesperson Oleg Nikolenko commented on the alleged forced deportations on Twitter, saying that by deporting Mariupol citizens Russia is moving "to the next level of terror."
"By forcibly deporting Mariupol citizens to its territory, Russia moves to the next level of terror. 6k Ukrainians already now in Russian camps where they may be used as hostages. Humanitarian convoys fleeing to non-occupied parts of [Ukraine] still being shelled. This barbarity must end," Nikolenko wrote.
Reuters has reported that Ukraine's Deputy Prime Minister Iryna Vereshchuk said on Thursday that the creation of seven humanitarian corridors has been agreed with Russia, but no safe passage has been agreed from Mariupol.
Mariupol City Council made the first allegations of forced deportations committed by Russian troops against Mariupol residents on March 19. The claim was repeated the day after by Ukraine's human rights commissioner Lyudmyla Denisova on Telegram.
She wrote that "several thousand Mariupol residents have been deported to Russia," and that many had been transported to the Taganrog, about 60 miles from Mariupol beyond the Russian border, and from there sent "to various economically depressed cities in Russia."
On Monday, Ukraine's Foreign Ministry accused Russia of kidnapping 2,389 children from Russian-controlled Donbas.
"Forced displacement of civilians into the territory of the aggressor state, including children, shows signs of abduction," reads the statement.
"By destroying homes and killing the parents, the Russian Federation deprives Ukrainian children of parental care and puts their lives in further jeopardy in Russia."
The allegations of illegal deportation were also referenced by Ukraine's president Volodymyr Zelensky in his speech to Italy's parliament on Wednesday. The U.S. embassy commented on the claims saying: "This is not assistance. It is kidnapping."
Meanwhile, Russian media refer to the incoming flow of Ukrainian people into Russia as "refugees."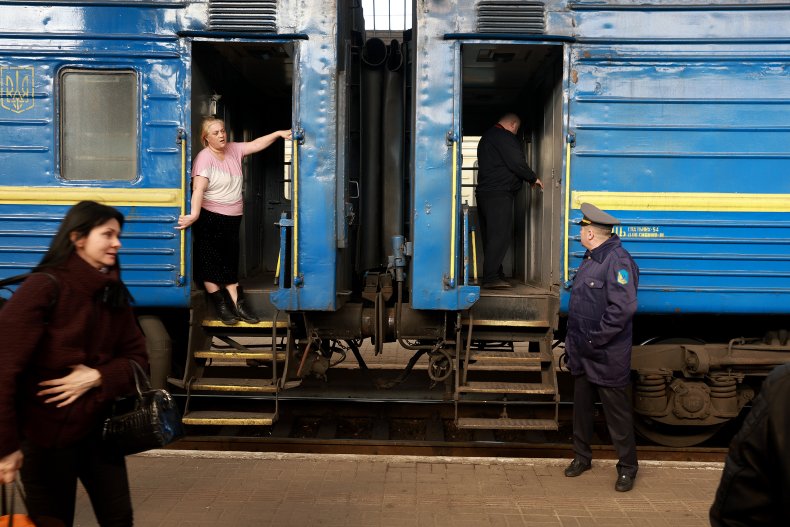 Russia state-controlled news agency TASS reported on Wednesday that 400,000 people have crossed the border into Russia from the Donbas region and the rest of Ukraine.
TASS also reported on Tuesday that Russian Railways (RZD) has transported over 16,000 refugees from Donbas, including 5,500 children to Russia. "We've organized an unprecedented transportation of refugees from Donbas to temporary accommodation points in Russia," RZD CEO Oleg Belozerov told the Federation Council.
The United Nations High Commissioner for Refugees (UNHCR) reported on Tuesday that 3.53 million people have left Ukraine, with 2.1 million finding refuge in Poland, more than 540,000 crossing into Romania and more than 367,000 in Moldova.
The number of people internally displaced in Ukraine is estimated to be even higher at 6.5 million, according to the International Organization for Migration.
Mariupol has been besieged since the beginning of the Russian invasion, and on Monday it refused calls to surrender from Russian troops, even as the city kept being bombarded.
Secretary of State Antony Blinken announced on Wednesday that after a "careful review" of public and intelligence information, the Biden administration has concluded that Russian troops have committed war crimes in Ukraine.
He mentioned the bombing of a maternity hospital in Mariupol on March 9 as an example of attacks purposefully targeting civilians. Three people died and 17 were injured as a result of the attack.
Mariupol has become the worst hit and most damaged city in Ukraine since the beginning of the war. During a visit to Bulgaria on Tuesday, Polish President Andrzej Duda compared the besieged city to Warsaw in 1944, when the capital was being hit by Nazis' bombs and civilians were killed "with no mercy at all."
Follow our live blog for updates on the Russia-Ukraine conflict.
Update 3/24/22, 9:38 a.m. ET: This article has been updated with additional information.