Thousands of U.N. Workers Protest Trump in Gaza
Thousands of United Nations employees in the Gaza Strip protested the Trump administration's decision to cut its annual contribution toward the U.N.'s agency serving Palestinians on Monday.
Schools, clinics and food distribution centers run by the U.N.'s Relief and Welfare Agency (UNRWA) in the Gaza Strip were temporarily shut down as 13,000 employees participated in the protest strike, Reuters reported.
They waved Palestinian flags and held up banners reading "Dignity is priceless." At least one protester could be seen burning United States, Israeli and British flags.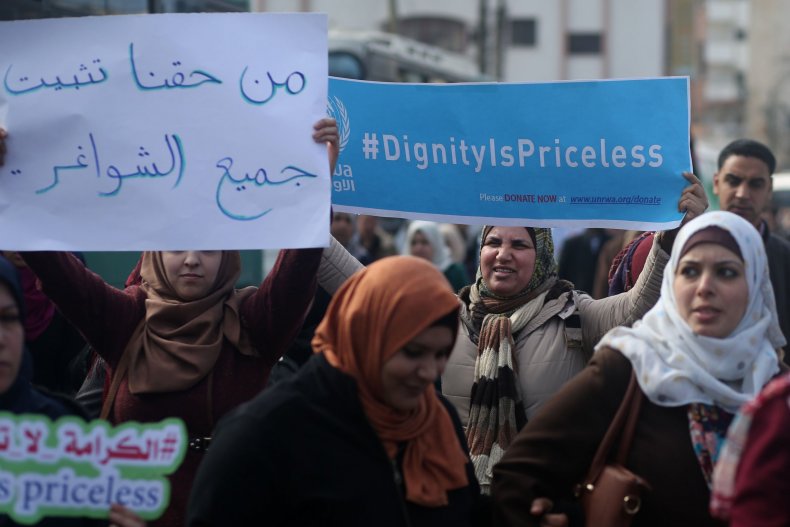 More than half of the 2 million people living in the Gaza Strip rely on support from the UNRWA, including as many as 300,000 students who attend the agency's 278 schools in the territory.
The U.N. said that while a "memorable and peaceful solidarity walk by thousands of UNRWA employees" was held in Gaza, the action was not a strike.
"Contrary to some reports, there was no strike in Gaza today and UNRWA installations across Gaza were not closed because of industrial action," a UNRWA spokesperson said in an emailed statement.
The spokesperson said protesters handed a letter addressed to the president of the U.N. General Assembly expressing concerns "about funding reductions and their potential impact."
"While people stayed away from work for a few hours, UNRWA had a prior deal with the Staff Union that essential services like food distribution would not be disrupted," the agency stated.
UNRWA is funded predominantly by voluntary contributions from U.N. member states, and the U.S. is its largest donor.
The Trump administration said earlier this month it would be withholding $65 million from UNRWA, demanding that the agency make an unspecified set of reforms.
Read more: Trump looks to slash millions in aid for Palestinian refugees despite warnings
Protesters told Reuters the U.S. funding cut would only create further hardship for those living in the Gaza Strip.
"I have a family of nine, and I have never felt afraid for my job like today. U.S. aid cuts will affect the entire community," English teacher Ahmed Abu Suleiman told the agency.
UNRWA has called on the international community to step in and fill the gap created by cuts from the U.S. The agency's spokesman, Abu Hasna, said the U.N. body had enough funding to keep operations running for three more months.
Speaking at the World Economic Forum in Davos last week, President Donald Trump suggested that Palestinian leadership's refusal to meet Vice President Mike Pence during his visit to the region was grounds for cutting aid to UNRWA.
He said that unless Palestinians agreed to rejoin peace talks with Israel, the U.S. financial contribution to the U.N. agency is not "on the table."
"When they disrespected us a week ago by not allowing our great vice president to see them, and we give them hundreds of millions of dollars in aid and support, tremendous numbers, numbers that nobody understands–that money is on the table and that money is not going to them unless they sit down and negotiate peace," Trump said.