Trump Looks to Slash Millions in Aid for Palestinian Refugees Despite Warnings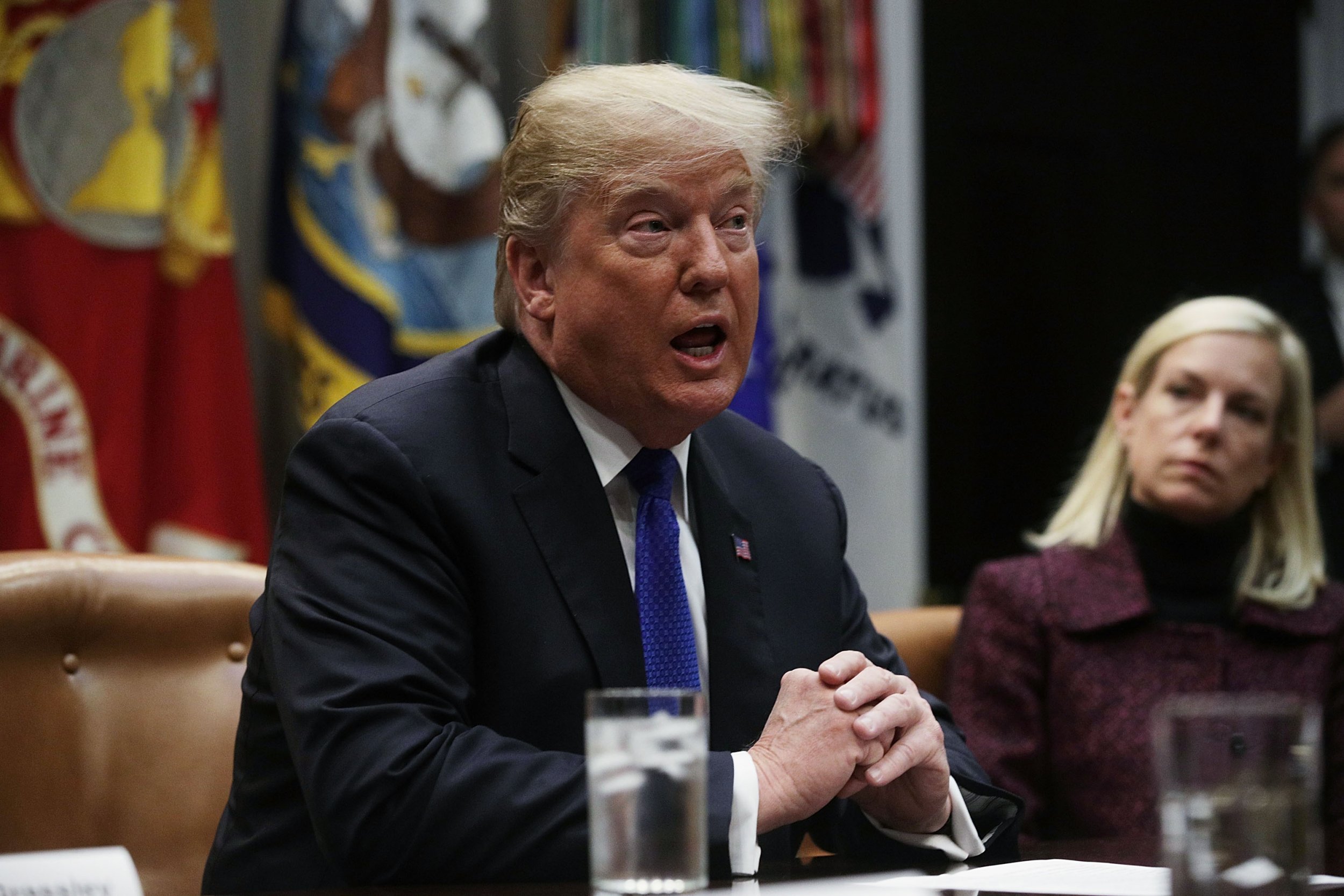 President Donald Trump has threatened to cut tens of millions of dollars in funding to the United Nations Agency for Palestinian refugees unless the Palestinians agree to peace talks with Israel, reports claim.
Trump has yet to announce his final decision, but is expected to cut the first installment to the U.N. Relief and Works Agency (UNRWA) by nearly half, with only $60 million of the planned $125 million expected to reach the agency, U.S. officials told the Associated Press.
The officials, who spoke on the condition of anonymity, said future contributions would depend on the agency's ability to demonstrate "significant changes in operations," including requiring Palestinians to re-engage in peace talks with Israel.
The State Department said on Sunday that the decision on funding is still "under review." However, the administration is expected to announce a decision as early as Tuesday, officials told AP.
It comes as Palestinian President Mahmoud Abbas hit out at the U.S. leader in a fiery two-hour long speech, in which he condemned Trump's threats to cut American aid.
"Damn your money," the Palestinian leader said of Trump, warning that he would have no problem rejecting a peace plan viewed as unacceptable to Palestinians.
Abbas also attacked Trump for his controversial decision to recognize Jerusalem as Israel's capital, despite longstanding U.S. policy.
Abbas also directed the phrase "Yehreb beitak," at Trump, which literally translates to "may your house be demolished," prompting laughter from the crowd.
The U.S. is the UNRWA's largest donor, providing nearly 30 percent of its total budget. The agency provides healthcare, education and social services to Palestinian refugees living in the West Bank, Gaza Strip, Syria, Lebanon, Jordan and other countries.
Some officials, including Israelis, have warned that slashing funding to the agency could cause widespread frustration and push people closer to the militant Hamas movement, which currently controls Gaza, AP reports.
Read more: Trump tweets U.S. 'gets no respect' from Palestinians as Nikki Haley threatens to withdraw American funding
The U.S. donated $355 million to the agency in 2016 and, until recently, had been expected to make a similar contribution this year, with the instalment set to be sent sometime this month.
The plan to withhold some of the U.S. contribution has been backed by Secretary of State Rex Tillerson, as well as Defense Secretary James Mattis, who suggested it as a compromise to the complete cut proposed by U.N. Ambassador Nikki Haley.
Haley has called for an end to U.S. funding to the agency until Palestinians agree to resume long-frozen peace talks with Israel.
The U.N. Ambassador's calls came earlier this month as Trump fired off a series of tweets the same day, accusing Palestinians of giving the U.S. "no respect," despite receiving hundreds of millions of dollars in aid each year.
Tillerson and Mattis have warned that a total freeze on U.S. funding could exacerbate instability in the Middle East, pointing to countries like Jordan, which hosts hundreds of thousands of Palestinian refugees.
Israeli Prime Minister Benjamin Netanyahu has joined criticism of UNRWA, claiming that the agency allows its facilities to be used by militants, something that UNRWA has repeatedly denied.
Netanyahu has called for the agency to stop operating in the Middle East altogether and has suggested the agency's budget be transferred to the U.N. High Commisioner for Refugees instead.