Michelin Star Restaurant Owner Invited Clemson Tigers to Experience 'What an Actual Celebration Dinner Should be'
The co-owner of a three-star Michelin restaurant invited the Clemson University Tigers to dinner to celebrate their national football championship, The Hill reported.
"I could care less about college football. But I'm personally inviting the Clemson Tigers team and coaches to Chicago to experience what an actual celebration dinner should be. I'm not joking. Someone let them know what The Alinea Group does. It'll be worth it," Nick Kokonas wrote Tuesday in a tweet.
Kokonas told The Chicago Tribune he would take the team to Roister, one of the restaurants owned by the group, then bring the players to the acclaimed Alinea.
The Michelin guide describes Alinea as having "exceptional cuisine" that is "worth a special journey." It is the only restaurant in Chicago with three Michelin stars.
Kokonas said he wasn't seeking to criticize fast food. "I like a burger as much as anyone else. At the end of the day, though, I'm betting they've had that, as football players, a thousand times. I bet they've had nothing quite like what we do." He said that he would cook the team "maybe four or five suckling pigs and the Roister fried chicken" before offering the team dessert at Alinea.
He said he wanted to "make this as nonpolitical as possible. For me, this isn't about politics."
Kokonas' invitation came a day after the Clemson Tigers, who beat Alabama to win the College Football Playoff national championship game on January 7, traveled to the White House for dinner with President Donald Trump.
The commander-in-chief faced backlash and ridicule for greeting the team with fast food. Press Secretary Sarah Huckabee Sanders blamed the government shutdown and Democrats for the menu.
"Because the Democrats refuse to negotiate on border security, much of the residence staff at the White House is furloughed—so the president is personally paying for the event to be catered with some of everyone's favorite fast foods," Sanders said in a statement.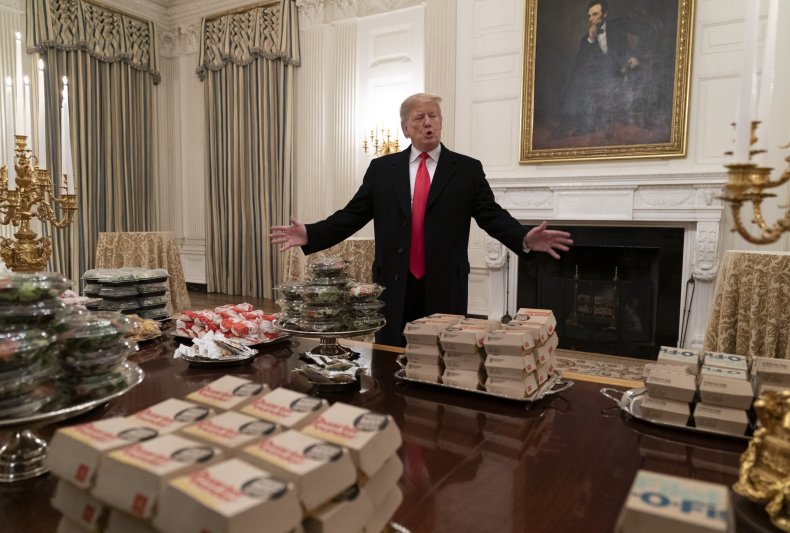 A number of other celebrities have extended dinner offers to the Tigers.
Ayesha Curry, an actress and cook who is married to Golden State Warriors star Stephen Curry, invited the team to her restaurant. International Smoke "will gladly feed the Clemson Tigers any day," she wrote. "A real feast and celebration. No 10cent dipping sauces on silver platters."
On Tuesday, former NFL star Michael Strahan extended invited the team during ABC's "Good Morning America," which he co-hosts.
"I would like to invite the Clemson Tigers football team here for a great meal," Strahan said, according to The Hill. "Lobster, whatever you want, we're gonna take care of you."
The rapper Quavo, a member of Migos, also invited the team.