'Ash Heap of History': China Sends Warning to U.S. Over Criticisms on Tiananmen Square Anniversary
June 4 marks the 30th anniversary of the Tiananmen Square massacre, and China has hit back at criticism from Secretary of State Mike Pompeo saying bullies "will only end up in the ash heap of history."
In 1989, Chinese leaders ordered a bloody crackdown on pro-democracy protesters in the heart of Beijing, with troops and tanks estimated to have killed hundreds or possibly thousands. Authorities never released a death toll and in the decades since have sought to both censor the event from public discussion while also framing it as necessary for achieving social stability.
On Monday, Secretary Pompeo released a statement honoring "the heroes of the Chinese people who bravely stood up thirty years ago in Tiananmen Square to demand their rights." "Over the decades that followed, the United States hoped that China's integration into the international system would lead to a more open, tolerant society. Those hopes have been dashed," he said.
A spokesperson for the Chinese Embassy in the U.S. responded with a statement of their own, saying Pompeo's remarks were made with "prejudice and arrogance."
"The Chinese government and people reached the verdict on the political incident of the late 1980s long ago. Over the past four decades of reform and opening-up, China has enjoyed rapid economic and social development, continuous progress in democracy and the rule of law, flourishing culture and significantly improved standards of living. China's human rights are in the best period ever," the statement read.
It continued: "Whoever attempt to patronize and bully the Chinese people in any name, or preach a "clash of civilizations" to resist the trend of times will never succeed. They will only end up in the ash heap of history," the statement read.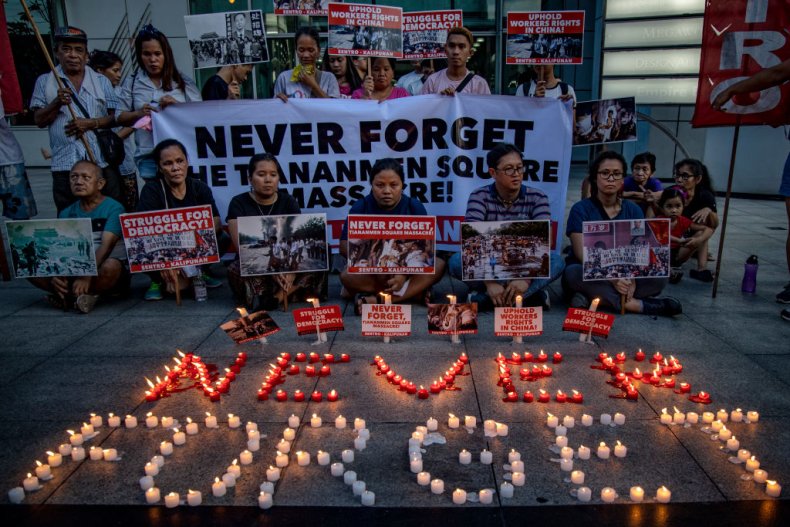 The 'clash of civilizations' reference appears to allude to comments made last month by a U.S. State Department official who used the term when she said that China was the U.S.'s first "great power competitor who is not Caucasian."
The comments, made during an interview at a security forum, were blasted as "racist" by China's foreign ministry and President Xi Jinping later said, "If someone thinks their own race and civilization is superior and insists on remolding or replacing other civilizations, it would be a stupid idea and disastrous act."
China, however, is currently accused of trying to effectively stamp out the culture of Uighurs, a largely Muslim ethnic minority group in the northwest region of Xinjiang. More than 1 million people are currently being held in what the Pentagon has deemed "concentration camps."
Pompeo drew a similar comparison on Monday when he called in his Tiananmen Square statement for China to release those being held in "arbitrary detention" for seeking to exercise "fundamental freedoms" that were demanded by protesters three decades ago.
"China's one-party state tolerates no dissent and abuses human rights whenever it serves its interests. Today, Chinese citizens have been subjected to a new wave of abuses, especially in Xinjiang, where the Communist Party leadership is methodically attempting to strangle Uighur culture and stamp out the Islamic faith, including through the detention of more than one million members of Muslim minority groups," he said.
Geng Shuang, China's Foreign Ministry spokesperson, said in response on Tuesday that Pompeo made "vicious accusations" and "baselessly criticized China's Xinjiang policy."
"We advise those people to take a good look at themselves in the mirror and mind their own business... Otherwise, they will become nothing but a laughingstock of the world," Geng said. "Any attempt to interfere in China's internal affairs or destabilize our country is doomed to fail."
'Ash Heap of History': China Sends Warning to U.S. Over Criticisms on Tiananmen Square Anniversary | World