'Tick Tock Matt Gaetz' Banner Flies Over Florida Courthouse Where Joel Greenberg Pleaded Guilty
Representative Matt Gaetz received a message on Monday after his former confidant Joel Greenberg pleaded guilty to six felony charges, including sex trafficking a minor.
A banner reading "Tick Tock Matt Gaetz" was being flown over the Florida courthouse where Greenberg appeared. Images of the plane quickly circulated on social media.
"Just a short time ago, sort of adding to the atmosphere of the circus-like attention to the Matt Gaetz case, a banner plane was flying overhead that said, 'Tick Tock Matt Gaetz,'" NBC News correspondent Kerry Sanders said on-air.
The Justice Department is investigating whether Gaetz, 38, violated sex trafficking laws by paying a 17-year-old girl for sex and to travel with him.
The Florida Republican has confirmed that he's being investigated but denies the allegations. He told news outlets that the accusations of sexual misconduct are part of an extortion effort against his family for $25 million.
"The person doesn't exist. I have not had a relationship with a 17-year-old," Gaetz told Fox News host Tucker Carlson in late March. "That is totally false."
Gaetz also said he wasn't going to resign, despite facing calls to do so from Republican colleague Adam Kinzinger and several Democrats. Last month the House Ethics Committee opened its own investigation into the accusations against Gaetz.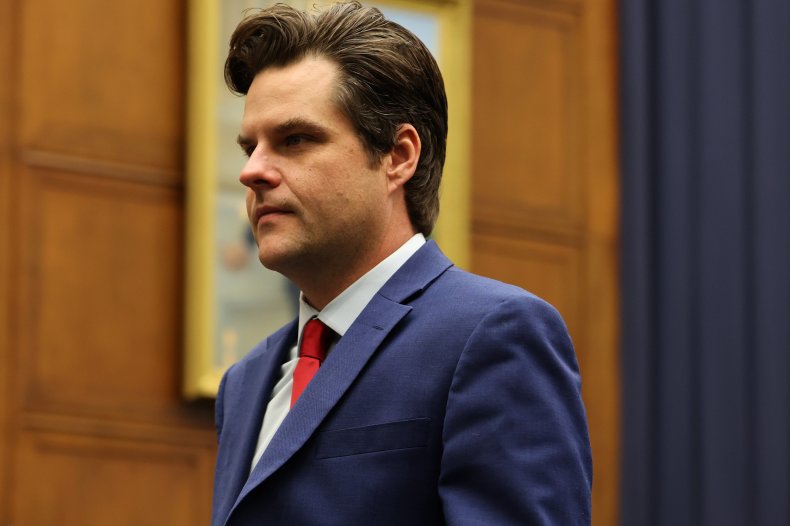 Greenberg, a former tax collector and close ally of Gaetz, on Monday pleaded guilty to sex trafficking of a child, production of a false document, aggravated identity theft, wire fraud, stalking and conspiracy to commit an offense against the U.S.
Greenberg faced a total of 33 federal charges, but prosecutors will drop 27 counts against him in exchange for "substantial assistance" with other government investigations. He faces a minimum of 12 years in prison, but his sentence can be reduced if he fully cooperates with the government.
According to the plea agreement, Greenberg admitted he was involved in "sugar daddy" relationships in which he used cellphone apps to make connections and pay women for sex—including a minor with whom he engaged in "commercial sex acts."
Greenberg also told prosecutors he "introduced the minor to other adult men, who engaged in commercial sex acts with the minor in the Middle District of Florida."
Gaetz's name was not mentioned in the documents or in court on Monday, according to The New York Times.
Newsweek reached out to Gaetz's office for comment on the banner, as well as on Greenberg's plea deal, but did not receive a response before publication.