Tiffany Haddish Accusers Will 'Face Consequences' Threatens Lawyer
Tiffany Haddish's attorney has denied all charges relating to child sexual abuse being leveled at the comedian.
Hollywood entertainment lawyer Andrew Brettler, who also represents Prince Andrew, released a statement on Haddish's behalf, calling the accusations "bogus claims."
Brettler also suggested that the mother and daughter who made the allegations will now "together face the consequences of pursuing this frivolous action."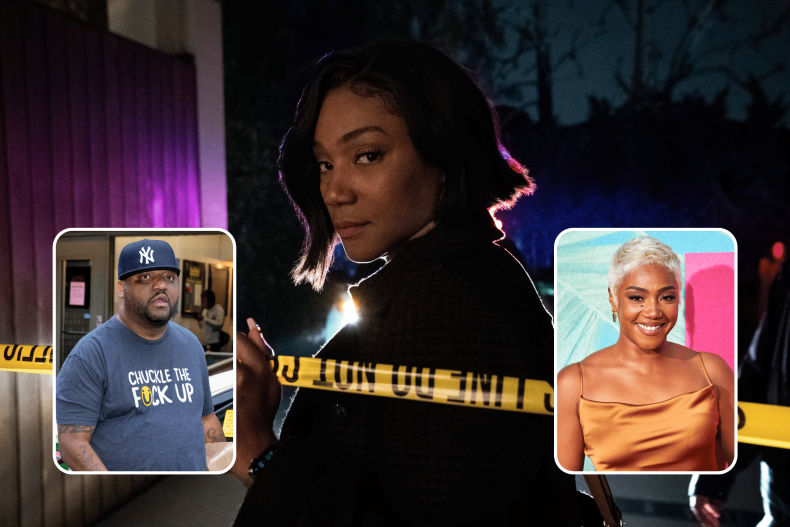 The charges being made against Haddish, 42, and fellow comedian Aries Spears, 47, relate to two alleged incidents involving unnamed siblings, who were 14 and 7 years old at the time.
For legal reasons, the two are remaining anonymous, with the elder, now 22 years old, being referred to as Jane Doe, and the younger, now 15, as John Doe.
In the first alleged incident, Jane claims that Haddish and Spears encouraged her to mimic fellatio on camera for a skit in 2013.
In the other incident, it is claimed that John was stripped down to his underwear for another filmed skit called "Through A Pedophile's Eyes." This was posted onto the Funny or Die website but later taken down.
The serious allegations have caused a huge reaction online, with thousands of people commenting on Haddish and Spears' alleged behavior.
"[The] plaintiff's mother, [...], has been trying to assert these bogus claims against Ms. Haddish for several years," Haddish's lawyer Brettler said.
"Every attorney who has initially taken on her case — and there were several — ultimately dropped the matter once it became clear that the claims were meritless and Ms. Haddish would not be shaken down.
"Now, Ms. Morris has her adult daughter representing herself in this lawsuit. The two of them will together face the consequences of pursuing this frivolous action," Brettler said.
Debra Opri, an attorney for Spears, told The Los Angeles Times, "He isn't going to fall for any shakedown," when contacted for comment.
The mother of the children involved in the alleged incidents reportedly attempted a $15,000 settlement with Spears, but that failed.
Now, both Haddish and Spears are accused of gross negligence, sexual battery, sexual harassment and sexual abuse of a minor.
The Daily Beast broke the news relating to the charges being brought against the two comedians, and also featured quotes from the anonymous alleged victims.
Jane is now John's legal guardian, and she stated that, as an adult, she has "the power to protect my little brother now and have the power to do something about what happened to him."
The siblings' mother negotiated a settlement in 2019 with Spears, the new lawsuit states. The mother also filed a police report against Haddish and Spears in January 2020, but nothing came of this, according to The Daily Beast.
Haddish's lawyer Brettler is part of the firm Lavely & Singer, which is often hired by Hollywood stars.
Brettler has represented a number of high-profile men accused of sexual misconduct, including Chris Noth (Sex and the City), Danny Masterson (That 70s Show) and Armie Hammer, whose alleged behavior was the subject of the recent documentary House of Hammer.
Newsweek has reached out to Haddish and Spears' respective legal representatives for further comment.