Armie Hammer Cannibalism, Abuse Allegations Resurface Ahead of Documentary
Armie Hammer's life as a Hollywood star came crashing down amidst a flood of accusations involving sexual misconduct, possible cannibalism and other unseemly acts in early 2021. On Wednesday, talk about those allegations returned after Discovery+ released its first trailer for an upcoming documentary that features Hammer's accusers.
The three-part House of Hammer docuseries promises to not only cover claims made against Hammer by some of the women who've accused him of sexual assault, but the project will also touch on the alleged history of abuse within his family.
Hammer's troubles first began in the summer of 2020 when his wife, Elizabeth Chambers, announced on Instagram they would be divorcing after 10 years of marriage. The separation seemed amicable at first, but by January 2021, the first tales of abuse hit the news when a woman with an anonymous Instagram account claimed she had recently been involved in a years-long affair with the Call Me By Your Name actor.
The accuser said she had communicated with other women who had been involved physically with Hammer and wrote that the women told her they were traumatized and some had once required visits to emergency rooms.
She also posted text messages and screenshots the alleged the star had sent to her as well as to other former lovers. Within the texts were violent descriptions of cannibalism and rape fantasies.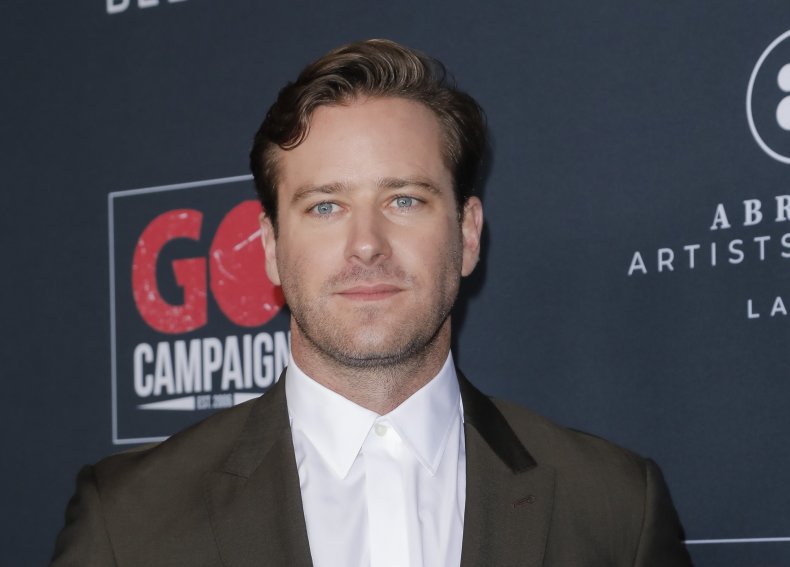 In the ensuing days, Hammer abandoned a movie project co-starring Jennifer Lopez. Though he acknowledged "bulls**t claim" and "vicious and spurious online attacks" were made against him, he cited being away from his children for the shoot as the reason he stepped away from the film.
The accusations keep coming in January of 2021, including from a woman named Courtney Vucekovich, who told Page Six she had dated Hammer for several months in 2020. She said during that time he told her wanted to break her "rib and barbecue and eat it." Vucekovich also said Hammer was drinking and doing drugs "all the time."
The following day, Page Six reported Hammer had an alleged secret Instagram account, which reportedly contained photographs and videos of women in bondage gear. The account also contained talk of random drug tests and Hammer allegedly bragging about how the hallucinogen DMT did not turn up in his results.
One post on the supposed secret Hammer account also alleged a sexual relationship with "Ms. Cayman," leading Hammer to publicly apologize and state he was not referring to the Miss Cayman of the pageant world (and thus seemingly confirming the account was his).
Before January ended, more allegations piled up. Paige Lorenze spoke with Page Six about their 2020 relationship, claiming Hammer branded her skin with his initial and sexually coerced her. She also alleged he had sent her a message containing photos of her tied up that she didn't know had existed.
On February 1, 2021, Chambers broke her silence about the scandals with an Instagram post. She wrote, "I didn't realize how much I didn't know. I support any victim of assault or abuse and urge anyone who has experienced this pain to seek the help she or he needs to heal."
In March 2021, a woman came forward in a virtual press conference with allegations that Hammer violently raped her in 2017. The woman identified herself as Effie, which was the name used on the Instagram account where the first allegations were posted. (The woman's attorney, the famous women's rights lawyer Gloria Allred, neither confirmed nor denied her client was behind the account.)
Following Effie's public statement, the Los Angeles Police Department confirmed to Variety it had opened an investigation into Hammer in February over alleged sexual assault.
Also in March, Vanity Fair published a detailed article on Hammer's family, which included allegations that his grandfather had killed a man. The magazine later wrote in May that sources said the actor checked into a Florida treatment facility to seek help for substance and sex issues.
Other bizarre rumors have also emerged of Hammer, though not of the criminal variety. This summer, people on social media began claiming he's working as a concierge at a resort in the Cayman Islands due to personal financial losses. (The resort denied Hammer is an employee.)
More recently, Page Six reported in July that Hammer had been seen with Chambers and his children in Los Angeles. The website also wrote Hammer had allegedly been staying with Robert Downey Jr. in an attempt to get his life back on track.
Newsweek attempted to contact Hammer through his attorney.