Tiffany Haddish Joke About 'Hitting On' Child Resurfaces Amid Lawsuit
A clip of Tiffany Haddish joking about "hitting on" a child has resurfaced as the comedian faces accusations of child sexual abuse along with Aries Spears.
A woman and her younger brother have accused both comics of grooming them when they were children and coercing them into filming sexually explicit skits in a new lawsuit filed in the Los Angeles Superior Court.
The lawsuit, brought by the woman and her mother, alleges that Haddish, 42, and Spears, 47, sexually abused a girl and her brother, who were 14 and 7 years old at the time, in two separate incidents in 2013 and 2014.
The allegations have caused a huge reaction online, with thousands of people commenting on Haddish and Spears' alleged behavior.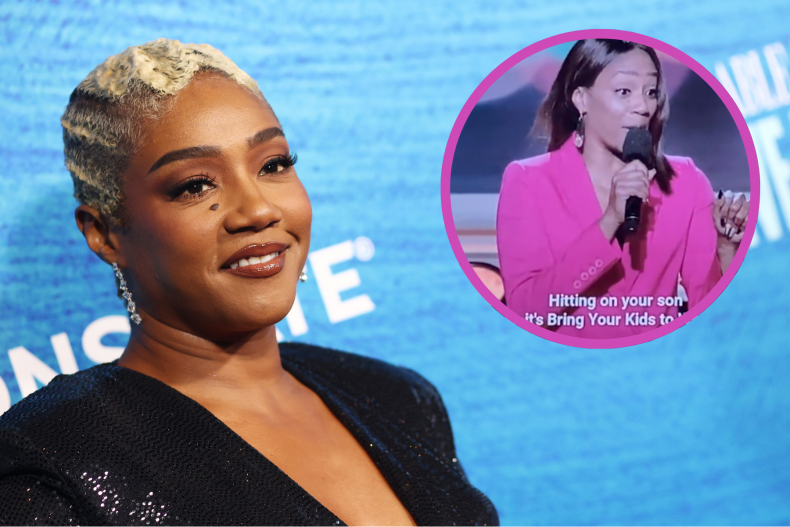 Now a clip of Haddish performing stand-up is going viral, with Twitter users questioning a joke the Night School star made about children.
Joking about bringing your kid to work day, Haddish said: "Hitting on your son when its bring your kids to work day. Like, 'look at your son! He cute! You're gonna be fine when you grow up little boy. You like grown ups?'"
The clip is from Haddish's performance on Def Comedy Jam 25, which aired in 2017 and is currently available to watch on Netflix.
Twitter user @softandtweet shared the clip to the platform on September 3, where it has since clocked up more than 424,000 views.
"I realized Tiffany Haddish was a little off a few years ago…" says the caption accompanying the video.
Another person said in a tweet: "I'm trying to find the humor in sexualizing children and I just can't. This hoe is vile."
Newsweek has contacted Netflix and Haddish's representatives for comment.
For legal reasons, the two plaintiffs in the lawsuit against Haddish and Spears are remaining anonymous, with the elder, now 22 years old, being referred to as Jane Doe, and the younger, now 15, as John Doe.
In the first alleged incident, Jane claims that Haddish and Spears encouraged her to mimic fellatio on camera for a skit in 2013.
In the other incident, it is claimed that John was stripped down to his underwear for another filmed skit titled "Through A Pedophile's Eyes." This was posted onto the Funny or Die website but later removed.
Haddish's attorney has denied all charges relating to child sexual abuse, labeling them "bogus claims."
Hollywood entertainment lawyer Andrew Brettler, who also represents Prince Andrew, said in a statement that the mother and daughter who made the allegations will now "together face the consequences of pursuing this frivolous action."
"[The] plaintiff's mother, […], has been trying to assert these bogus claims against Ms. Haddish for several years," Haddish's lawyer said.
"Every attorney who has initially taken on her case—and there were several—ultimately dropped the matter once it became clear that the claims were meritless and Ms. Haddish would not be shaken down.
"Now, Ms. Morris has her adult daughter representing herself in this lawsuit. The two of them will together face the consequences of pursuing this frivolous action," Brettler said.
The attorney representing Spears told The Los Angeles Times: "He isn't going to fall for any shakedown."
Both Haddish and Spears are accused of gross negligence, sexual battery, sexual harassment and sexual abuse of a minor.