The youngest daughter of Donald Trump, Tiffany Trump took part in a Trump Pride event in Florida this week to help her father's re-election efforts.
The event took place at the Westshore Grand Hotel in Florida and a clip of Tiffany on stage has started to circulate on social media, with many criticizing her for speaking for the LGBTQ+ community when her father's presidency has consistently rolled back laws protecting them.
"I know what my father believes in. Prior to politics, he [Trump] supported gays, lesbians, the LGBQIIA+ community," Tiffany began before then talking about "fabricated lies" and social media.
She said: "It saddens me. I have friends of mine who reach out and they say how could you support your father, we know your best friends are gay."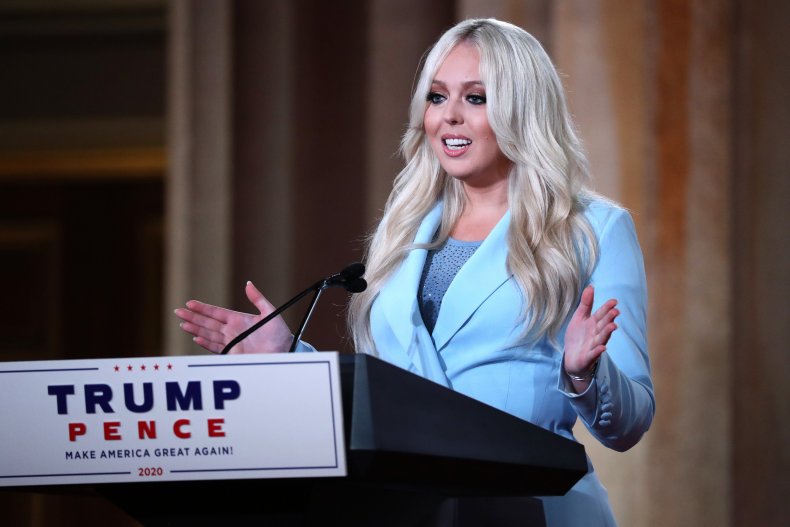 "I know what my father believes in," said Tiffany Trump in a 10-minute speech at the Westshore Grand Hotel. "Prior to politics he supported gays, lesbians ... the LGBQIA+ community, okay."
Many have pointed out she left out the 'T' in the acronym which stands for trans.
Tiffany, 27, is the daughter of Trump's second wife Marla Maples, a former Broadway actress, who was in the audience.
Tiffany also touched on the AIDS crisis during her 10-minute speech.
"Unfortunately, one of her best friends passed away from AIDS and what I think is so powerful when my father says there will be a cure for AIDS within the next 10 years, there will be and God bless," Tiffany said.
Podcaster Tyler Oakley tweeted: "tiffany trump headlining republican pride... chaos... in the worst way..."
While comedian Dana Goldberg added: "What in gay hell is this bull****? Also there's like 12 people in the room. Also I'm no longer convinced Eric Trump is the dumbest of them. It's a tight race."
Equality Florida Media Relations Manager, Brando Wolf condemned the event on Twitter also.
"I cannot express to you how tired I am of this pathetic grift," he wrote. "Our fight for equality—the one we're having to wage against you—is not yours to pervert for tacky campaign graphics. Get your hands off our rights and stop trying to gaslight us."
Civil rights attorney Michele Rayner said Trump must be "delusional" to think he can get votes from the LGBTQIA+ community in this last-ditch attempt.
"Donald Trump is delusional if he thinks he can spend three years attacking our rights and then turn around and ask for our vote," she said.
In a statement per South Florida Gay News, Rayner, the first Black queer woman elected to the Florida House of Representatives added: "Waving a rainbow flag for an afternoon means nothing after his administration appointed dozens of anti-LGBTQ judges to federal courts, codified discrimination against transgender Americans, and are fighting to overturn the Affordable Care Act, and its protections for our community."
Newsweek has reached out to Tiffany Trump for comment.