Saff Saffery from Netflix's hit documentary miniseries Tiger King has warned that thousands of tigers kept in unregulated zoos and sanctuaries could be vulnerable to COVID-19, after tests last month confirmed big cats are susceptible to infection.
Saffrey, told NBC many of these institutions are unable to protect the cats in their care, making an outbreak of the disease a constant possibility.
"Unless there is a licensed staff of veterinarians to individually care for these animals at proper protocol levels, it's impossible to prevent," said Saffery, who lost his arm in a tiger attack while working at Joseph Maldonado-Passage's (a.k.a. Joe Exotic) Greater Wynnewood Exotic Animal Park. According to Esquire, Saffery left G.W. Zoo in 2018.
"The livelihood of these animals is in the hands of the humans who care for them," he added. "So because it's a give-and-take relationship, they need to operate together. These zoos have no choice but to go out and tend to these animals directly, one on one, every day."
Famously, more tigers are held in captivity in the U.S. than are in the wild. According to the World Wildlife Fund (WWF), there are an estimated 5,000 tigers in the U.S. of which only 6 percent or so are thought to be housed in accredited zoos and facilities.
The housing of several cats in relatively smalls spaces could be a cause of concern, experts told Newsweek.
"We do not yet know if some exotic large felids can transfer the virus to each other, so having large numbers of animals together in relatively small holding spaces is a potential concern," Jenessa Gjeltema, Professor and Specialist in Zoological Medicine at UC Davis School of Veterinary Medicine and Head Veterinarian at the Sacramento Zoo, told Newsweek.
"Facilities that rely on large numbers of volunteers for the daily care and feeding of the animals but that aren't strict about biosecurity, limiting contact, hygiene measures, and other mitigation techniques may open the door for exposing susceptible animals to the virus, or other diseases."
Gjeltema explained that a lack of visitors prompted by stay-at-home orders could mean private sanctuaries loose financial support and access to the resources needed to provide appropriate care for the animals, whose welfare and overall quality of life could diminish as a result. Disruption to supply chains for food, medication and cleaning supplies among other things could exacerbate the situation further.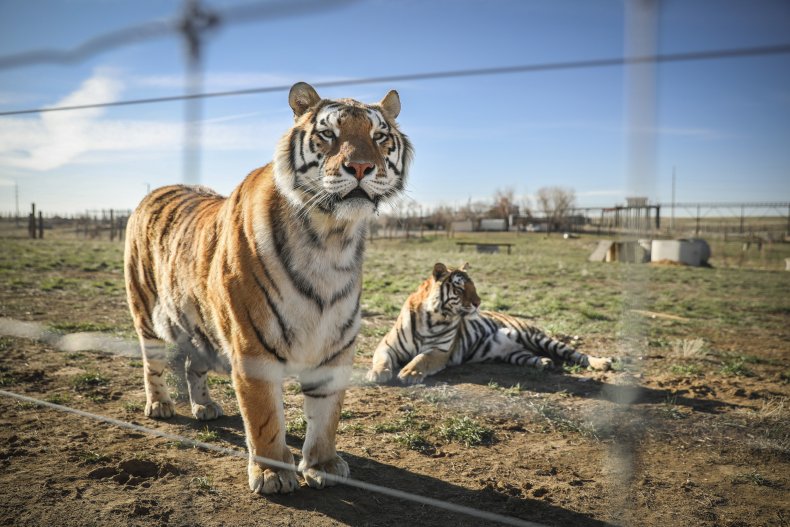 The vulnerability of tigers to COVID-19 first became apparent in April after a 4-year-old Malayan tiger who started to display symptoms in late March tested positive for the disease. According to the American Veterinary Medical Association (AVMA), Nadia of the Bronx Zoo appears to have been the first tiger infected with SARS-CoV-2. Zoo officials believe she contracted the disease from an asymptomatic member of staff who was yet to display signs of the illness themselves.
Several other exotic cats housed in the zoo, including three tigers and three lions, also developed symptoms, such as a dry cough and loss of appetite. An update released on April 22 revealed that they too had tested positive for the disease, as did a fifth tiger who did not show symptoms.
Other species—including a clouded leopard, snow leopard, cheetah, puma, and serval—appear to be unaffected by the outbreak and have displayed no symptoms associated with the virus.
Since the news broke out, several zoos have taken precaution to take care that the big cats at their facilities are protected, from having staff don PPE to practicing social distancing and stepping up hygine protocol. But while it seems apparent that tigers and other cats, including pets, are susceptible to infection, very little is actually known about COVID-19 and its impact on the felidae family.
"At this time, it is hard to draw broad conclusions with so little information," Jenessa Gjeltema, Professor and Specialist in Zoological Medicine at UC Davis School of Veterinary Medicine and Head Veterinarian at the Sacramento Zoo, told Newsweek.
"What we do know is that tigers and lions appear to be able to be infected by the virus and that thus far, infection has been associated with relatively mild respiratory signs."
As appeared to be the case with Nadia and other big cats at the Bronx Zoo. According to the update, the cats have been behaving normally, eating well and coughing less. When Newsweek contacted the zoo for comment, a spokesperson said there had been no further developments.
Alesia Soltanpanah, Executive Director, World Animal Protection, U.S., re-emphasized this point, saying: "To date, the symptoms seem to be mild. There have been persistent dry coughs in these cats, but not other symptoms like there have been in humans."
She added: "Cats do not seem to be affected as strongly as humans, and there have been no mortalities to date."
While early studies have suggested that cats and ferrets are "permissive" to infection and members of the felidae family are susceptible to airborne infection, there are also reports of COVID-19 affecting domestic cats. There is little evidence to suggest that it can pass from one cat to another (so far).
"From what we know to date, captive tigers and other big cats are only at risk of catching COVID-19 from humans who have the virus and are symptomatic. Transfer between animals, or from animals to humans, has not yet been proven," Soltanpanah told Newsweek.
"Like with any other public place, workers need to be careful when working with animals and take the same precautions that they would with humans."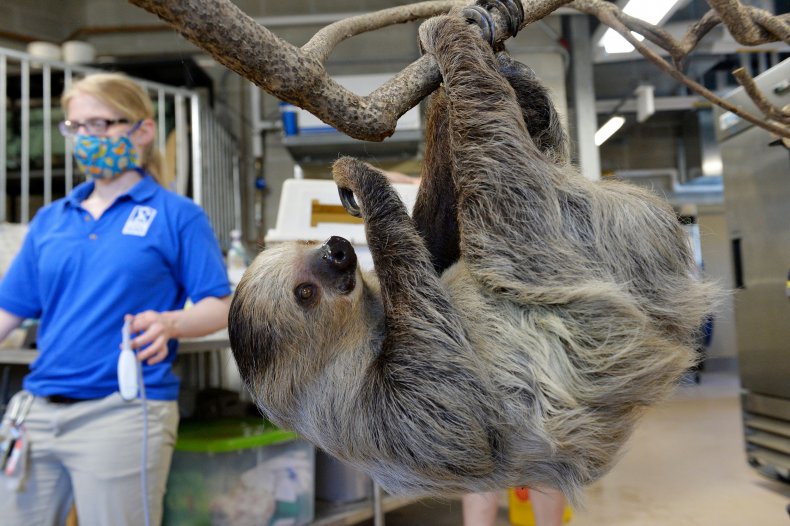 "It is possible that some individuals could develop severe infections—like we already know some people do—but that we just haven't seen this occur yet because of the precautions that many facilities are taking in preventing infections and protecting their animals," Gjeltema added.
"We have much still to learn about this virus and its impact on animals."
The graphic below, provided by Statista, illustrates U.S. states with the most confirmed COVID-19 cases.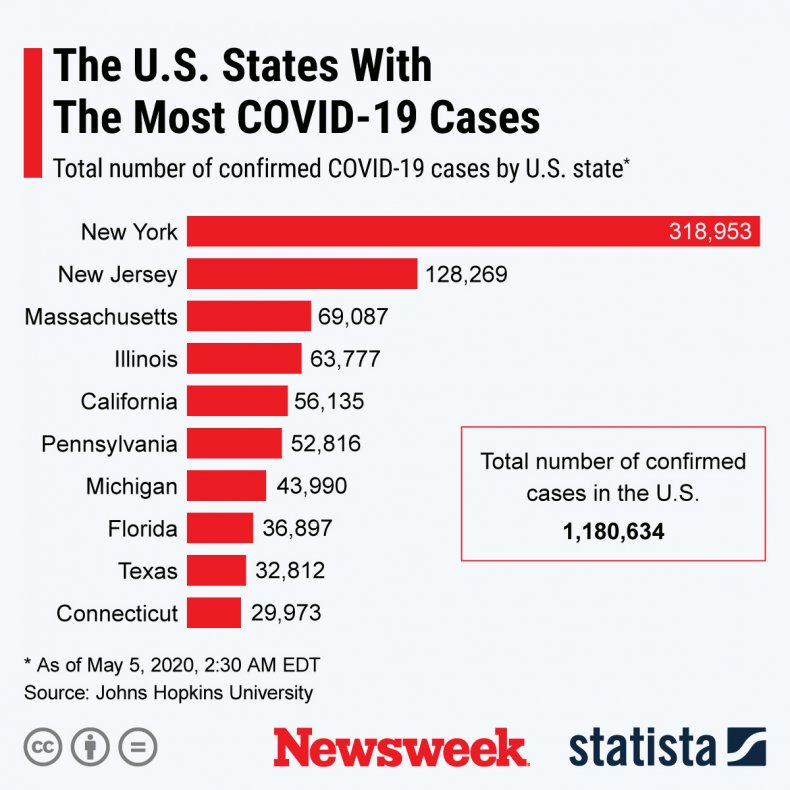 The graphic below, provided by Statista, illustrates the spread of the COVID-19 virus across the U.S.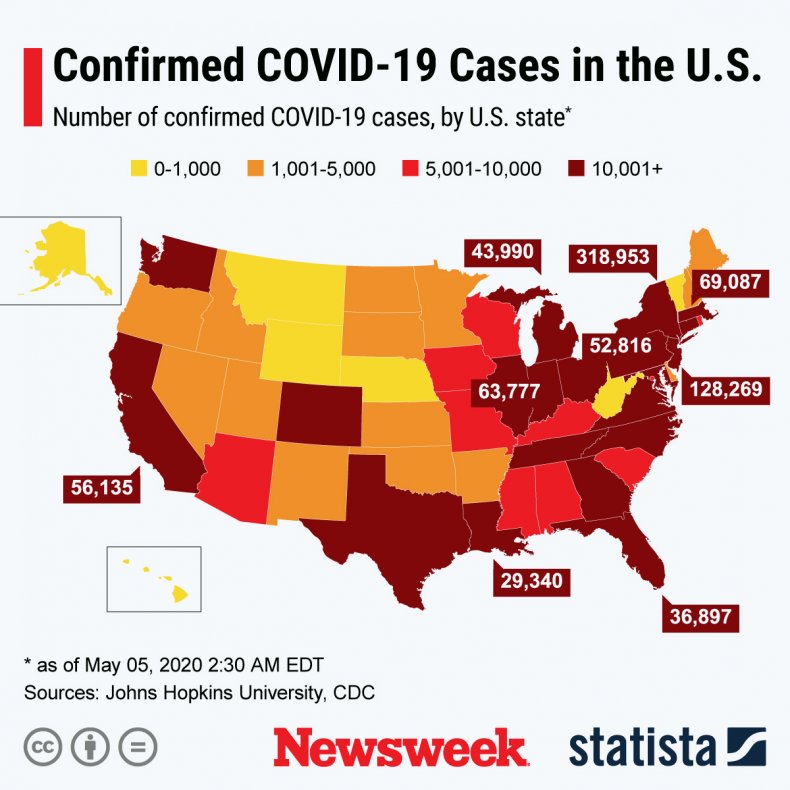 Centers for Disease Control and Prevention Advice on Using Face Coverings to Slow Spread of COVID-19
CDC recommends wearing a cloth face covering in public where social distancing measures are difficult to maintain.
A simple cloth face covering can help slow the spread of the virus by those infected and by those who do not exhibit symptoms.
Cloth face coverings can be fashioned from household items. Guides are offered by the CDC. (https://www.cdc.gov/coronavirus/2019-ncov/prevent-getting-sick/diy-cloth-face-coverings.html)
Cloth face coverings should be washed regularly. A washing machine will suffice.
Practice safe removal of face coverings by not touching eyes, nose, and mouth, and wash hands immediately after removing the covering.
World Health Organization advice for avoiding spread of coronavirus disease (COVID-19)
Hygiene advice
Clean hands frequently with soap and water, or alcohol-based hand rub.
Wash hands after coughing or sneezing; when caring for the sick; before, during and after food preparation; before eating; after using the toilet; when hands are visibly dirty; and after handling animals or waste.
Maintain at least 1 meter (3 feet) distance from anyone who is coughing or sneezing.
Avoid touching your hands, nose and mouth. Do not spit in public.
Cover your mouth and nose with a tissue or bent elbow when coughing or sneezing. Discard the tissue immediately and clean your hands.
Medical advice
Avoid close contact with others if you have any symptoms.
Stay at home if you feel unwell, even with mild symptoms such as headache and runny nose, to avoid potential spread of the disease to medical facilities and other people.
If you develop serious symptoms (fever, cough, difficulty breathing) seek medical care early and contact local health authorities in advance.
Note any recent contact with others and travel details to provide to authorities who can trace and prevent spread of the disease.
Stay up to date on COVID-19 developments issued by health authorities and follow their guidance.
Mask and glove usage
Healthy individuals only need to wear a mask if taking care of a sick person.
Wear a mask if you are coughing or sneezing.
Masks are effective when used in combination with frequent hand cleaning.
Do not touch the mask while wearing it. Clean hands if you touch the mask.
Learn how to properly put on, remove and dispose of masks. Clean hands after disposing of the mask.
Do not reuse single-use masks.
Regularly washing bare hands is more effective against catching COVID-19 than wearing rubber gloves.
The COVID-19 virus can still be picked up on rubber gloves and transmitted by touching your face.