Tiger Speared in Face and Shot Dead after Killing Man in Village
A Malaysian tiger was speared in the face and shot dead after it killed a 59-year-old villager.
Local reports published yesterday (January 10) said that the indigenous villager, Anek Along, was attacked on Friday near the town of Gua Musang in northern Malaysia. Wildlife officials said that villagers threw spears to fend the creature off.
Rangers reportedly arrived a few hours later and shot the tiger after it charged them.
Malaysian tigers are critically endangered, with the Malaysian government predicting there are less than 150 left.
The incident has triggered calls for the government to do something about the depleting tiger population. An official statement from the Malaysian prime minister, Ismail Sabri Yaakob, announced that a meeting had been held on 10 January to discuss the issue.
The prime minister said that the government's Energy and Natural Resources Ministry was "seriously addressing" how to better protect the species.
Yaakob said: "If immediate action is not taken, Malaysia faces the risk of extinction of the Malayan Tiger which is the symbol of the National Coat of Arms, the emblem of the states as well as various ministries, departments and agencies. More worryingly, the country's iconic species will disappear forever."
The meeting discussed plans to enforce habitat maintenance for tigers across the country, through sustainable land use management.
The government said it will also work to increase the existing forested area in Malaysia from 43.41 percent to 50 percent by 2040.
In a statement, Sophia Lim, Executive Director and CEO at World Wildlife Fund (WWF) Malaysia extended "deepest condolences" to the family of the deceased.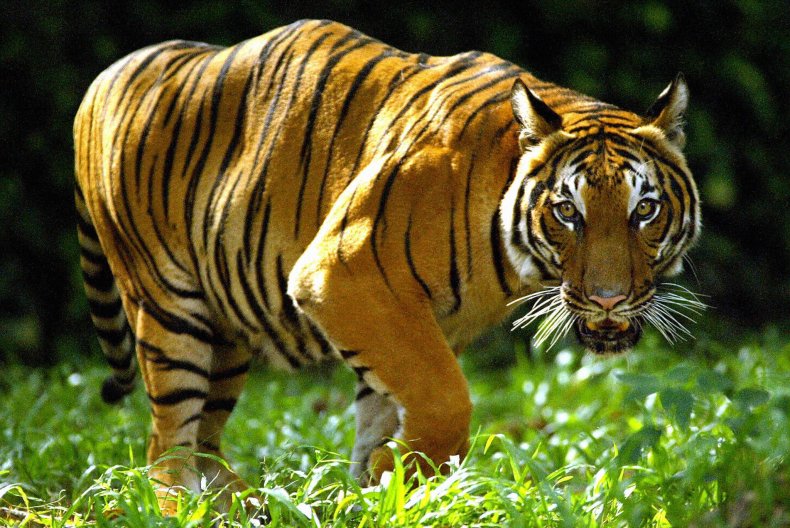 Lim said that in tiger range countries, conflict with humans is "not uncommon" as they face "unrelenting pressures" from poaching, retaliatory killing and habitat loss, meaning they are forced to compete for space with dense human populations.
"Tigers are by nature solitary, unless they are courting or a mother with young cubs. Preferring to shy away from humans, the tiger hunts alone, by ambush, waiting for lone, unsuspecting prey," she said. "A tiger when threatened or already injured may exhibit more aggression and its natural behavior is to defend and save itself.
"The solution is to minimize contact between wild tigers and humans, however, as competition for space and habitat increases, this becomes a challenge.
"It is only a matter of time before its numbers are completely wiped out from the combined threat of poaching, deforestation, habitat loss, lack of natural prey for food, injuries from snares or being hunted, leading to inability to hunt for food ... increased incidences of human tiger conflict and the threat of disease such as canine distemper."