Tiger Woods' Biggest Masters Moments as Star Returns for 24th Tournament
Golf superstar Tiger Woods announced on Tuesday that he plans to play in the coveted 86th Masters, which marks the first time he will appear in a competitive golf tournament since his injury from a car crash last year.
"As of right now, I feel like I am going to play," Woods said at a press conference, adding that he thinks he can win the tournament at Georgia's Augusta National Golf Club that begins this Thursday.
Over the course of his storied career, Woods has appeared in the Masters 23 total times, compiling five total wins. Woods trails only golf legend Jack Nicklaus in total Masters wins as the latter has six green jackets. Woods had won the tournament in 1997, 2001, 2002, 2005 and 2019.
Newsweek has compiled a list of some of Woods' most memorable moments from his previous Masters appearances.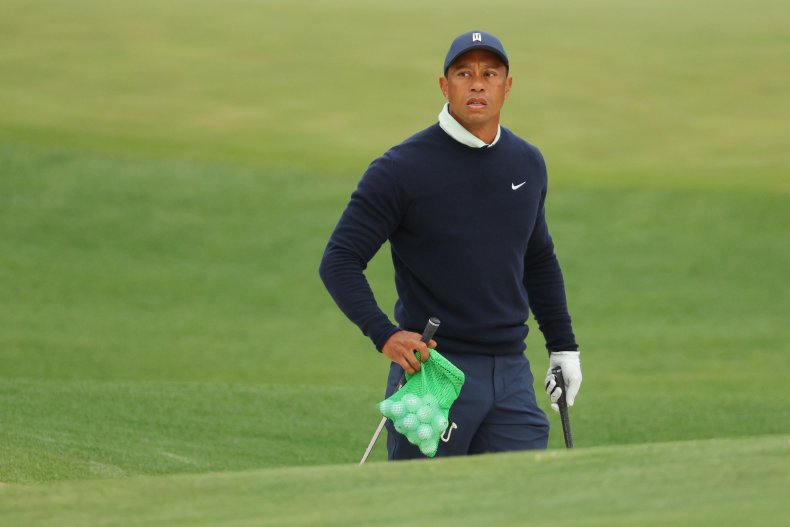 1995
In 1995, Woods made his Masters debut as an amateur and went on to finish tied for 41st place shooting five over par. In his book, The 1997 Masters: My Story, Woods spoke about his first official day at the tournament. During his opening round, Woods hit a shot that rolled off the green, which he called "one of the most embarrassing moments that I can ever remember."
"Great start to my Augusta career," Woods recalled, according to Golf.com. "Hit the green in regulation, and then hit my first putt off the green."
1997
Woods secured his first Masters victory in 1997 at 21 years old and earned the first green jacket of his career. He finished the tournament at 18 under par, leading the rest of the field by 12 strokes. In a now-iconic video, Woods was seen hugging his father Earl after the win.
2001 and 2002
After his first Masters victory in 1997, Woods went on to win two consecutive green jackets in 2001 and 2002.
Prior to his victory in 2001, Woods won the U.S. Open, the British Open and the PGA Championship in 2000. Woods finished the 2001 Masters by draining a birdie putt on 18 to finish the tournament 16 under par. The Masters victory made him the first player to win four consecutive golf majors.
A year later, Woods went on to win his third Masters championship, joining golf greats Nicklaus and Nick Faldo in accomplishing back-to-back victories.
2005
During the early rounds of the 2005 Masters, Woods trailed Chris DiMarco by six strokes but eventually went on to score seven straight birdies, giving himself the top spot heading into Sunday's final round.
Woods made one of the most iconic shots in golf on the 16th hole during the final round, in which he chipped the ball in from the left side of the green to birdie the hole. He eventually went on to win the 2005 Masters after besting DiMarco in a sudden-death playoff.
2019:
After 14 years without a victory at Augusta and many doubting that he would win again, Woods came roaring back with his fifth Masters victory in 2019.
Wearing his iconic Sunday red shirt, Woods finished the tournament at 13 under par. Following his win, footage showed Woods rushing to his family and lifting his son Charlie in the air to celebrate.
Correction 4/5/22, 2:49 PM ET: An earlier headline for this story misstated that Woods' upcoming Masters appearance would be his 23rd. It is actually his 24th. We regret the error.