Tiger Woods Injured in a Car Crash, Rescued From Wreck
Tiger Woods was injured in a car crash early Tuesday morning in Ranchos Palos Verdes, California, according to a statement released by the Los Angeles County Sheriff's Department. A crew made up of firefighters and paramedics responded to the scene and removed the professional golf star from the wreck.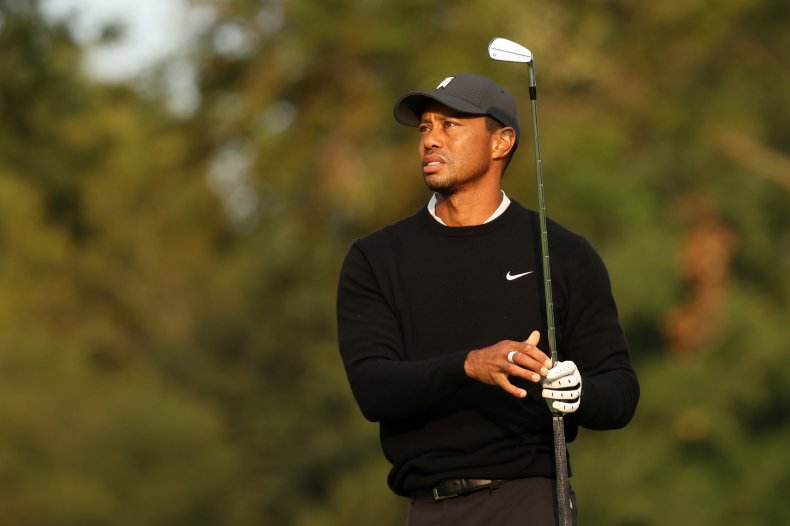 Eldrick "Tiger" Woods was transported from the scene to a hospital, by an ambulance, to be treated for his injuries. Though the vehicle involved in the crash was reported to have been majorly damaged, no mention was made of Woods' condition by the Los Angeles County Sheriff's Department.
Woods' agent, Mark Steinberg, released a statement soon after the news broke. He mentioned leg injuries and indicated that Woods was undergoing surgery. The brief statement reads: "Tiger Woods was in a single-car accident this morning in California where he suffered multiple leg injuries. He is currently in surgery we thank you for your privacy and support."
The incident is currently under investigation by the the Los Angeles County Sheriff's Department Lomita Station. The department's report indicates the wreck occurred at around 7:12 a.m. PT near the border of Rolling Hills Estates and the Los Angeles County city of Rancho Palos Verde.
The LASD shared its statement Tuesday afternoon on Twitter. In its tweet, the office characterized the incident as a "single vehicle roll-over traffic collision."
Images of the crash captured from television news coverage spread on social media.
Golf Digest reported that Woods recently participated in shooting footage for Golf Digest/GOLFTV, during which he was joined by celebrities such as Jessica Alba, David Spade, Justin Timberlake and Dwyane Wade. Ahead of the shoot, Woods hosted this past weekend's PGA Tour's Genesis Invitational, which is run by his foundation. During the invitational, the golf icon told CBS' Jim Nantz that he was still recovering from back surgery he underwent on December 23. He also indicated to Nantz that he was awaiting results from an MRI before he could resume training for golfing competition.
Woods, 45, is tied for first in PGA Tour wins and ranks second in men's major championships. He holds numerous other golfing records and is widely considered one of the greatest competitors to ever play the sport. In 2020, the World Golf Hall of Fame voted to induct Woods into its 2021 class. In January 2021, he was the subject of a two-part documentary on HBO that documented his professional triumphs and personal struggles.
Updated 2/23/2021, 4:00 p.m. ET: The Los Angeles County Sheriff's Department originally stated that the "jaws of life" were used to rescue Woods from his vehicle. In a later interview on television, Captain James Powers of the Los Angeles County Sheriff's Department said that "jaws of life" were on the scene, but not used. This article and headline have been updated to reflect that information.