Baby Frantically Devours His First-Ever Chicken Wing in Adorable Video
A video chronicling a baby's adorable first attempt at tackling a chicken wing has been melting hearts and eliciting smiles online.
The clip was first posted onto TikTok by the young tot's mother under the handle knightsglow. The footage centers on the baby as he tries a leg of chicken for the first time.
It's an impressive effort to say the least, with the young child going to town on the piece of meat in a hilarious frantic effort that sees every morsel of chicken attached to the bone happily consumed by the super-cute youngster.
Arguably the highlight comes towards the end of the clip when the baby can be seen tapping on the bone to check he's left nothing behind.
"This was the first time I put a whole chicken wing on his plate," a caption posted by his mom alongside the video reads. "I'm shook."
It would appear that the internet is similar "shook" by the sweet tot's effort, with knightsglow's video racking up 31 million views and a whole lot of "awws" to boot.
The clip can be viewed here.
Fans were quick to praise his carnivorous efforts.
"He put those four teeth to work," Rebecca Lopez commented. "So flipping cute." Dorkybrunette agreed: "He's too cute. I just want to hold him. I miss my 3 being that small." Pgoldgell said "He's an old soul," while Ashanti Love commented: "he understood the assignment."
Dammywise and many others were also blown away by the baby's "little finger check" for more meat, with jtbucketts, meanwhile, predicting "he gone be a football player" based on his impressive appetite.
The baby featured on the video is called Isley. He celebrated his first birthday on December 9.
His mom, Kirstin, told Newsweek she began filming clips of him eating to show family members how he was progressing with solid food.
"I had been recording him eating the wing on a whim as I just wanted to share it with close family," she said. "Once I realized how impressive he was at eating the wing I thought the video would be cool to share with everyone showing his skills."
Kirstin has been blown away by the response to the viral clip.
"I had no idea it would gain this much traction over the next couple of days," she said. "I guess everyone was just as impressed as I was! My inbox has been crazy, but I'm enjoying all of the support we've received so far."
Isley, meanwhile, is continuing on with his baby-led weaning, which Kirstin says has been going very well so far.
"Our journey with baby-led weaning has been really fun and an interesting way to show him how to try new things outside of purées and mashed foods," she said.
"Right now we're learning to use teeth and really work the jaw muscles so things like corn on the cob, crunchy veggies like cucumbers and maybe a rib or two are on our to-do list next! He enjoys food and it's actually teaching me a lot about experiencing food as well!"
Babies begin the process of trying solid food from the age of six months onwards. Traditionally speaking, parents have been told to start their babies off with cereal, veggies and fruit before moving on to meat.
However, according to Rhona Lewis at Healthline, it may be a better move to introduce meat earlier than that. "At four to six months of age, the iron stores that your baby was born with are starting to get depleted," she writes. "Iron is needed for hemoglobin formation and oxygen transport."
The key is to introduce children to food that is rich in iron. These traditionally come in two forms: heme and non-heme iron.
"Heme iron is the easiest for your body to absorb," Lewis explained. "Which is exactly why you may want to start offering your baby meat as one of their first foods. In addition lean red meat also has zinc, vitamin B12, fats, and of course, lots of protein."
Videos of tiny tots trying food for the first time never cease to amaze people online. One recent clip saw a young boy react with delight to his first taste of pumpkin pie while, prior to that, a baby went viral after a video of her trying her first-ever McDonald's was posted to TikTok.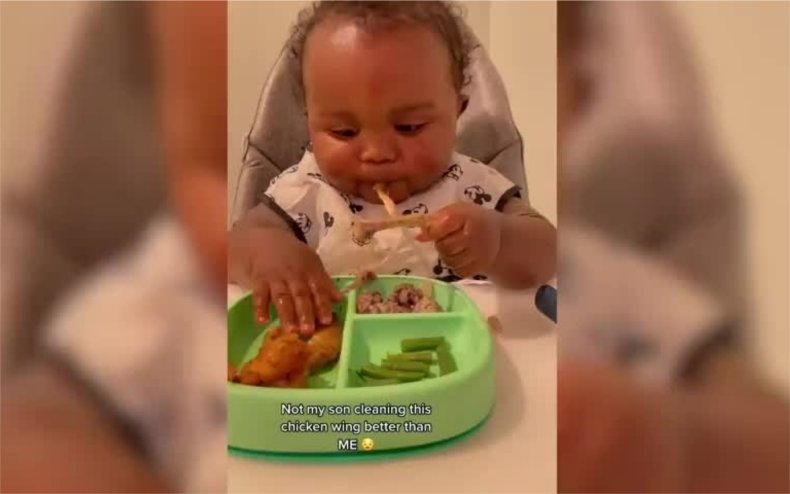 UPDATE 12/15/21 10:47 a.m. ET: This article was updated with quotes and a new picture and video.