Woman Behind Viral TikTok Renovation Fail Says She Is 'Excited to Do More'
In a time of Flip or Flop and Fixer Upper, house renovations rake in views. Grace O'Heeron knows this all too well. Newsweek first covered this story last week, but a lot can change in that time when you're as indecisive as O'Heeron.
In front of millions of viewers, O'Heeron documented the accidental destruction of her bathroom in her attempt at a DIY renovation on TikTok. Now she says she is "excited to do more."
At the time of publication, her most viewed clip has over six million hits. The 100-part-plus series began in April when 23-year-old O'Heeron began painting her floor tiles in a black and white pattern with a friend.
"I got the idea from all those TikToks that show super cute home DIYs in 15 seconds, and my house has an outdated feel to it so I wanted to add some cute new updates without it being too expensive," O'Heeron told Newsweek.
April 29 was the beginning of the end for the bathroom renovation, when O'Heeron's only stencil broke, leaving her spending 300 dollars on a Cricut machine to make more. Next up were the sinks, which were painted white with glitter before reattempting with a bumpy green layer, raising the videos to a viral level. One clip even shows a bug stuck in the paint—you don't get that on HGTV.
"Everyone was super mad and angry that my bathroom was so messed up at first because everyone assumed I had done it on purpose and that there was no possible way I could've destroyed it that bad on accident," explains O'Heeron.
The TikTok star told Newsweek that she will never use the help of a decorator, no matter how bad it gets: "I'm too stubborn to ask for professional help," she says.
It might not be the result TikTok users want to see, but the bathroom is beginning to finally shape up. The tiles have been covered with store-bought versions, and the "dive bar" sinks have been repainted white – no flies included this time.
"I finished tiling and just have to figure out how to do caulking because i'm not too sure about that," said O'Heeron.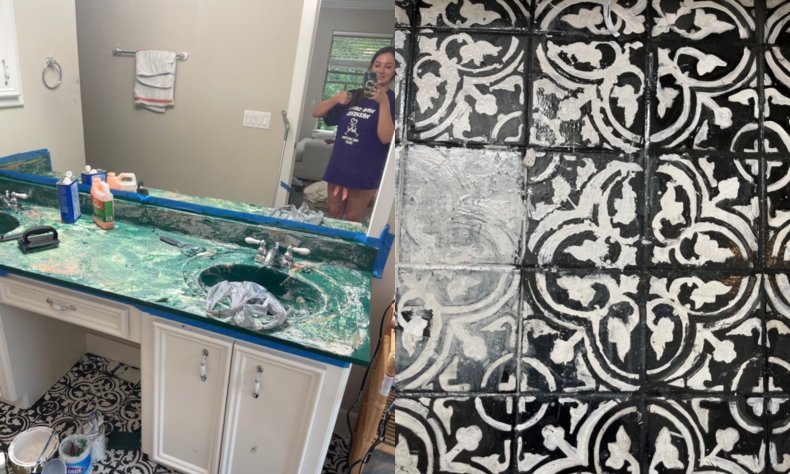 Although the viral TikTok series has provided entertainment, as viewers watched O'Heeron in real-time chopping and changing her mind on look to go for, what paint to use and what colour, there is an underlying reason for it all.
In December 2019, O'Heeron was hit by a drunk driver who ran a red light while out walking. After being found unconscious and bleeding, according to local news reports, she suffered head trauma and multiple broken bones.
The damage caused by the accident impacted her decision making processes, and she says this can partially explain the TikTok renovation-turned-disaster: "I had severe tbi from the accident and a lot of the damage was in my frontal lobe, which has a lot to do with decision making and impulsiveness," she explains. "I impulsively painted my bathroom floor black and knew it was game over from there and no turning back. After that it was just one poor decision after another."
Regardless of why she made the renovation decisions, and ultimately errors, O'Heeron says she has no regrets about the whole situation. "I don't regret it at all, I learned so much from the process," she says. "Although it was stressful at times I honestly had fun with it."
Attempting to fix your ruined bathroom in front of millions could put off even the most shameless DIY enthusiast, but not O'Heeron, who is currently contemplating taking on her office next. Much to the disapproval of her dad, who has been buying her bird boxes to decorate as a replacement.
"My parents just shook their heads and were glad they didn't have to pay for it," said O'Heeron. "It's made me more excited to do more, especially now I have all these supplies."