Black Cat Caught Spying on Owner in Hilarious Clip: 'Danger'
The viral video of a black cat spying on her owner has creeped out the internet.
The popular TikTok video shows Lola the cat peeping through the door crack, and curtains and using a cardboard box as camouflage as she stares at her owner.
The clip posted on the social media page dedicated to the cat @lolathesassycat has over 4 million views.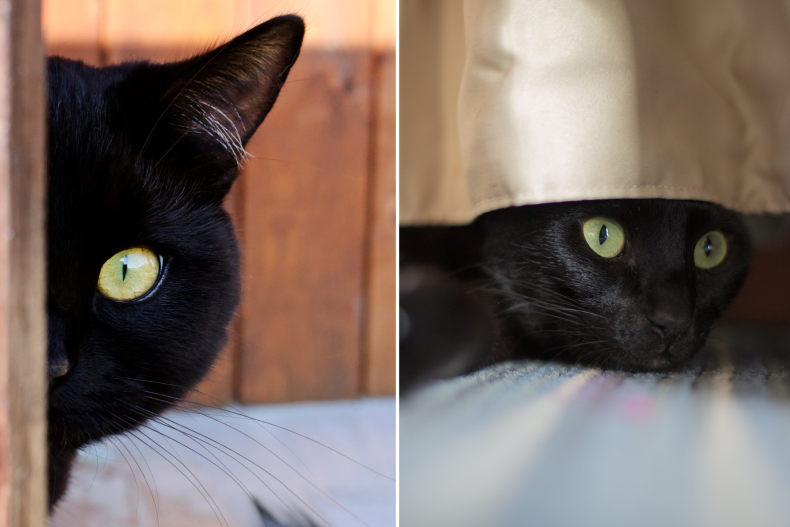 In some parts of the world, black cats are associated with misfortune which may be why TikTok users are warning the owner to stay on "remain on high alert" as they believe the cat is "plotting" something sinister.
In 2021, ACANA, a pet food company, surveyed 2,000 American cat owners and the results found four in 10 believed black cats bring good luck and two in 10 thought the opposite. One in 10 owners have a black cat and a quarter of them describe themselves as "extremely quirky."
The popular clip has racked up over 585,000 likes and more than 15,000 likes.
In the comments, users have accused the cat of spying on the owner. But the CIA has previously determined that cats made terrible spies.
In the 1960s, the CIA had a secret plan called "Operation Acoustic Kitty" which was to turn cats into portable spying devices. This involved implanting a microphone into a cat's ear and a radio transmitter into its skull. The aim was to train the cat to sit near foreign officials. This was done to only one feline...
The cat was taken to a park to capture the conversation between two men on a bench but instead, it wandered off into the road and was run over, according to Emily Anthes who wrote about this particular episode in Frankenstein's Cat: Cuddling Up to Biotech's Brave New Beasts.
It is safe to assume Lola isn't a spy. Still, social media users have their suspicions.
One said: "I'm not saying you could be in danger but..... that void is up to something."
"In Africa we call that monitoring spirit or village people," commented another user.
Another said: "She['s] plotting you."
"That cat spying on you fr [for real]" said one TikTok user.
"I can't have a cat for this very reason I scare too easy and this cat will give me a heart attack," concluded another.
It seems it isn't just owners who feel like they are always being watched but pets too. Previously, Newsweek shared the moment a cat found his owner's secret pet camera. We also shared a story about a cat who has mastered hiding as he is perfectly camouflaged in the closet.
Newsweek reached out to @lolathesassycat for comment.
Do you have funny and adorable videos or pictures of your pet you want to share? Send them to life@newsweek.com with some details about your best friend and they could appear in our Pet of the Week lineup.