Cats Appear Unhappy With Owner's Hilarious Sign to Stop Them Escaping
Three cats have been left unimpressed by their owner's ploy to keep them indoors.
Walter, Walternate and Belly, who are all Persian cats, might look like butter wouldn't melt in their mouths but "they are shifty," according to their owner Sonya.
In a viral clip on a TikTok account dedicated to the trio, they can be seen "paw-tiently" waiting by a glass door to be let out.
However, a sign warns visitors against opening the door for them. It reads: "Please don't let the cats out, no matter what they promise you."
The hilarious clip, paired with Elvis Presley's Trouble, is captioned: "They may look sweet and innocent but when it comes to trying to get out…"
The video has racked up 1.3 million views and 106,800 likes in less than 24 hours.
Can Persian Cats Go Outside, or Should They Stay Indoors?
Pedigree cats like the ones in the video are often kept indoors. Pet food company Purina says the breed is "too easygoing" and not "athletic" enough for the great outdoors.
The cats are said to be calm and happiest when indoors with the option of a small sheltered outdoor place for sunbathing, according to the Purina website.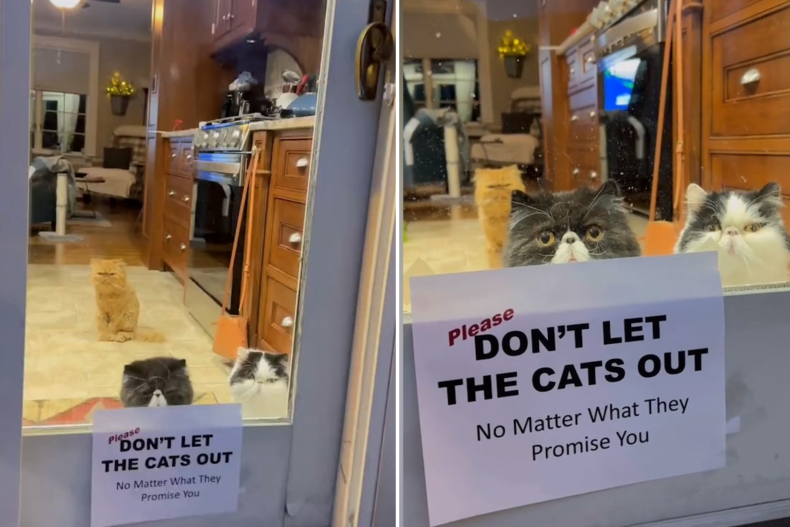 Sonya, who didn't want to give her surname, told Newsweek that her cats had never walked on the streets of New York City, where they live.
The 54-year-old said: "They are indoor cats only. They have never been outside unless in a carrier on their way to the car.
"They really aren't street-smart enough to be outside, plus there are way too many dangers around—bears, foxes, coyotes, hawks and, sad to say, cruel people.
"So, I provide them with lots of interactive toys inside and lots of perches to watch outside. I even have window bird feeders for them to get close up to nature.
"They actually don't really try to get out. I put the sign up more as a joke for my family members. But every time I go outside they sit at that door and wait for me to come back in, which is what they were doing."
Keeping Persian cats indoors is also sensible because they aren't cheap to look after. A Persian cat bought from a breeder costs $1,200 to $1,800, according to the blog of pet furniture company Hepper.
Hepper's blog also says a Persian cat's monthly expenses for health care, environmental maintenance and entertainment can range from $315 to $430.
More than 680 people have commented on the TikTok clip since it was shared on March 6. One comment with 1,525 likes said: "They look like they are in a cat mafia."
Another said: "idk [I don't know] they look trustworthy to me and they promised me tacos."
"That's the Pawfia!!" said another person.
"Prison escapees. Mine try to do the same," commented another.
Another TikTok user joked: "They promised me the house for I let them out."
Cats escaping is quite common. In recent months Newsweek has shared stories about an owner who failed to notice his indoor cat had got out and another cat's impressive escape route.
Update 09/03/23, 5:15 a.m. ET: This article was updated with comments from the cats' owner Sonya and to add her video.
Do you have funny and adorable videos or pictures of your pet you want to share? Send them to life@newsweek.com with some details about your best friend and they could appear in our Pet of the Week lineup.