Dog's Reason for Pulling Owner into Grocery Store Every Day Melts Hearts
It must feel like deja vu for this dog owner and her pet, who keeps selecting the same toy from the same shop.
A viral clip of Doris, two, the mixed breed, has been viewed 1.8 million times on TikTok. It shows the dog walking through the store with a green stuffed bone toy in her mouth, but this isn't the first time Doris has pulled her owner Julie Watson, 29, into the grocery store.
Watson, who uses the handle @days_with_doris, added the following text to the video, which reads: "My dog pulls me to the grocery store on our walks and picks the same toy every time."
It turns out Doris, the dog who "knows what she wants" has 25 of the $10 stuffed bones in her bed at home.
Speaking to Newsweek, Watson said: "Doris is bossy and sassy in the best ways, hilarious, sweet, and loves attention. She pretty much runs our household.
"The green bone was the first toy we ever got her; we think that's part of the reason why it's her absolute favorite. She slept with it for months to acclimate to her new home and it is still the only bone she'll play fetch with.
"She never gets all of the bones out at once; the majority of them are piled in her bed or hidden around our house. She'll usually take out 2-3 at a time."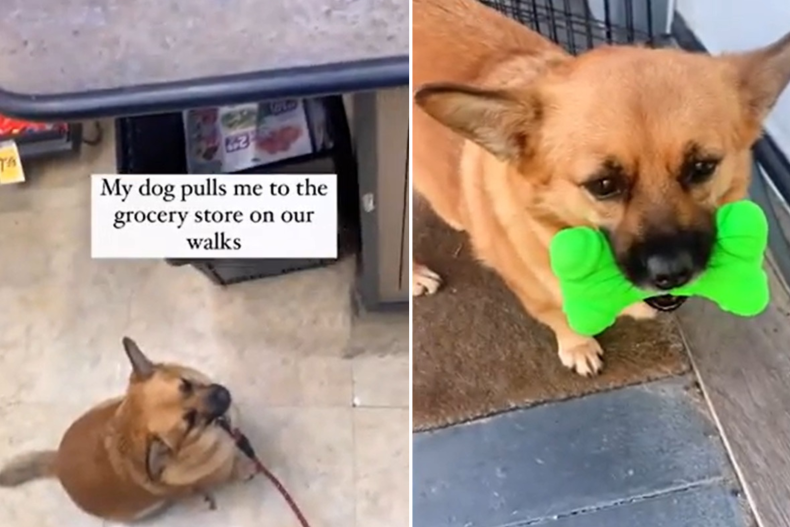 Dr. Zac Pilossoph, a consulting veterinarian, told Newsweek why a dog may become attached to one item.
"Every single day, dogs display behaviors that prove more and more how they each behold a unique personality, no different than humans. Dogs have the ability to choose items, foods, activities, etc. that they prefer and enjoy more than others all the time," said Pilossoph, who works for Healthy Paws Pet Insurance.
"Dogs can imprint on certain items and/or locations when very young, which will be carried with them often through life. These items and/or locations may provide them comfort as they did once before in their life when very young."
He added: "All in all, unless these behaviors are harming them in some way, they should be allowed and not seen as concerning. As the video states, this dog knows what it likes!"
Stuffed toys provide great entertainment for dogs and they can also reduce stress, according to a Hartpury University, England, study.
In 2020, a team of UK-based researchers found that 44 dogs in a rescue shelter displayed "more positive behavior" when given a toy. But it wasn't any old toy, as the researchers gave 44 kennelled dogs a scented toy that led to improvements.
The study also found that the lavender or rabbit-scented toy encouraged the dogs to play, rest and explore their kennel more.
While Doris's toy may not be scented, it is certainly making her and many TikTok users happy. The clip has racked up more than 250,000 likes and over 1,000 comments.
One TikToker posted: "It's called a collection. your pup is a Collector."
"At least they are all chewed up and being played with!!" wrote another, while a third posted: "We love a consistent queen."
One TikToker suggested tricking Doris: "Bring and old one with you and pretend to buy it so you don't have to keep getting more."
Update 30/01/22, 03:38 a.m. ET: This article was updated with a comment from Julie Watson.
Do you have funny and adorable videos or pictures of your pet you want to share? Send them to life@newsweek.com with some details about your best friend, and they could appear in our 'Pet of the Week' lineup.