Dog Hilariously Tries To Join Owner Running on Treadmill: 'Prance Prance'
A viral video of a dog joining her owner on the treadmill has left the internet in stitches.
The comical clip, posted by @skylerhong on TikTok, shows the owner attempting to run on the treadmill, but it quickly becomes clear her canine has other plans.
The video has racked up 2.2 million views and over 264,000 likes since it was posted on February 3.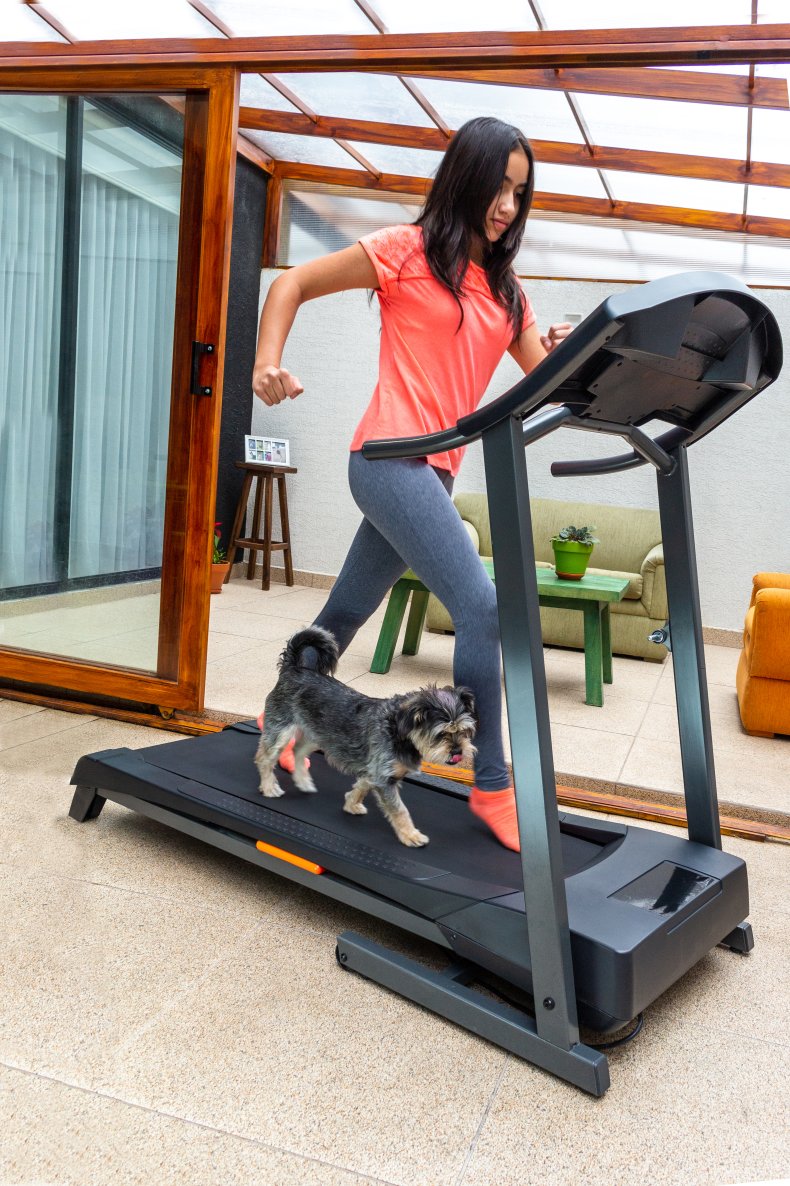 Benefits of Owning a Dog Treadmill
In the comments, the dog owner, Skyler, told another TikTok user she trained her pup by watching YouTube videos and using bacon as a reward.
Skyler stated that the treadmill training is because she lives in a cold and snowy area so the treadmill is a great way "to get her energy out in the winter."
Newsweek reached out to dog behaviorist and separation anxiety specialist Petrina Firth who explained the factors to consider when treadmill training a dog.
According to Firth, who is also known as The Pet Coach, the benefits of training a dog to use the treadmill include:
Convenient for when the weather is too hot or cold, and your dog still needs physical and cardiovascular exercise.
Treadmills allow you to monitor the dog's gait and can be wonderful for physio and rehabilitation as it provides a stable and reliable surface for the dog to trot on.
Dog treadmills can be used for conditioning and teaching endurance, particularly valuable for sports or athletic dogs who love to run!
Can Dogs Use a Human Treadmill?
Plenty of treadmills are designed especially for dogs but aren't cheap. The prices range from $200 to over $1,000.
Firth said: "Actual dog treadmills are pretty expensive, and human treadmills aren't best suited for dogs as they do not allow enough room for the dog to run at full stride which can cause muscular imbalance, joint issues, and pain.
"Human treadmills also tend to be narrower than dog treadmills, restricting the dog from choosing how they run."
Firth said that a dog's claws can damage human treadmills and there is a risk of a dog's paw getting caught between the treadmill belt and edge, causing injuries to the pet.
"Treadmills don't provide the dog with mental stimulation. Dog walks are not only physically enriching, but they're also mentally enriching too, which is better for overall mental health and wellness.
"Dogs need training for treadmill safety using positive reinforcement training. Start slowly with the treadmill at a low speed for them to avoid harm or injury.
"In general, using a dog-specific treadmill designed with a dog's size, weight, and abilities in mind is safer and more appropriate than a human treadmill. There is nothing inherently wrong with using a dog treadmill; we just need to make sure it's safe and fun for the dog," Firth told Newsweek.
What Do the Comments Say?
During the clip, Skylar added on-screen text to the video that refers to the dogs running as "prance prance".
The clip has gained a lot of attraction and over 1,100 people have commented on it.
One comment, which received over 16,000 likes, said: "Clearly she was on it first, don't interrupt her! Do we need to get Joey Swoll in here?"
"Time to get another one and put it right next to it. At least you have someone to motivate you," suggested another user.
Another person said: "If you're going, I'm going."
"My perfect excuse to quit cardio," joked another person.
"Now this a way to get some endorphins," commented another person.
Do you have funny and adorable videos or pictures of your pet you want to share? Send them to life@newsweek.com with some details about your best friend and they could appear in our Pet of the Week lineup.