Dog's Reaction to Owner's Boss Returning to Office Delights Internet
A dog being referred to as a "man's best friend" is a common phrase used by many with loyal furry companions. It seems this may be the case for this man whose employee's dog is delighted to be reunited with him after one month's absence.
The Staffordshire terrier's owner Amanda Rose who uses the handle @call_me_mandy posted the viral clip to TikTok on January 21. It has since racked up over 30,000 likes and has been viewed over 277,000 times.
The video shows the joyful moment her rescued dog sees Amanda's manager for the first time in weeks. The canine can be seen wagging her tail and running over to the man as he walks through the door.
It isn't just the dog's excitement that has caught people's attention but the unique way she walks through the doorway, as she can be seen running backwards as she navigates her way through the entrance.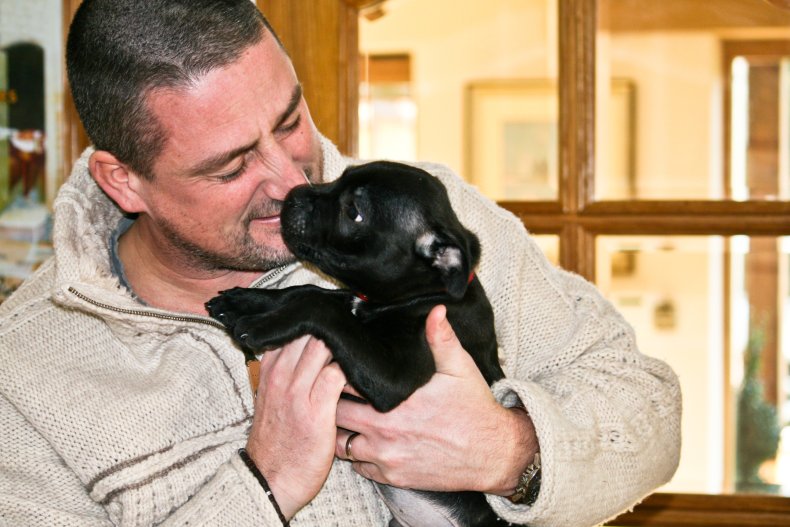 Reasons Why Your Dog Is Walking Backward
In the comments, Amanda explained her dog's little quirks: "She's a rescue, so I think it's more she got snuck up on when she was on the streets."
Samantha Webster, a veterinarian, told Newsweek about the viral clip: "There are a number of reasons why a dog may walk backward. Most causes are rooted in behavior, particularly around fear response. This could be a fear of a person, a situation, or even the environment—note the change in the video from a shiny floor to a carpet, it can be something that simple!
"Another possible reason to walk backward might be a pain. If a dog has slipped in a situation in the past and hurt itself or is stiff /arthritic, it may try to avoid putting itself in situations that cause pain. In rare cases, walking backward can be due to neurological conditions," said Webster, who works for online vet service Joii Pet Care.
What Do the Comments Say?
Almost 200 people have commented on the video captioned:"She's the sweetest. That back up."
One user said: "Omg what was that?! Does she do that all the time through the doorway?! [that] is so cute."
"She so cute x the reverse omg," said one user.
It seems she isn't the only dog who walks backward as another owner said: "MY DOG REVERSES TOO! People always laugh but if it isn't carpet, he has to reverse !"
"Ok but can we give the boss a total round of applause for building relationships with employees' pets," praised one user.
Another comment said: "The way her tail picked up speed."
Newsweek reached out to @call_me_mandy for comment. We could not verify the details of the case.
Do you have funny and adorable videos or pictures of your pet you want to share? Send them to life@newsweek.com with some details about your best friend and they could appear in our Pet of the Week lineup.