Dog Has Very Unimpressed Look When Owner Isn't in Bed by 9 p.m.: 'Dramatic'
Dogs are often treated like children by their owners; in some cases, they may even act like kids. A video of a vizsla called Archie shows he is set on going to bed at 9 p.m., and he is unimpressed when his owner isn't ready to hit the sack.

In a viral clip shared by @archie.and.becca, the dog can be seen impatiently pacing up and down the corridor outside Becca's bedroom. He also sits by the door and stares at her from afar.
The on-screen text reads: "When it's 9 p.m. and mom hasn't made moves towards the bedroom yet."
The video has received almost 300,000 views and almost 30,000 likes since it was shared on February 4.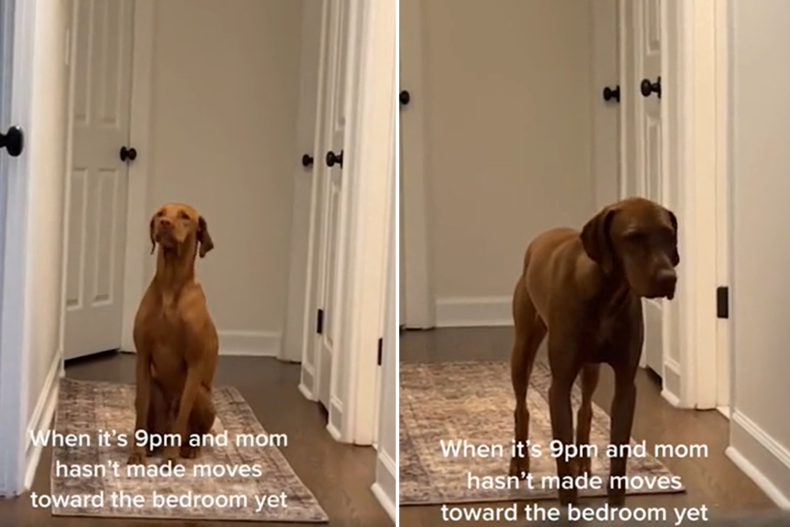 Speaking to Newsweek, Becca said: "He is the most dramatic, loving, and, crazy dog in the world!
"After he eats at 5 p.m. he pretty much wants to go straight to bed for the night."
Do Dogs Need a Routine?
Vizslas are super-energetic dogs who tend to "form a tight bond with their owners and hate to be left alone," according to the American Kennel Club (AKC).
The average dog sleeps for roughly 12 hours per day, and it is a good idea for owners to stick to a routine throughout their pet's life.
However, the AKC states they should be flexible because a rigid routine can lead to anxiety for the owner and the pet. The AKC suggests prioritizing creating consistency around their pet's training or exercising rather than building a routine at a specific time. Otherwise, the dog may get restless when the clock strikes a certain hour and they haven't had their breakfast or, in this case, got into bed.
Training Routines
Basic training skills are vital for all dogs as it gives your pet the opportunity to learn new skills. The AKC states a few minutes of practicing new skills "can make a huge difference in learning and knowledge retention."
What Do the Comments Say?
More than 200 TikTok users have commented on the clip, and it seems Archie isn't the only dog who is like this.
One dog-owner posted: "Aren't they funny?? If we have company over and it's bedtime he will start barking at everyone," while another wrote: "They are so clever!"
"My Weimaraner used to walk halfway up the steps, stare at us through the railing, and sigh," commented another user.
"Your lucky I get from 8pm the huffing and striding," posted another. In the comments, Becca responded: "They [are] so dramatic."
In October, Newsweek shared a golden retriever's reaction to being woken up seven minutes earlier than usual. In December, there was a chihuahua that was dubbed an icon for refusing to go to bed until everybody said "goodnight."
Update 02/13/23, 06:03 a.m. ET: This article was updated with comments from Becca and original content.
Do you have funny and adorable videos or pictures of your pet you want to share? Send them to life@newsweek.com with some details about your best friend, and they could appear in our Pet of the Week lineup.