German Shepherd's Hilarious Playtime with Toddler Melts Hearts Online
The relationship between man and dog is meant to be the best out there, but what about child and dog?
A heartwarming interaction between a toddler and a German shepherd has been melting hearts online, after gaining more than 27 million TikTok views.
Dog-lover and new mom Jessica Berlin from Louisiana shared her son's adorable playtime with their family dog to her TikTok account, @astorsmom on August 2.
German shepherd Bang was captured flinging itself around the room as an entertained toddler attempted to join in the fun, running around the canine.
The toddler could be seen and heard hilariously laughing at his four-legged friend, reaching over to touch the dog and joyfully playing with one another.
As a breed that is known for being good with kids, the German shepherd was jumping in the air and even running away from the toddler, before circling back around to play some more, much to his amusement.
The baby's infectious laugh continued on, even as the dog sat down for some well-needed rest from playtime.
According to the American Temperament Test Society, the German shepherd has one of the best pass rates for dog temperaments, meaning they're known to be stable dogs to have around children thanks to their calmness and the way they react to unpredictable situations.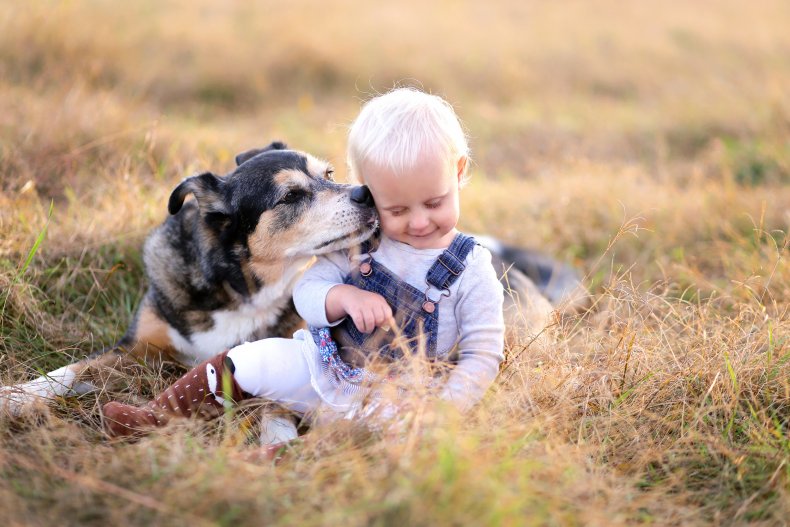 Other videos showed further examples of the adorable bond between the dog and toddler, with the pair enjoying even more playtime and snuggling up to one another at home.
Millions of TikTok users were left gushing over their cute bond, rushing to the comments to spread their own positive messages.
"Thank you for sharing. I needed this so bad," wrote a fellow dog-lover.
"My shepherd loves kids so much that if he sees one on his walk he just stops and stares at them waiting to play," added one user.
"That dog is sooo beautiful, being so gentle, this is a beautiful memory," noted another TikToker.
Newsweek has contacted Jessica Berlin for comment.
German shepherds were the fourth-most popular dog breed in the United States in 2021, according to the American Kennel Club, down from third place in 2020 and second place in 2019.
Earlier in September, another German shepherd gained online fame for its cuteness, tickling the internet with its love for Halloween.
The dog was captured admiring his spider costume in a mirror ahead of the festivities, much to the delight of internet users.
Do you have funny and adorable videos or pictures of your pet you want to share? Send them to life@newsweek.com with some details about your best friend and they could appear in our Pet of the Week lineup.