Tiktok Removes Milk Crate Hashtags Saying It 'Glorifies Dangerous Acts'
TikTok has removed the viral milk crate challenge hashtags from its site, saying it "glorifies dangerous acts."
In recent weeks the trend has taken off on the social media platform, with some videos amassing more than five million views alone on TikTok, while attempts have also been shared across Twitter.
It involves people piling up the plastic boxes into pyramid-esque shapes, and seeing if anyone's able to walk up and down the steps.
But the challenge has resulted in a number of injuries, clips shared to social media show, as either the flimsy crates buckle or people lose their balance.
TikTok had seen numerous videos posted under the #MilkCrateChallenge and #CrateChallenge, which the latter amassing more than 15 million views, but they have since vanished from the site.
Searching for the hashtags now takes you to a message, which says: "This phrase may be associated with behavior or content that violates our guidelines. Promoting a safe and positive experience is TikTok's top priority. For more information we invite you to review our community guidelines."
A spokesperson confirmed the tags had been removed as the trend "glorifies dangerous acts." Some videos have also been removed, although it's not clear if the poster or TikTok deleted them.
A spokesperson for TikTok told Newsweek: "TikTok prohibits content that promotes or glorifies dangerous acts, and we remove videos and redirect searches to our Community Guidelines to discourage such content. We encourage everyone to exercise caution in their behavior whether online or off."
With hospitals across the country already stretched as they battle with cases of the Delta COVID variant, doctors are urging people not to take part in challenges that can easily lead to injuries.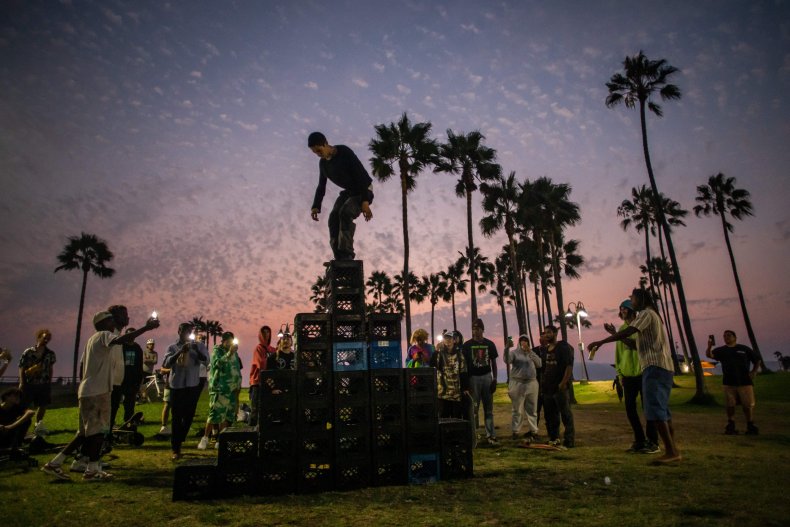 Shawn Anthony, an orthopedic surgeon specializing in sports medicine at Mount Sinai Hospital, told The Washington Post: "It's perhaps even worse than falling from a ladder. It's very difficult to brace yourself from the falls I've seen in these videos. They're putting their joints at an even higher risk for injury."
While Henry Schuitema, chief of emergency medicine at Jefferson Health in New Jersey, was quoted by the site saying he'd seen people come in with fractured ribs after the challenge backfired.
"So many of these injuries we're seeing are preventable just by being intelligent. If you catch a corner of one of those crates, it's going to be problematic. It looks like something funny, but real people are getting real injuries," he told the site.
As well as personal injury from falling, three people were killed at a shoot-out, in Shreveport, Louisiana, which was captured on camera by some friends filming themselves taking part in the crate challenge.
Footage shows a man attempting to climb a tower of crates, when the distinct pop of gunfire can be heard. The group flees and the cameraman runs and ducks for cover, while appearing to shout "get me my gun."
The clip, shared to Twitter by user @SirVstudios, who goes by the name Official Milk Crate Challenge News Source, has been watched more than 300,000 times.
The shooting reportedly took place on August 22 outside of Linwood Public Charter School. Local news outlet KSLA News 12 reported that two people were shot outside the school at 5:36 p.m.
The police were later called to Circle K on East 70th Street at Gilbert Drive where a woman was found dead in the back seat of a car 6:11 p.m. Police stated they believe the two incidents are linked.
The crate challenge has since made its way from viral videos into mainstream culture. Comedian and host, Conan O'Brien, posted a tweet on Monday, saying: "Waiting for FDA approval before I take the Milk Crate Challenge."
The official U.S. Food and Drug Administration (FDA) Twitter account responded, saying: "Although we regulate milk, we can't recommend you try that. Perhaps enjoy a nice glass of 2% and return all those crates to the grocery store?"
And it's not just the U.S. where the crate challenge has soared in popularity, as the trend is being replicated across the pond.
A clip from the U.K. shows Brits mimicking the challenge, using bread crates instead, a commonplace item found in stores and supermarkets.
A video of a woman attempting to walk over the plastic boxes ends in disaster, as she falls and appears to injure herself.
The footage appears to have been initially shared to TikTok account @9gz9gz, where it's since been deleted.
But before it vanished, it was stitched across the site and shared to Twitter, by user @8akuaa, who captioned it: "They bought the crate challenge to the UK." It's since been watched more than five million times.
The clip was shot in north London, with a Google Map view of the location revealing dozens of bread crates scattered across the pavement, possibly used in the challenge.
Newsweek reached out to @9gz9gz, @8akuaa and @SirVstudios for comment.