TikTok star Randy Gonzalez has revealed to his millions of social media followers that he's been given "two, three years to live" by doctors.
The 34-year-old TikTok sensation from Texas, one half of the Enkyboys duo, told his followers in an emotional video that he was diagnosed with stage four colon cancer six months ago. Gonzalez has found fame as part of the Enkyboys posting funny videos with his son, Brice, and often with the rest of his family too.
The Enkyboys have amassed over fifteen million followers on TikTok and almost 280 million likes on their videos. The pair even recorded a TikTok video with Kevin Hart recently.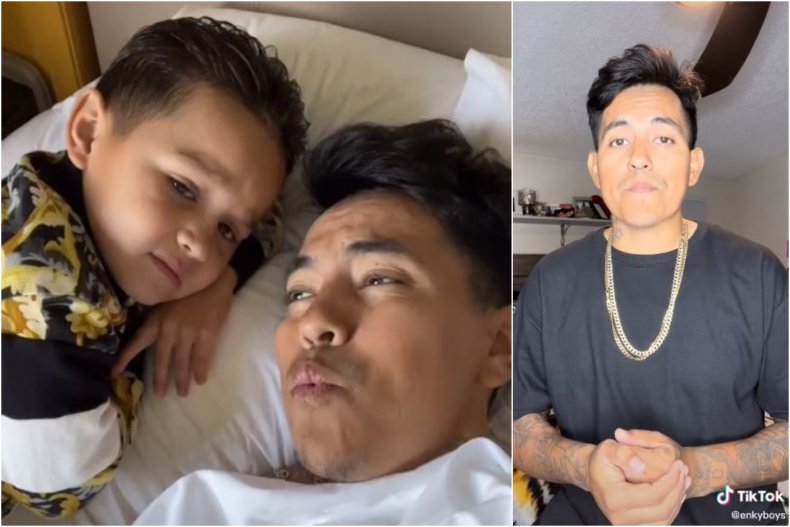 In an emotional five-minute video explaining his situation, Gonzalez revealed the current status of his health and pointed his fans to a GoFundMe page to help pay for his medical expenses.
"I got an announcement to make, and it's not good," Gonzalez said as he started his video. "Six months ago, I don't even know how to say this, but six months ago I got diagnosed with stage four cancer, colon cancer.
"I kept it to myself, and I felt like it was selfish, because I didn't want to tell everybody my business because it was personal. But I feel like I can use my situation to give awareness for young men like myself," he said.
Overall, the lifetime risk of developing colon cancer is 1 in 23 for men (4.3%) and 1 in 25 (4%) for women, according to the American Cancer Society. Colorectal (colon and rectal) cancer is the third commonest cancer diagnosed in the United States.
According to the Colon Cancer Coalition, one in five colorectal cancer patients are aged between 20 and 54. They also predict that colon cancer will become more prevalent among young people, and will be the leading cause of cancer death in adults aged under 50 by 2030.
Black Panther actor Chadwick Boseman tragically died at the age of 43 after battling colon cancer for four years.
Gonzalez said he felt he had to address his situation because so many of his fans had been commenting that he was losing weight.
"The doctor said I had two, three years to live, and he said with chemo, I have five years to live," Gonzalez said. "And you know, I didn't know how to take it. It was devastating."
His GoFundMe page aims to raise money for his own medical expenses, and he also aims to raise awareness among young men like himself.
"How I figured it out, I was having problems with my upper abdomen, and I was always in pain. Luckily my wife told me to go get a colonoscopy because I was just gonna get an EGD [esophagogastroduodenoscopy] to my throat because they thought it was an ulcer or something," Gonzalez said.
"A lot of people asking me, 'Are you okay?' And all I really need, seriously is just prayers. Praying and praying and praying and praying, because God is good all the time."
He continued, "I just want to say thank y'all so much for your love and support from me and my son. And if it wasn't for y'all there wouldn't be no Enkyboys."
A day after he announced he had colon cancer, Randy recorded a new video next to his wife, to thank everyone for their support and reaction to his news.
Newsweek has reached out to Gonzalez for comment.