TikTok Teens Trounce Trump's 'Death Star' Campaign in Tulsa Turnout Tussle
Teenagers dancing the "Macarena" on TikTok claimed credit for torpedoing President Donald Trump's rally in Tulsa, Oklahoma on Saturday, saying they duped his re-election campaign into overestimating the attendance.
Whether their claims are accurate or not, the footage of empty seats at Tulsa's Bank of Oklahoma arena on Saturday raised questions about Trump's ability to fill venues and target supporters online, both strengths of his 2016 campaign. According to Forbes, about 6,200 people attended the rally, accounting for about one-third of the arena's maximum occupancy. Trump's campaign officials previously said they had received millions of ticket requests leading up to the event.
The reported low turnout could be attributed to teenagers who encouraged people to purchase tickets to the event and then boycott it. Word of it spread via videos shared to the social platform, which show young people dancing to the Macarena with photos of their purchased tickets magnified in the background.
"Doing the macarena in front of my confirmation for 2 tickets to Trump's rally so those 2 seats will be empty," reads a text caption attached to each video.
A New York Times report additionally credited K-Pop fan accounts, who also encouraged people to register to attend the rally without intentions to go, with furthering the TikTok campaign's objectives. K-Pop artists have lent their voices to political and social activism over the last few months.
The turnout also comes as a Fox News poll from last week showed the president trailing presumptive Democratic presidential nominee Joe Biden by 12 points among registered voters.
Trump campaign manager Brad Parscale responded to suggestions that efforts from TikTok users and K-Pop fans impacted attendance at the Tulsa rally.
"Leftists and online trolls doing a victory lap, thinking they somehow impacted rally attendance, don't know what they're talking about or how our rallies work," Parscale said in a statement to Newsweek Sunday. "Registering for a rally means you've RSVPed with a cell phone number and we constantly weed out bogus numbers, as we did with tens of thousands at the Tulsa rally, in calculating our possible attendee pool. These phony ticket requests never factor into our thinking."
Reiterating comments shared to Twitter on Saturday, he held news organizations responsible for "warning people away from the rally because of COVID and protestors" and pointed to recent coverage of fires and damages to property during demonstrations. "What makes this lame attempt at hacking our events even more foolish is the fact that every rally is general admission -- entry is on a first-come-first-served basis and prior registration is not required," he added.
The Tulsa rally, the president's first major speaking event in months following the pandemic, was part of his re-election campaign dubbed the "Death Star" last month. At the time Parscale referenced the name on Twitter, alongside a lengthier analogy that likened it to the destructive and villain-led Star Wars space station.
"For nearly three years we have been building a juggernaut campaign (Death Star). It is firing on all cylinders. Data, Digital, TV, Political, Surrogates, Coalitions, etc," he wrote, adding, "I didn't give our campaign the name, Death Star, the media did. However, I am happy to use the analogy."
Parscale suggested the press was to blame for in-person turnout at the Tulsa event, which was lower than expected, as multiple outlets reported. He retweeted several messages shared to Twitter on Saturday night that said the possibility of protests taking place deterred people from attending. Black Lives Matter demonstrators gathered outside the Tulsa venue's entrance for most of the afternoon, countering Trump supporters who arrived there earlier in the day.
The TikTok movement to discourage attendance may or may not have contributed to the rally's turnout, though it does at least seem to render Parscale's previous comments about the campaign's large-scale "data haul" inconsequential. After the campaign manager said millions had signed up to attend the rally last week, data scientists and policy experts told Newsweek the information could be useful to determine the scope of Trump's re-election support.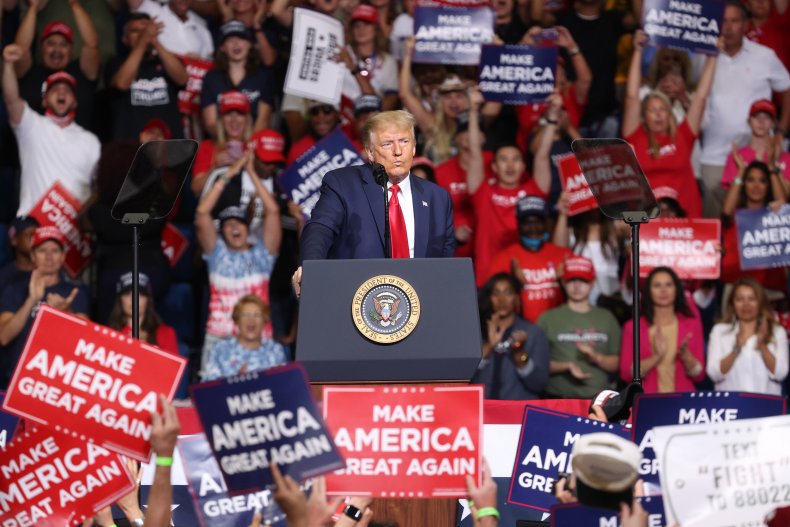 "Actually you just got ROCKED by teens on TikTok who flooded the Trump campaign w/ fake ticket reservations & tricked you into believing a million people wanted your white supremacist open mic enough to pack an arena during COVID," New York Congresswoman Alexandria Ocasio-Cortez wrote on Twitter Saturday, responding to an initial tweet from Parscale that said "radical protestors, fueled by a week of apocalyptic media coverage" interfered with the rally's attendance numbers. The Trump campaign's official Twitter account wrote later several million people live streamed the rally remotely.
During his speech in Tulsa, Trump addressed the Supreme Court's recent ruling against his administration's attempts to end the Deferred Action for Childhood Arrivals (DACA) program. On Thursday, the court ruled 5-4 in favor of continuing the immigration policy, which provides some undocumented individuals who arrived in the United States as children with work permits and channels to defer deportation. The program was originally effected under former President Barack Obama's administration.
"People don't understand, but we actually won on DACA yesterday. We actually won, because they basically said 'You won, but you have to come back and redo it.' It's almost like, 'Gee, come on back, your paperwork was no good,'" Trump said of the decision on Saturday. "But we're gonna be refiling. Don't let it get you, everything's going to work out really good. Everything's gonna work out OK."
Trump previously called the Supreme Court's decision "horrible" in a tweet posted shortly after the ruling.
"These horrible & politically charged decisions coming out of the Supreme Court are shotgun blasts into the face of people that are proud to call themselves Republicans or Conservatives," he wrote.
Newsweek reached out to the White House for comments, but did not receive replies in time for publication.
Updated 3:55 PM ET, with a statement from Trump campaign manager Brad Parscale.
Correction 8:25 PM ET, to fix a misspelling of Barack Obama's first name.