Chef's Hack for Cutting Bell Peppers Goes Viral: 'Awesome'
A chef has shared his tip for cutting bell peppers perfectly every time in a video that has been watched more than 2.8 million times on TikTok.
Andrew Garza, who owns a meal prep company in Illinois, began by explaining that he has to cut multiple cases of bell peppers for his business, so wants to do it in the most efficient way possible.
"I know you guys have seen the bell pepper cutting videos," he said, referring to the many social media clips that advise viewers to cut the "top, bottom, roll it, chop."
He continued: "There's something I do that's a little different. If you actually look at a bell pepper, it kind of curves in right here where this stem part meets. I always try to make sure that my blade is lined up with where the stem part meets."
He pointed out the curve at the top of the pepper, then made his first cut.
By cutting there, the stem "comes right off," he said—and proved it by popping the top of the stem out. "You don't have to pull it off or anything like that," he added. This is particularly useful if you plan to use the cut-away top as a "lid" for a stuffed pepper recipe.
He admitted that this trick doesn't make a life-changing difference, but added: "If you're cutting a bunch of peppers, I think it's a little bit more efficient to not have to do that for every single one."
His millions of TikTok viewers appear to agree. The video, posted on February 5, has been liked more than 330,000 times and almost 2,000 comments have been added. "This was one big light flex and I love it," wrote one user.
"That's 100% an awesome tip! Every time the stem pops out," wrote another.
"Only way to do it," posted a third TikToker.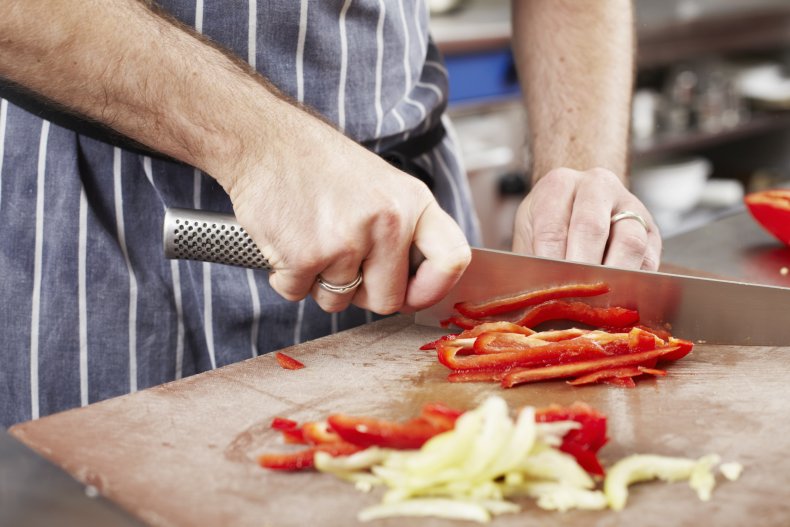 TikTok is a great place to find kitchen and housework hacks. Last July, a woman went viral with her trick for shredding chicken quickly, using an everyday appliance.
In a video that racked up 26 million views and 4 million likes in less than a week, blogger Chenel Kruger is shown using a hand mixer to break apart cooked chicken in a matter of seconds.
'I've been using this method for a year now, [but] I can't remember how I started it," Kruger told Newsweek, describing the method as "the best hack of my adult life."