Woman Calls Out Man on Tinder Trying to Cheat on His Wife
A woman on TikTok received praise for the way she handled catching a man cheating on his wife—or at least he was ready to.
TikToker @spunky_brewstah shared a video on Tuesday revealing a man she was set to go on a date with was already married. In the video, she shares a screenshot of a conversation she had with a man named Eric that she matched with on Tinder. The messages show that @spunky_brewstah asked the man if he was "currently entertaining/dating anyone," to which he promptly replied, "No unfortunately."
Then @spunky_brewstah says in the video that after a quick Facebook search he discovered that not only has Eric been entertaining a woman for nearly three years, but he had married only seven months before matching with the TikTok creator on Tinder. @ @spunky_brewstah found out that the man she was scheduled to go on a date with has six children.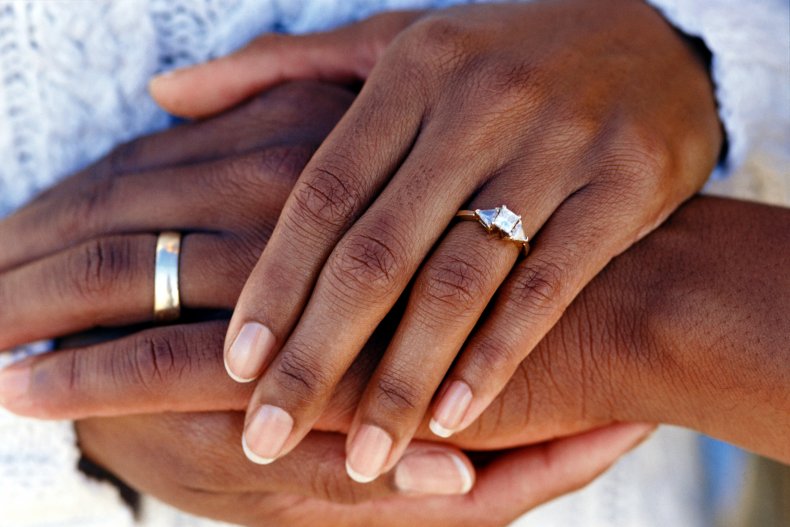 The TikToker took a creative approach in confronting her date about his philandering behavior. In another screenshot of text messages, @spunky_brewstah asked if she could bring a female friend along on their date. When the man questioned her about the "special guest of honor," @spunky_brewstah replied by sending Eric a screenshot photo of him and another woman, who is believed to be his wife.
The video, which has been viewed more than 60,000 times, was shared with the caption: "I woke up and chose petty."
People flooded the comments, applauding @spunky_brewstah on how she handled the situation.
"Not all heroes wear capes!" one commenter wrote.
"Omg! I love this! Props to you!" wrote another.
Some people praised @spunky_brewstah for doing thorough research before going out with Eric, noting that they've encountered similar instances of cheaters on apps.
"Never trust but always verify. I search court records too. I've been played too hard before," one person wrote in the video's comments section.
"Literally just happened to me as well. Fast people search . Com is a gem. GF and 4 kids," another wrote.
The viral TikTok video comes after another woman on TikTok shared a video of how she confronted her boyfriend over his cheating habits. In a series of videos, @lovetruthink plastered printed copies of text messages, pictures (including nude images) between her boyfriend and other women on a wall in his home.
"Being the good girlfriend that I am, I decided to re-decorate my boyfriend's room," the woman says in the video before spraying her boyfriend's bedroom wall with super glue and hanging the incriminating evidence up.
She even glued printed copies of text messages and photos to the guy's mirror.