TikTok Video of Cop Mocking LeBron James Viewed Over 2.4M Times
NBA superstar LeBron James is widely known as "King James" for his raw athleticism and basketball prowess. The last few days, however, he has become the king of memes and ridicule by police officers—including one from Idaho through a TikTok video that has been viewed more than 2.4 million times.
The backlash stems from a tweet James sent following the death of Ma'Khia Bryant, a 16-year-old Black girl who was shot by a white police officer in Columbus, Ohio.
A video appeared to show Bryant allegedly attacking another Black girl with a knife. She was shot four times by police Tuesday afternoon around the same time a guilty verdict was read in the Derek Chauvin trial in Minneapolis for the 2020 murder of George Floyd.
After Bryant's shooting death on Tuesday, James tweeted a photo of officer Nicholas Reardon, writing "YOU'RE NEXT #ACCOUNTABILITY," along with an hourglass emoji.
James later deleted the tweet, but not before facing backlash from the law enforcement community.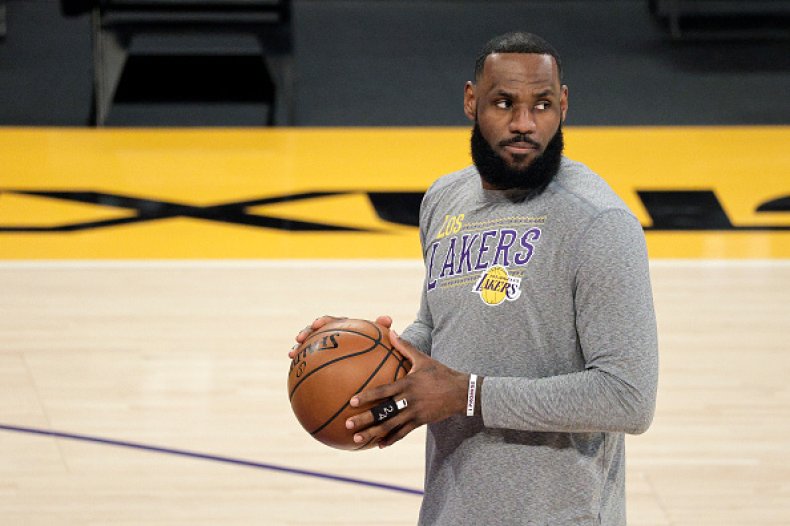 Nate Silvester, an officer with the Marshal's Office in Bellevue, Idaho, took mocking James to another level in a TikTok video that has drawn nearly 2.5 million views so far.
The video begins with Silvester arriving at a scene—where no other people are seen or heard—and calling dispatch.
"Dispatch, I've arrived at that disturbance. Will you have LeBron call my cellphone right away please? Thank you," Silvester says.
The officer, while remaining in his car, speaks to unseen people outside his window and asks a person to "put down a knife."
Silvester then says "stop stabbing him." He then tells them to hold on, LeBron is calling his phone.
"LeBron, hey, yeah it's me again," Silvester says. "Listen, I'm out here at this disturbance call and there's a guy trying to stab another guy with a knife. What do you think I should do?"
Silvester then asks "Why does that matter?", perhaps alluding to James questioning the race of the people involved in the fight.
"Okay, well, they're both Black. One guy is trying to stab another guy with a knife," Silvester says. "Deadly force is completely justified."
Silvester pauses as if he's listening to James, and then he continues.
"So, you don't care if a Black person kills another Black person—but you do care if a white cop kills a black person, even if he's doing it to save the life of another black person?" the officer asks. "I mean, that doesn't make a whole lot of sense, but then again, you're really good at basketball so I guess I'll take your word for it."
Silvester then takes another jab at James, saying, "Michael Jordan's the GOAT," which is short for "Greatest of All Time."
The cop remarks "I gotta go," and then calmly says outside his window: "Sorry guys, you're on your own. Good luck."
Newsweek reached out to the Bellevue Marshal's Office for comment.
James was also blasted last week by former President Donald Trump, who issued a statement specifically about the basketball star.
"LeBron James should focus on basketball rather than presiding over the destruction of the NBA, which has just recorded the lowest television RATINGS, by far, in the long and distinguished history of the League. His RACIST rants are divisive, nasty, insulting, and demeaning. He may be a great basketball player, but he is doing nothing to bring our Country together," Trump said.
On Thursday, a Cincinnati bar owner said he would no longer show NBA games on TV at his establishment until James was "expelled" from the league. The Lakers star then trolled the bar, saying: "Aww Damn! I was headed there to watch our game tonight and have a drink! Welp."
After James got ripped for posting the photo of the Columbus police officer who shot and killed Bryant, he deleted it from Twitter and later tweeted: "ANGER does [not do] any of us any good and that includes myself! Gathering all the facts and educating does though! My anger still is here for what happened that lil girl. My sympathy for her family and may justice prevail!"
"I'm so damn tired of seeing Black people killed by police. I took the tweet down because its being used to create more hate -This isn't about one officer. it's about the entire system and they always use our words to create more racism. I am so desperate for more ACCOUNTABILITY."