Watch Excited Dachshund's Reaction to New Puppy: 'Smitten'
Introducing a dog to a new pet can be nerve-racking but, for this couple, it couldn't have gone more smoothly.
In a viral TikTok clip shared by @aprilrenae341, her pet Theodore can barely contain his excitement as he meets puppy Eleanor, who is also a miniature dachshund.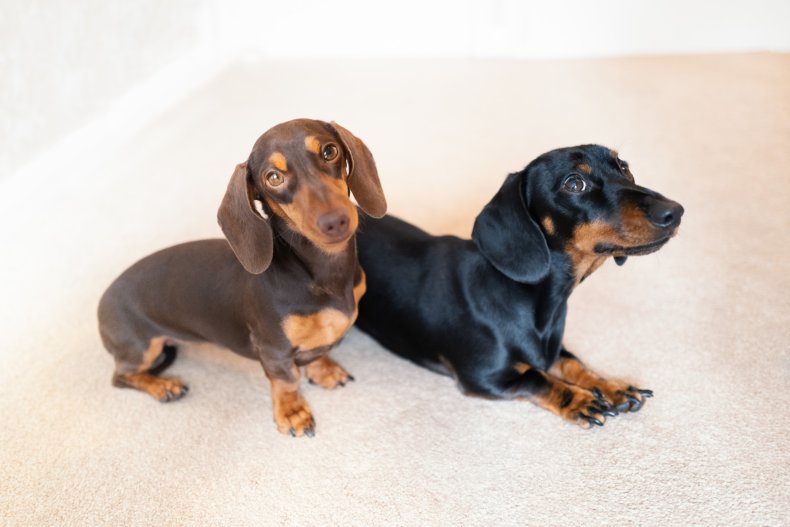 The video shows the heartwarming moment Theodore wags his tail as his owner crouches down to his level to introduce the two canines.
The clip is captioned: "I think #theodoretheminidoxie is smitten with Lil Ms. Eleanor!" It has racked up 658,800 views and more than 114,000 likes.
Are Dachshunds Sociable Dogs?
Miniature dachshunds may not be any taller than 5 to 6 inches, but they certainly have a big heart. The American Kennel Club (AKC) says that this breed is known for being 'lovey dovey', good with children, and great with other dogs.
The affectionate sausage dog is best known for its unique long-backed body and little legs. They may not want to run for miles with their owner, but they are certainly keen on cuddles and making new friends.
Introducing a New Puppy to Your Dog
Preparation is key when it comes to introducing a new puppy to your dog. The AKC has shared a few top tips to help pet owners:
Purchase a crate, an exercise pen, and baby gates ahead of your puppy's arrival as these are great tools to separate the dogs.
Supervise all interactions.
Introduce them for the first time in a neutral place such as the front yard to avoid any territorial issues.
Do not reprimand the adult dog for growling at the pup; this is a good lesson for the puppy.
Reward both dogs for behaving appropriately.
What Do the Comments Say?
So far, more than 330 people have commented on the TikTok video.
One user posted: "THEODORE SAYS YES I DO AND SHE SMELLS GOOD AND THAT'S A BEAUTIFUL NAME THEODORE."
"Aww. Look at her little tail wag!! She loves big bro!" commented another.
"Why am I crying? They're going to be best friends," wrote another user.
Another posted: "Ugh my Pisces heart simply cannot handle the pure joy!!!!"
Newsweek published a similar story in October about the moment a dog met his owner's baby for the very first time. It seems a canine pet meeting a baby or puppy is an immediate serotonin booster as two dogs meeting in a store for the first time has melted hearts in October, too.
Newsweek reached out to @aprilrenae341 for comment. We could not verify the details of the case.
Do you have funny and adorable videos or pictures of your pet you want to share? Send them to life@newsweek.com with some details about your best friend, and they could appear in our Pet of the Week lineup.