TikToker Allegedly Discovers She Has Over 50 Siblings After Using DNA Test
Since the advent of at-home DNA tests, people have been able to find out the details of their genetic makeup from the comfort of their own home. Not only can the tests tell the user where their ancestors came from, they can also connect you to extended family members from across the globe.
One TikTok user shared her experience using a DNA test with her followers in a video that has now been viewed over 856,000 times. In the video, she explains that in 2018 she completed a DNA test to see where she is "actually from."
In a follow-up video, @izzyvn_98 shares that she is one of triplets and that she and her two brothers were born in November 1998.
When her two moms decided they wanted to have children they visited a cryobank where they picked out the person who would be their sperm donor. One mother carried the triplets, and her other mother adopted the three babies after they were born.
"They both wanted to be our parents fully," she said.
In the initial video, @izzyvn_98 shares that after completing the DNA test she received a message from a woman asking if she was related to a specific person or family because she had matched with the woman's daughter. @izzyvn_98 had no knowledge of the person or the family.
"She then asks me if I was a [sperm] donor baby bc [sic] her daughter was too and now I'm freaking out bc [sic] she could be my sister [bc] I am a donor baby...," she wrote in text overlaid on the video.
From there, the donor's half sister matched with her, @izzyvn_98 writes, and tells her that other mothers who used the same donor—as well as their children—are part of a private Facebook group and asked her to join.
That's when @izzyvn_98 says she discovered there were over 50 siblings who shared the same donor.
She says some of the siblings are concerned that since there are so many siblings out in the world they might end up dating someone who "happens to be a sibling."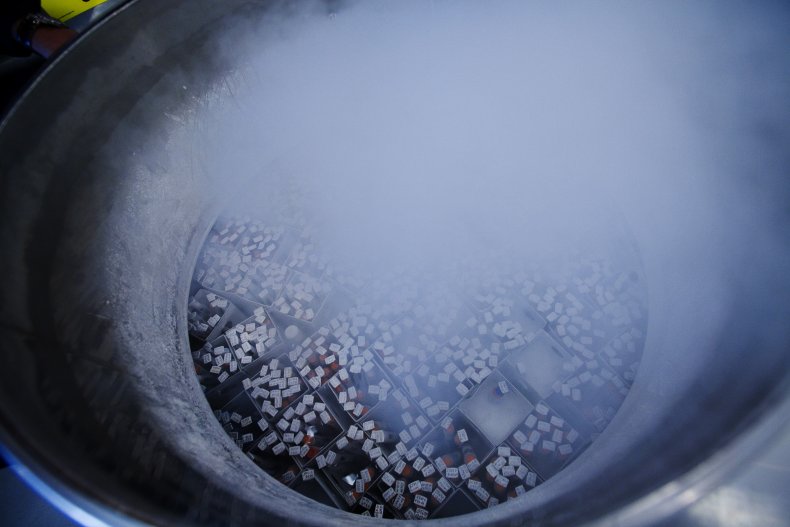 Earlier this year, another video went viral on the app when TikTok user @mattilathehun shared in a now private video that she found out through a DNA test kit that she was dating her cousin, Newsweek previously reported.
In the follow up video, @izzyvn_98 shares she does not have a relationship with the siblings she discovered.
"I feel a little uncomfortable," she said in the video. "It's a really abnormal thing, and I feel a little awkward. Maybe I'm shy, but it's just still a little weird to me."
In 2018, The Atlantic reported that in 2010, the most recent year with sufficient data, around 30,000 to 60,000 babies born in the U.S. were conceived through sperm donation out of the approximately 4 million babies born.
Newsweek contacted @izzyvn_98, but she did not respond in time for publication.