TikToker Exposes 'Crazy Drama' in Secret Disney Fanatic Facebook Group
A series of viral TikToks have seemingly exposed some of the ultimate Disney fanatics for their shocking Facebook posts, including one mother who was forcing her son to save his own money for meals in the park and another who slammed people who don't share the same love for the fictional Disney universe as her.
TikToker and Disney fan Tom Buckley posted the first "exposé" to his account over the weekend. As a part of the Facebook page The Secret Disney Group, he could access the posts of other members from across the world, many of whom share Disney theme park tips and converse about films they enjoy.
However, Buckley was so struck by one thread in the group that he had to share with his followers.
"Drama alert in The Secret Disney Group!" he jokes.
He adds a screenshot of a Facebook post within the group made just hours before, in which a young boy appears to use his mother's account to ask others for menus for popular park restaurants in order to budget for his upcoming family trip.
"Hi. I'm Luke and I'm 10 years old. If you are at [Walt Disney World], can you please take a picture of the menu of whatever restaurant you are at and post it?" the boy requests. "We are going in January and I am saving my money to buy my food. I need to know how much it is going to cost. Thank you very much!"
Several in the comments section took issue with Luke's mother Sarah, concerned that she would not be providing her child with adequate meals while on their trip.
"If Luke doesn't save enough money will he be fed?" one fearful group member asked. "Yep! PBJ (my sandwiches are da bomb!!)" Sarah replied.
Another woman named Cyn Dee—whom Buckley jokingly called "the local conspiracy theorist"—chimed in. "Why is he buying his own food??? Her only other post on this site is to mail him maps. Something is off about this post," she wrote.
Another woman named Mary added, "I'm actually confused...he will need hundreds of dollars to dine at Disney. Most 10-year-olds I know do not have that cash flow. I'm being realistic."
The video quickly struck a chord with TikTok viewers, who watched the video more than 159,000 times and liked it nearly 15,000 times since posting. Many took to the comments to share their own stories from the Disney Facebook groups they are in.
"Honestly the worst passholder group I've been [in] is one for Busch Gardens," one person claimed. "I've been in this group for years and it's so [dramatic] most of the time...super entertaining though lol," another viewer shared.
"The Secret Disney drama is literally the best entertainment. I've never seen people get more upset than someone asking for a photoshop," one even alleged. Buckley retorted, "Their members simply don't miss. Impeccable content ripe for consumption—DAILY."
Much like those in the Facebook group, several expressed concern that a 10-year-old was being forced to pay for his own meals.
"I can't describe what about this bothers me, but it does," one person shared. "Imagine being a server and the family asks for a separate check for a 10-year-old kid," another added.
Some people even sympathized with Sarah and Luke, noting that the park is expensive to eat in.
"As a kid, I remember I held a yard sale of all the toys I didn't want so I could go to a water park. I ended up making enough to finance my time there," one claimed. "Grew up in Orlando and we always packed food, if I wanted overpriced [Walt Disney World] food I bought it myself. Seems reasonable to me."
Upon request, Buckley shared another post on Monday, this time in which ultimate Disney fans rallied against people who didn't share their enthusiasm about the theme parks and films.
"There is absolute chaos in the Disney Facebook groups yet again!" he jokes at the start of his second video.
A woman known only as Bonnie asked group members for feedback regarding Disney plans with others who are not as big a fan as she is.
"If you all were going to Disney with someone who doesn't 'get it,' and isn't a fan of thrill rides or characters, what experiences would you suggest?" she asks.
The comments section held nothing back in their responses. "Jade comes in absolutely rogue," Buckley even jokes.
"Not taking them. I'm 100 [percent] serious. The magic and fantasy of Walt Disney is too important to my mental health for me to share it with someone who doesn't get it," she writes. "My children even know that reality stays home when we go. And if they figure out the reality of any magic they are to keep it to themselves. [Because] this Mama needs the fantasy to stay sane."
"Jesus Christ, what if one of these kids comes up to her like, 'Hey Jade, Mickey Mouse ain't real,' they get thrown out overboard on Space Mountain or what?" Buckley asks.
Buckley notes that most comments are "variations of the same joke," in which fans repeatedly say to not bring anyone who doesn't appreciate Disney the same way. One even goes so far as to say that they should be "duct-taped to a chair [before heading] to the park to have fun."
With nearly 178,000 views and over 21,000 likes, viewers on this video were appalled that so many grown adults felt so strongly about a franchise for children.
"Jade needs a therapist, not Disney," one person wrote. "And that my friends is the difference between 'adults who like Disney' and 'Disney adults,'" another noted.
One viewer shared similarly bizarre content on another Disney fan group page in which people allegedly requested to remove disabled parkgoers.
"Someone on the It's Orlando Time group said that wheelchairs and mobility scooters ruin her experience. Nice!" they claimed.
Christopher Martin, who founded and runs the Facebook group, told Newsweek that he felt the TikTok videos were not an accurate representation of what the page stands for.
"The Secret Disney Group is over 233,000 members strong. With being such a large group, we get members from all over the world and of all backgrounds," he told Newsweek. "A question that might seem wild, could be a valid question. Some people [have] literally never been to Disney. It's the Wild West for them. Never explored before."
"The average group member is inviting and welcoming. Drama isn't the goal of the group. It's welcoming [of] all," he said.
Martin also noted that viral videos took their posts out of context. "In the case of the [first TikTok], it was a young child asking questions. Yes, a few creative members added to the comments, but the [TikTok] only captured .5 percent of the comments. There were well over 700 comments," he explained.
"Also on top of that, the post was a joke. And the original [TikTok] poster couldn't handle sarcasm," he added. "Sarcasm is lost in print."
Martin also encouraged others to "come join and see that it's much, much more [than] drama" on the Facebook page.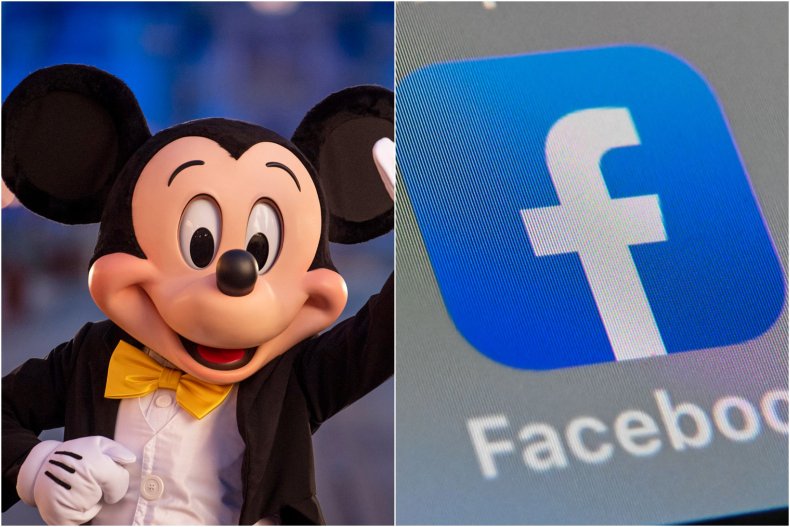 Buckley later reported on Monday that he had been banned from the page after his previous two videos went viral. Newsweek reached out to him for comment but he did not hear back in time for publication.
Buckley is not the only TikToker to have gone viral for his Disney content. In April, a college student in Florida wowed viewers online as well as Disney cast members with his impressive Mary Poppins-inspired outfit. Last week, another Disney fan shared howthe parks remain mosquito-free, despite the humidity in Florida.