What Tim Scott Has Said About Racism
Senator Tim Scott said America was "not a racist country" when he delivered the GOP's rebuttal to President Joe Biden's joint address to Congress on Wednesday. He also described his own experiences of discrimination, however.
The South Carolina lawmaker's 14-minute address drew on his backstory as the son of a single mother and the grandson of an illiterate Black man. During the speech, he said: "I get called Uncle Tom and the n-word by progressives, by liberals."
This is a reprise of a sentiment Scott expressed in an op-ed for The Washington Post in March.
That article was a response to the criticism he had received for declaring that "woke supremacy" was as bad as white supremacy. In the op-ed, he said he was not flippantly comparing the long history of racial hatred "to the very short history of 'wokeism'" but rather critiquing the left's "intolerance for dissent."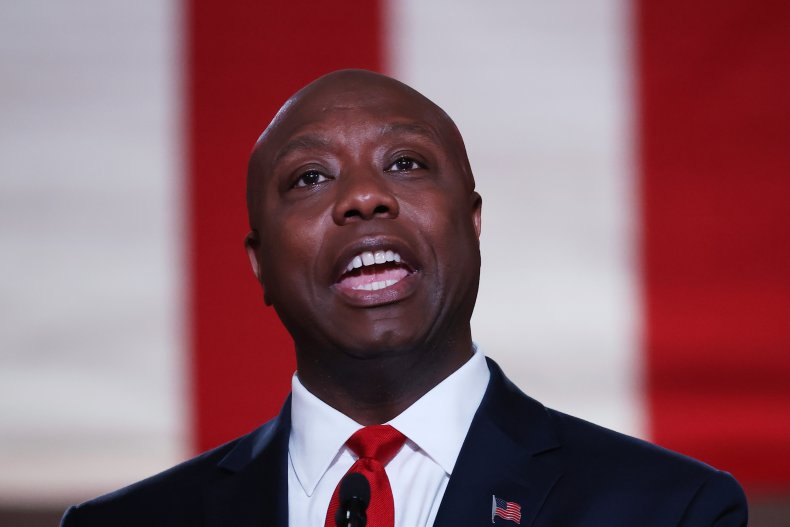 He said he had made the "woke supremacy" comment in response to claims that he is merely a token for Republicans, as the only Black GOP senator. He also argued that his party had served the Black community better than the Democrats had.
He wrote that GOP efforts to boost funding for historically Black educational institutions and to lower Black unemployment had been downplayed by critics "because it conflicts with the caricature they've created of what it means to be Black and to be a Republican."
He also touched on racism during a speech to the 2020 Republican National Convention, in which he referred to his grandfather, Artis Ware, who left school at an early age to pick cotton and never learned to read and write.
"Growing up, he had to cross the street if a white person was coming," he said. "Yet he lived to see his grandson become the first African American to be elected to both the United States House and Senate.
"Our family went from cotton to Congress in one lifetime. And that's why I believe the next American century can be better than the last," he said in the address on August 24.
In a book published last year, Opportunity Knocks: How Hard Work, Community, and Business Can Improve Lives and End Poverty, he described a meeting with Donald Trump at the White House in September 2017.
Their discussion followed Scott's criticism of Trump's comment that there had been "very fine people on both sides" at the Unite the Right white supremacist rally in Charlottesville, Virginia, during which a counter-protester was killed.
Ahead of his Oval Office audience with the then commander-in-chief, Scott reflected on his ancestors' bondage, writing: "No matter how many prejudiced people I suffer … I will never adequately appreciate what they endured."
During his speech to Congress on Wednesday, Scott said he had "experienced the pain of discrimination." He added: "I know what it feels like to be pulled over for no reason, to be followed around the store while I'm shopping."
He described similar experiences in July 2016, during a Senate speech after the fatal police shootings of two Black men. He said: "I was pulled over for nothing more than driving a new car in the wrong neighborhood or some other reason just as trivial."
He told lawmakers there was "a deep divide between the Black community and law enforcement," adding that "a trust gap, a tension" had been "growing for decades."
"I do not know many African American men who do not have a very similar story to tell—no matter their profession, no matter their income, no matter their disposition in life," he said.