A vintage Burger King hidden behind a wall in a mall in Delaware has been compared to a "time capsule."
Untouched for more than a decade, Concord Mall possibly has the "oldest, still intact, Burger King restaurant, in the world," according to New Castle County Executive, Matt Meyer, in a clip shared by New Castle County Government's Facebook page.
Meyer and Thomas Dahlke, general manager of the mall, uploaded a tour of the retro eatery, after a photo of the interior went viral online, amassing thousands of views across Twitter and Reddit.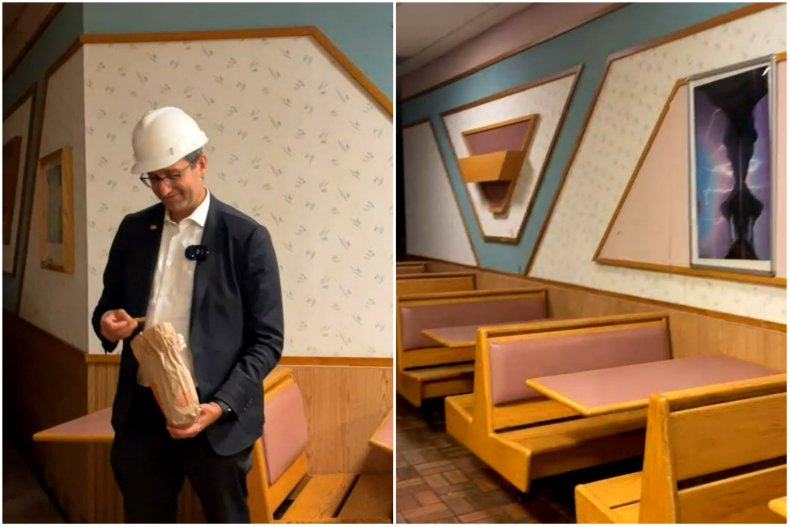 Following the public interest in the space, the clip, uploaded on Wednesday, gave viewers a peek inside the nearly 5,0002 ft restaurant, stuck in a time warp.
They captioned the video "#timecapsule," as Dahlke confirmed the fast-food joint shut down in 2009, with the décor still painfully Y2K.
"It kind of feels like it closed yesterday, when you look in the trash here, they didn't empty the trash the last day," Meyer said.
As well as the decade-old garbage, Meyer spied a branded bag containing some French Fries—which looked suspiciously edible when he peeked inside. "Looks like they left us a little food here," he said.
However after speaking to Newsweek, Dahlke later confirmed: "Matt Meyer had those with him when he came yesterday to do a Facebook live."
Booths, banquette seating, drinks stations, and the kitchen area were all still in place, along with a "pick up here" sign above the counter.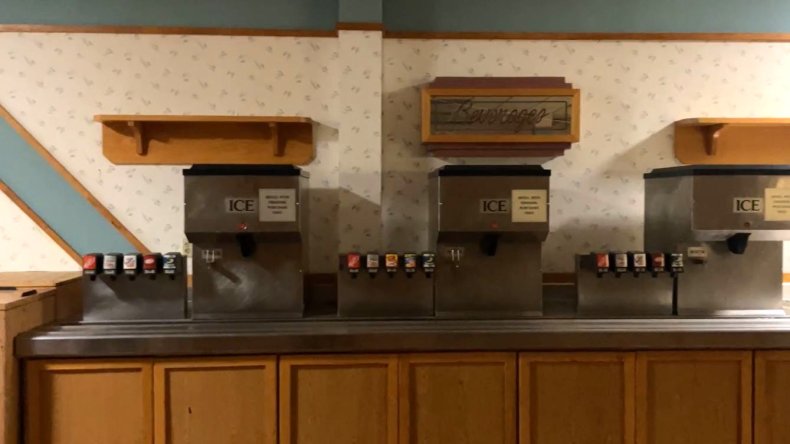 Dahlke told Newsweek: "We believe it opened in 1987. I would describe the décor as typical late 80s style. It's a great call back to a time in history."
Meyer said the eatery was a "beautiful relic of our collective American past," adding: "I know many of you have been to other malls, very often there are these shops that are closed off. It's just another store front in Concord Mall that's being rented out but inside there's something pretty cool."
Dahlke explained how the original image (which can be seen here) went viral, saying one of his vendors snapped a photo of the interior in April, after he left the door open while watering plants.
One tweet, posted on Tuesday, said: "A fully intact vintage Burger King was found behind a wall at the Concord Mall in Wilmington, DE. This photo was snapped by Jonathon Pruitt April of 2022."
It racked up more than 184,000 views and was widely re-shared, as people were blown away by the fund, with MarkE asking: "Who forgets they own a Burger King franchise?"
Leon Trotsky (presumably not that one) commented: "Who walls in an interior wall in a mall? That makes very little sense."
Maria garcia joked: "In Europe they've been finding remnants, artifacts, and towns of the Roman Empire. Here they find Burger Kings."
Gabezcube wrote: "I'm surprised that it's still up I wonder why they blocked it up behind the mall."
Flazlo said: "Honestly and sincerely fascinated at how everyone involved would "lose" a Burger King restaurant."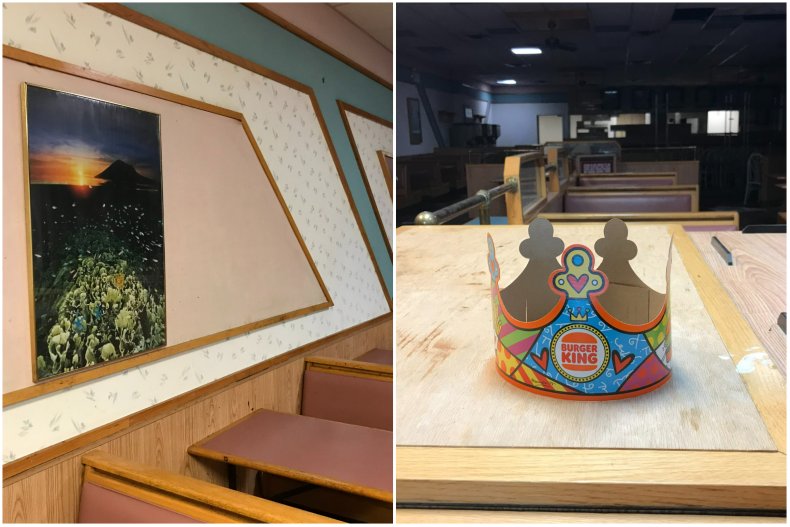 Alf Elf asked: "How tf do you just find a Burger King in your walls?"
While Juan Eibrow joked: "Personally, I would have posed a skeleton sitting in one of the booths with a Whopper in his hands for the photo."
A few people shared clips of the interior, claiming to have worked at the mall, as D, who claimed to be a security guard at the mall, echoed what Dahlke said, writing: "Lot of misinformation being spread about this particular BK space.
"It is actually still being used by a morning cleaning crew. They run a hose through the vacancy and water plants throughout the mall. I currently do security here."
While Lizard shared a clip of the space filled with boxes, saying: "Lmao that was literally my storage room back in 2019."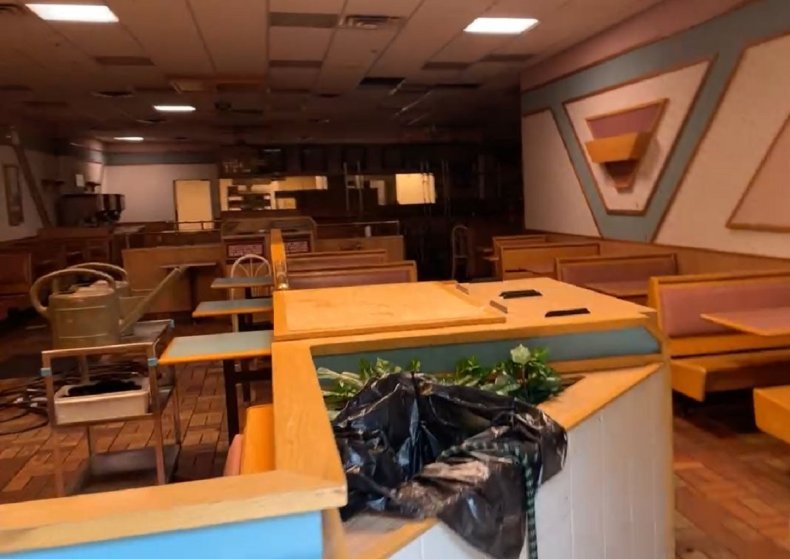 Dahlke, who confirmed the space was available to lease, said: "My company, Namdar Realty, purchased the Concord Mall in January of 2020.
"Due to the pandemic, we were closed for several months of 2020 and it really wasn't until last year that we really started leasing in earnest. Our hope is that we will be able to lease the BK space soon."
Burger King was founded in 1954, and claims to be the "the second largest fast food hamburger chain in the world."
The chain's website says more than 11 million people visit their restaurants around the world every day.
The brand, known for its signature whopper, is sold at 19,196 outlets worldwide, according to Restaurant Brands International.
Newsweek reached out to Burger King, @RealJezebelle and @loserskwaddd for comment.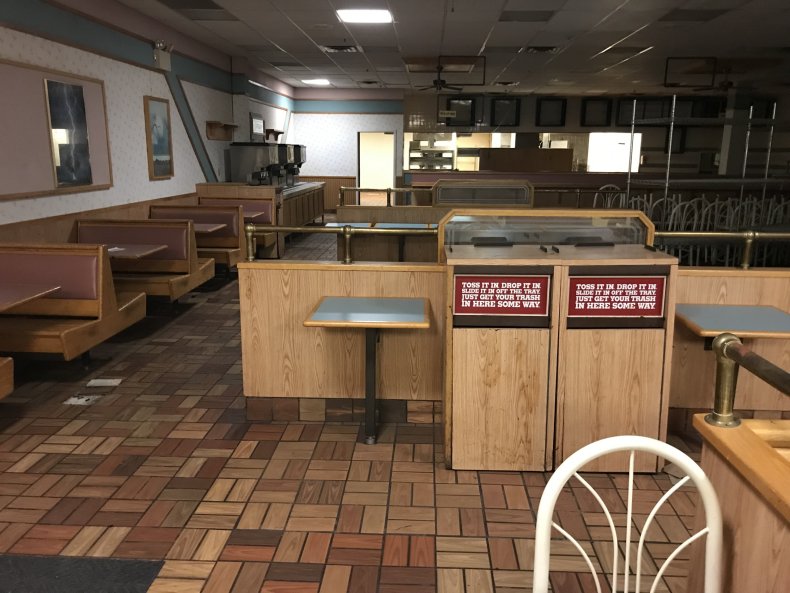 Update 7/1/22, 11:15 a.m. EDT: This article was updated with comment and photos from Thomas Dahlke. The headline was amended to take out fries.