What Happens if You Assault a Secret Service Agent?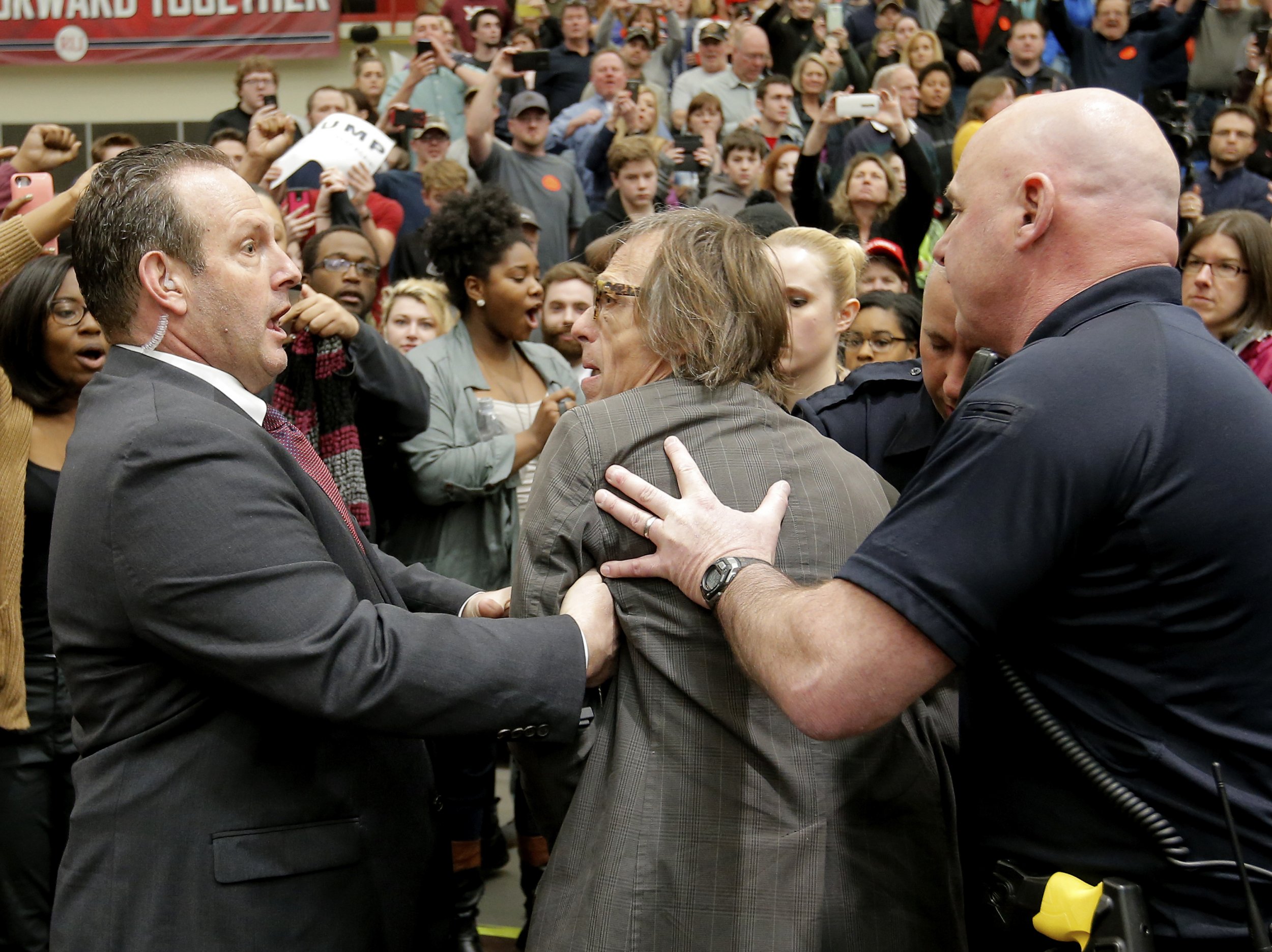 Updated | After multiple clips of a Time magazine photographer scuffling with a United States Secret Service agent at a Donald Trump campaign rally in Radford, Virginia, appeared online on Monday, many have wondered what exactly happens legally after such an encounter with a Secret Service agent.
In the clips, photographer Christopher Morris, who has previously photographed for Newsweek, appears to have left the designated press area at the rally, and the Secret Service agent, whom the agency has not publicly identified, tells Morris to "get in the pen." At that moment, their bodies appear to press up against each other. Morris replies with an expletive, and the agent appears to grab him by the neck and slam him down on top of a table and then the ground. Morris then kicks at the agent. When he stands up, he tells someone nearby that the agent had grabbed him by the neck. He then grabs the agent's neck—which he later said was to demonstrate how the agent had grabbed him. Law enforcement then escorts Morris away.
In a statement released Monday, Time acknowledged that Morris left the press zone and swore at the agent, and said he was "thrown to the ground in a choke hold." The publication also said Morris "kicked at the agent" and "briefly put his hand on the agent's neck," which Morris said was "to demonstrate the choke hold he had just experienced." The publication said "local law enforcement briefly detained" Morris.
Speaking with reporters on his way out of the building, Morris said he "was arrested."
In an email to Newsweek on Tuesday, Morris elaborates: "I was initially told by local police that they were arresting me for assault. They removed me from the venue and held me until they were notified by the Secret Service that they were not pressing charges."
If Morris faces no additional charges or penalties, he will be lucky. Under federal law, "knowingly and willfully obstructing, resisting or interfering with a Federal law enforcement agent who is engaged in protective functions" is illegal. The statute also authorizes agents to arrest anyone who engages in "activities which could nullify or reduce the effectiveness of security precautions taken by the Secret Service, without requiring proof that such interference was forcible or aggressive."
Another law says anyone who "forcibly assaults, resists, opposes, impedes, intimidates or interferes" with certain on-duty federal officers, including Secret Service agents, could face fines, a maximum of one year in prison or both. When the assault involves physical contact, the maximum prison term is eight years.
Francisco Martin Duran is currently in prison for assaulting Secret Service agents, as well as for attempted assassination, after he fired a gun at the White House in 1994. He is not scheduled for release until 2029.
In 2015, Ronald Skelton, an Ohio teenager, reportedly faced federal charges after he allegedly assaulted a Secret Service agent who was attempting to question him about threats he allegedly made on Twitter. Law enforcement reportedly accused the teenager of punching the agent in the face and assaulting a local detective who was also present. The teen reportedly pleaded guilty and faces sentencing in June.
Morris is based in Paris and has photographed President Barack Obama, former President George W. Bush, former Vice President Dick Cheney and former Secretary of Defense Donald Rumsfeld, according to his website. He has worked with Time since 1990.
"I regret my role in the confrontation, but the agent's response was disproportionate and unnecessarily violent," Morris said in the Time statement.
Joseph LaSorsa, a retired Secret Service agent and now a security consultant, says scuffles between the media and the Secret Service like the one on Monday are rare. "Typically, journalists and members of the press are pretty responsible and cooperative," he says. "During the campaign, you obviously have more opportunities for these types of situations to occur, but...I think it's more an anomaly."
LaSorsa says disobeying an agent's order could constitute obstruction, and kicking an agent could constitute assault.
But Dan Bongino, a former Secret Service agent under Presidents Bill Clinton, George W. Bush and Obama, and author of two books about the agency, says he does not find it surprising that Morris may not face charges.
"If you really wanted to push the case, I'm sure there's some legal remedy," he says. "The reality is that's never going to happen.... They have zero, and I mean zero, interest in causing a fight with the press," he says. He adds that as an agent, he often oversaw the press pool and never saw an altercation like the one at the Trump rally.
"I'm still friends with some of the photographers and press reporters who I used to run around with with the Secret Service," he says.
Based on the videos of the incident, Bongino says, it does not appear that the agent violated the use of force policy.
"You can't initiate contact with a Secret Service agent like that and not expect some kind of response," he says. "The Secret Service is under no obligation to match the use of force.... Once the confrontation gets physical and there's a chest bump or a push or whatever it is...the Secret Service agent is legally and, even by internal Secret Service rules, perfectly entitled to use force to stop the situation."
The Secret Service has said only that it is aware of the incident and that its local office is working with local law enforcement to investigate what caused it.
"We are not confirming anything or denying anything actually until we have the facts," a spokesman for the Secret Service tells Newsweek.
The National Press Photographers Association condemned the incident. "We assert the function of the U.S. Secret Service at these events is to provide security and de-escalate confrontational situations, not create them," it said in a statement.
Time said in its statement that it had contacted the Secret Service "to express concerns about the level and nature of the agent's response."
This article has been updated to include the fact that Christopher Morris has previously photographed for Newsweek.