Time for Pro-Choice Advocates To Step Up and Help | Opinion
Nestled behind the polarizing responses to the overturning of Roe v. Wade is a shared goal of caring and providing for women and families in need. There's no reason Republicans and Democrats, pro-choicers and pro-lifers alike, can't come together on this genuine desire.
There are already established institutions able to offer assistance in effective and streamlined ways. More than 3,000 pregnancy centers serve vulnerable families across the U.S., and a swell of comprehensive plans are in place to ensure women are connected to the resources and networks they need.
As difficult as it is to put aside impassioned opinions, nobody wants a woman to feel coerced into an abortion due to financial insecurity. And yet, that is what the data shows often occurs. The Guttmacher Institute reported 75 percent of abortions in 2014 were among low-income patients, and poverty is a primary reason many abortion advocates give for keeping it legal throughout pregnancy. NARAL Pro-Choice America advocates specifically for providing more abortion services for low-income women.
But what if that's not actually what women want? Should women who want to continue their pregnancies feel forced to choose abortion because of poverty? That's hardly freedom.
When Roe was overturned, Justice Elena Kagan said women lacking financial resources are the ones who "will suffer from today's decision." But is abortion the answer to a woman's poverty? Or could we shift the focus to practical and bipartisan ways to help aid with parenting?
Setting the law aside, we know most women don't want to abort. The Human Coalition has found that 76 percent of women seeking abortions say they would prefer to parent their child, rather than abort, "if their life circumstances were different." Similarly, the Guttmacher Institute has reported from its in-depth interviews that women who have abortions say they "typically" feel like they "had no other choice." Researchers at BMC Women's Health also found that the reasons behind abortion were primarily related to finances and issues with a partner.
Furthermore, the nonpartisan group Support After Abortion, in a survey of 14,000 post-abortive women, found that many women experience severe emotional trauma after an abortion. Considering the statistics behind why women abort, it's no wonder.
How can we help this large number of women who feel unable to choose parenting, even when they want to?
Democrats for Life and Americans United for Life recently partnered on a new white paper urging legislators to "make birth free" nationwide. This is a beautiful example of Left and Right joining forces for the common cause of helping women in need.
"There's no equity in this the way it is," Kristen Day, president of Democrats for Life, told Newsweek. "When you have resources, you have a choice, but when you're financially insecure, you have an abortion."
What if these women were aware of available financial help, child-care assistance, educational opportunities, and community support? Some would still choose abortion, but how many wouldn't?
The Her PLAN is an integrated network of pregnancy support resources, facilitating collaboration between states and pregnancy resource centers to provide medical, social, and material support. They offer help with everything from legal issues to mental health support to child care.
And it's not just for pregnant women. The Her PLAN is available to women who have already had their babies for up to 24 months.
Local efforts are also ramping up. At Life Centers in Indianapolis, each of the six clinics offer referrals for housing, medical care, and reduced-cost items for women in need, and some staff members are former clients. Brian Current, Life Centers' director of community partnerships, said it is a privilege for Life Centers to shepherd women towards resources and services they would otherwise be unaware of. Current said people are often surprised that the centers carry diapers, wipes, clothing, and toys for families in-house at all times for children up to four years old.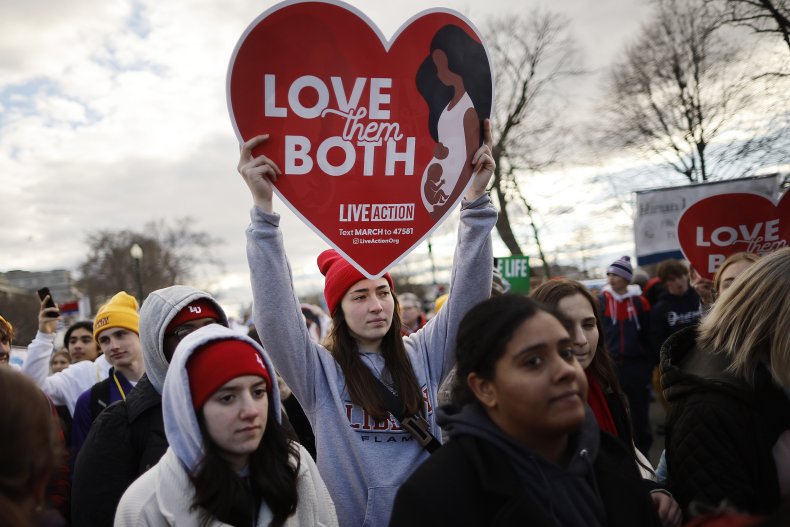 Beyond material items, many pregnancy centers have plans to increase medical staff and implement more comprehensive pre-natal care moving forward.
"We anticipate that pregnancy centers in our network will continue to add more medical staff," said Dr. Sandy Christiansen, MD, national medical director at Care Net, the nation's largest umbrella of pregnancy centers. "I have been receiving inquiries from our centers about how to successfully add medical services."
Additionally, in an internal survey, Care Net found that pregnancy center volunteer staff has increased by 32 percent since 2019, a number that continues to grow. Imagine how much further volunteering might increase if support for pregnancy centers included ideological diversity.
Progressive authors at the Center for American Progress wrote recently that we should push for legislation to "safeguard women" economically. Pro-life Republicans agree that offering financial security and domestic support are imperative.
Tennessee Governor Bill Lee this month announced he will dedicate $100 million in state funds toward pregnancy centers this year. This move follows the pattern of states like Texas, which pledged the same amount last year to support centers and maternal and post-natal health care coverage.
What does this money actually do? Last year, Texas' annual report detailed over 1 million goods and services, including diapers, food, counseling, parenting classes, government assistance, and adoption services, that the funds provided. You'll find similar legislation in Ohio, Indiana, and Arkansas, among others. In 2019, reports showed that 2,525 pregnancy center locations offered material assistance for baby items like diapers, clothing, car seats, and strollers, and most offer these items for up to four or five years.
In the aftermath of Roe v. Wade being overturned, Indiana immediately upped state funding, allocating $2 million toward pregnancy centers right away, with plans to continue it in 2023 and beyond.  Pro-life leaders aren't suddenly jumping to provide financial assistance out of nowhere. An AP study found that there has already been a $72 million increase in Republican-led states funneling money to pregnancy centers in the past decade.
It's worth nothing that these are not items offered or provided by the local Planned Parenthood or abortion clinic, which exist in large part to profit from abortion services.
The Charlotte Lozier Institute found that prenatal services at Planned Parenthood are down by 72 percent nationwide, according to the latter's 2021 annual report. According to that report, the organization conducted more than 28 times as many abortions as prenatal services, miscarriage care, and adoption referrals combined in a single year. And yet Planned Parenthood received $633.4 million in government funding in 2020—money that could have been used to support women who felt economically and socially compelled to abort.
When it comes to helping women in crisis, contrary to what you may have read, it's the pro-life community that is stepping up the most.
Pregnancy centers are nonprofit entities that exist to provide no-cost care, resources, and support for pregnant women. This care goes far beyond birth and extends toward holistic flourishing for a woman and her family for years to come. This kind of assistance can change a family's trajectory and work to end generational cycles of death, pain, and poverty.
It's time to stop arguing about Roe and start tangibly helping women in need, together.
Ericka Andersen is a freelance writer in Indianapolis, Indiana. She is the author of the upcoming title Reason to Return: Why Women Need the Church and the Church Needs Women. You can find her work at ErickaAndersen.com.
The views expressed in this article are the writer's own.