Is It Time for the Steelers to Start Panicking after Loss to Ravens?
Pittsburgh's season took a turn for the worse on Sunday, as the Steelers fell to a 24-16 defeat against Baltimore.
Losing on home turf would have been bad enough for the Steelers but doing so against their AFC North rivals must have hurt them even more, particularly as they gave their opponent a head start yet again.
The home field factor no longer seems to apply to Pittsburgh, where the Steelers have given opponents a combined 56-0 lead over their last three games, which has resulted in them losing three games in a row on home turf for the first time in six years.
On Sunday, the Ravens raced into a 14-0 lead within seven minutes, thanks to touchdowns from John Brown and Alex Collins. Pittsburgh successfully tied the game at 14 at halftime but went scoreless in the second half and fell to a 1-2-1 record, losing their first night game after 10 straight wins.
Likewise, it was hardly a surprise to see the Steelers failing to move the scoreboard in the second half, given they rushed for just 19 yards as a team. Ben Roethlisberger completed 27 of 47 passes for 274 yards and a touchdown but had a costly interception late on and threw for only 50 yards in the second half.
"I'm not playing well enough," he told reporters after the game, as per ESPN. "I need to play better. Today was just a bad day at the office. I promise I'll be back to play better."
While Roethlisberger was on the receiving end of some criticism following his performance, the reality is that the Steelers' offense is suffering from a problem most observers had forecast—Le'Veon Bell's absence.
The impasse between the running back and the franchise has been well documented, with the two parties failing to agree a long-term deal ahead of the July 16 deadline for franchise-tagged players and Bell going AWOL over the last four weeks as he looks to move elsewhere.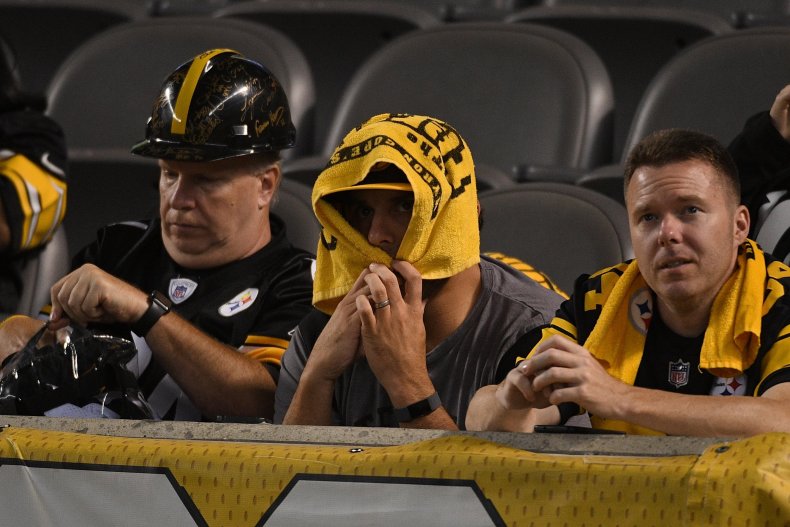 While the Steelers have repeatedly stated they think their options are good enough without Bell, figures clearly show otherwise. James Conner averaged 3.9 yards per carry before Sunday night, when his 19 yards over nine carries sank that figure even further.
Pittsburgh failed to convert 10 of 12 third downs and held the ball for a meagre 2 minutes and 40 seconds in the fourth quarter. That was as damning an indictment as any for the Steelers and a quick glance at social media showed it didn't surprise anyone.
After the game, Roethlisberger tried to rally the troops insisting his team was only going through a difficult period.
"We are only a quarter of the way through the season," he said. "We have a long way to go."
While his optimism is admirable, it is hard to see Pittsburgh snapping out of this rocky patch anytime soon.
Both the Ravens and the Cincinnati Bengals look better equipped to win the AFC North and even the much beleaguered Cleveland Browns would fancy their chances against the current version of the Steelers.
A home game against the free-scoring Falcons awaits in Week 5, before a trip to Cincinnati and what will probably be a much-needed bye the following week.
"We have to be honest about what we're doing," team captain Cameron Heyward told reporters. "That's the only way this ship is going to right itself."
Whether Pittsburgh will survive the rough waters it is currently navigating, remains to be seen.