Thursday's reported poisoning of leading Russian pro-democracy activist Alexei Navalny appears to be the latest and most serious attack to date on the 44-year-old, who for years has been the most prominent public critic of President Vladimir Putin.
Navalny fell ill on Thursday during a flight from the Siberian city of Tomsk—where he was campaigning for candidates in upcoming local elections—to Moscow, forcing the plane to make an emergency landing in the city of Omsk.
Navalny is now in a critical condition in hospital, unconscious and breathing via a ventilator, according to his press secretary Kira Yarmish. Yarmish wrote on Twitter that she believes Navalny drank poisoned tea during his journey, linking the incident to past attacks on the pro-democracy campaigner.
The most recent was last year, when Navalny suffered an acute allergic reaction while being held in a Moscow jail. His supporters said the reaction was a result of poisoning. Yarmish wrote on Thursday: "Clearly the same thing has happened again."
At that time, Navalny was serving a 30-day sentence for urging Russians to attend anti-government protests in the capital. The unrest began after the Kremlin blocked certain candidates from standing in local elections.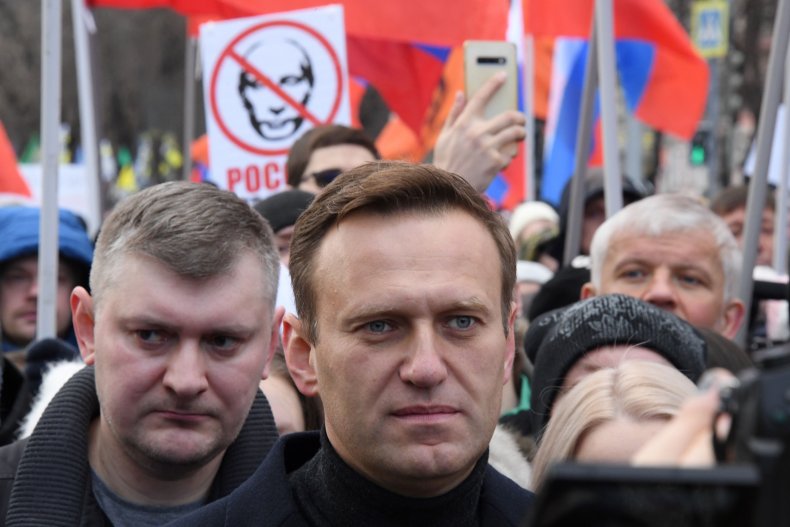 Navalny was also attacked by unidentified men outside his Anti-Corruption Foundation office in Moscow. The men sprayed a mixture of "brilliant green"—a triarylmethane dye used for coloration and as an antiseptic—in his face, possibly mixed with other chemical components.
Navalny said he had lost up to 80 percent of sight in his right eye, and blamed the Kremlin for orchestrating the attack.
Navalny has also been routinely harassed by Russian authorities, sentenced to a series of short prison sentences for involvement in unapproved protests against Putin, his allies and widespread corruption.
He has also been handed longer terms in jail for alleged embezzlement; charges he and human rights groups have dismissed as fabricated and politically motivated. In July 2013 and December 2014, Navalny was convicted of two separate embezzlement charges and handed suspended five and three and a half-year prison terms, respectively.
In 2014, he was placed under house arrest and prohibited from communicating with anyone other than family members. Despite the continued harassment, Navalny has continued to work on uncovering corruption by the government and oligarchs linked to the Kremlin.
Shortly before he fell ill on Thursday, Navalny posted a photo on Instagram showing him posing with young supporters in Siberia. The caption read: "These crooks won't kick themselves out of office."
The graphic below, provided by Statista, illustrates the state of democracy in post-Soviet Eurasia.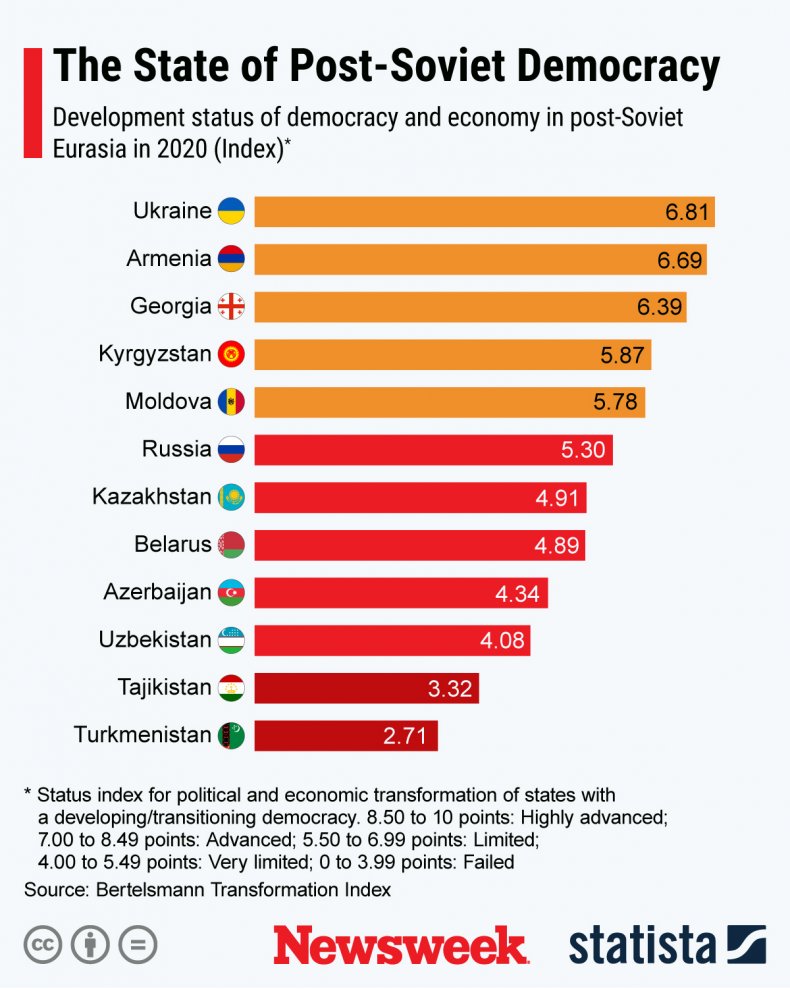 Update: 8/20/20: This article was updated to include an infographic.