Trump and the White House Can't Agree on Whether He Gave Russia ISIS Intel: A Timeline of Official Remarks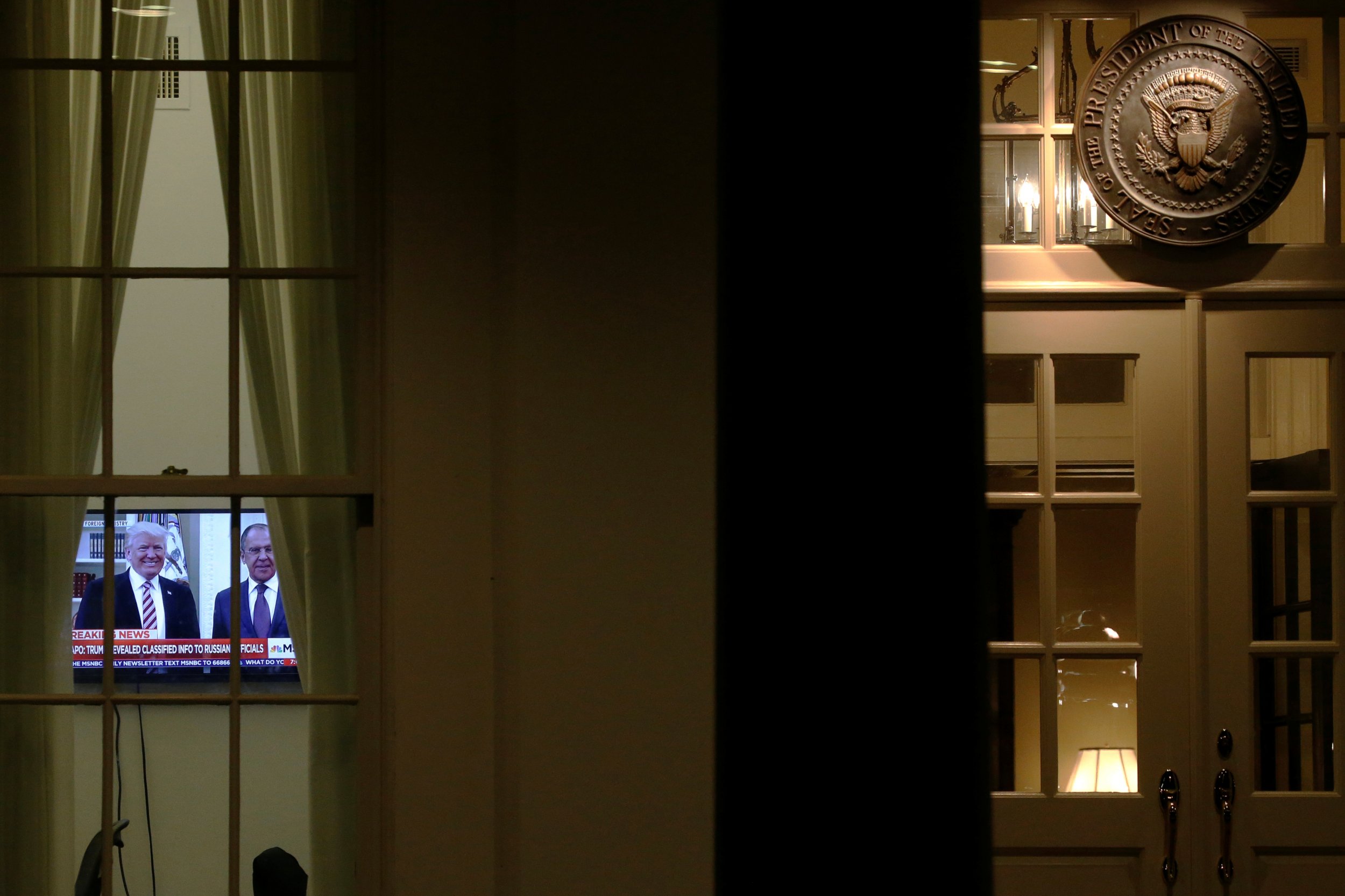 Did Donald Trump give top-secret information about the Islamic State group (ISIS) to Russia or not? Well, that depends on who you ask.
The president appeared Tuesday to confirm a report that he gave classified information to Russian Foreign Minister Sergey Lavrov and Ambassador Sergey Kislyak during a May 10 meeting in the White House, tweeting that he had "the absolute right to do" so. That would be a political can of worms on its own, but it was arguably made worse by the fact that his remarks came after his officials spent all night denying the rumors.
Related: Trump says he eaked ISIS intel to Russia for 'humanitarian' reasons
If you're finding it hard to keep up on the he-said-she-said-Russia-said, see a timeline of events below.
Monday, 5:08 p.m. EDT: The Washington Post publishes an exclusive report claiming Trump shared classified intelligence with Lavrov and Kislyak about an ISIS threat involving laptops on airplanes. Not only did it jeopardize a critical source of ISIS information, it also gave "more information to the Russian ambassador than we have shared with our own allies," one U.S. official told the Post.
Monday, 6:30 p.m. EDT: A few White House officials push back against the article in a statement sent to reporters. Secretary of State Rex Tillerson says that "a broad range of subjects were discussed among which were common efforts and threats regarding counterterrorism." He adds that "the nature of specific threats were discussed, but they did not discuss sources, methods or military operations."
National security adviser H.R. McMaster says "at no time were any intelligence sources or methods discussed, and no military operations were disclosed that were not already known publicly."
Dina Powell, deputy national security adviser for strategy, is more blunt. "This story is false," she says. "The president only discussed the common threats that both countries faced."
Monday, 6:52 p.m. EDT: Doug Andres, a spokesman for House Speaker Paul Ryan, tells the Hill in a statement that "we have no way to know what was said, but protecting our nation's secrets is paramount." He adds that he hopes to get an explanation going forward.
Monday, 7:08 p.m. EDT: McMaster stands outside and reads a brief statement to the press. He doesn't take questions.
"There is nothing that the president takes more seriously than the security of the American people. The story that came out tonight, as reported, is false," he says. "The president and the foreign minister reviewed a range of common threats to our two countries, including threats to civil aviation. At no time, at no time, were intelligence sources or methods discussed. The president did not disclose any military operations that were not already publicly known. Two other senior officials who were present, including the secretary of the state, remember the meeting the same way and have said so. Their on the record account should outweigh the anonymous sources. I was in the room. It didn't happen."
Several reporters, including NBC News' Katy Tur and the New York Times' Michael D. Shear, note that McMaster expressly denies that Trump and the Russian officials discussed sources and methods—a claim that does not appear in the Post article.
Monday, 7:30 p.m. EDT: Some of Trump's top aides are heard shouting in a meeting room. Sarah Huckabee Sanders tells reporters they're done giving statements for the night.
Tuesday, 4:49 a.m. EDT: The spokeswoman for the Russia foreign ministry, Maria Zakharova, writes a Facebook status. She says she predicted the American media would come up with a scoop on the Trump-Russia meeting.
"Guys, have you been reading American newspapers again?" she says, according to a Reuters translation. "You shouldn't read them. You can put them to various uses, but you shouldn't read them. Lately it's become not only harmful, but dangerous too."
Tuesday, 7:03 a.m. EDT: Trump breaks his silence. "As president I wanted to share with Russia (at an openly scheduled W.H. meeting), which I have the absolute right to do, facts pertaining to terrorism and airline flight safety," he tweets. "Humanitarian reasons, plus I want Russia to greatly step up their fight against ISIS [and] terrorism."
This seems to verify the Post's story and simultaneously contradict much of what his administration has said so far.
Tuesday, 8:25 a.m. EDT: National Security Council spokesman Michael Anton "emphatically denies that [President] Trump's tweets today confirm disclosure of classified material to Russia," according to a tweet from CBS News' Mark Knoller.