Costumed Characters Keep Manhandling Tourists in Times Square
At least since the intersection of Broadway and Seventh Avenue was turned into a pedestrian plaza, Times Square has been a hub for costumed characters. Unlicensed and unpaid, these stand-ins for Deadpool, Spongebob Squarepants and the like subsist on tips from posing for photos.
Many tourists see these entertainers as part of Times Square's quirky charm. But, increasingly, there have been incidents of harassment, groping and even violence: In 2014 alone, performers posing as Batman and Spider-Man were arrested after fighting with a heckler, a Spider-Man impersonator allegedly punched a police officer trying to stop him from harassing a family who didn't tip, and a 44-year-old man dressed as Toy Story's Woody was charged with groping women.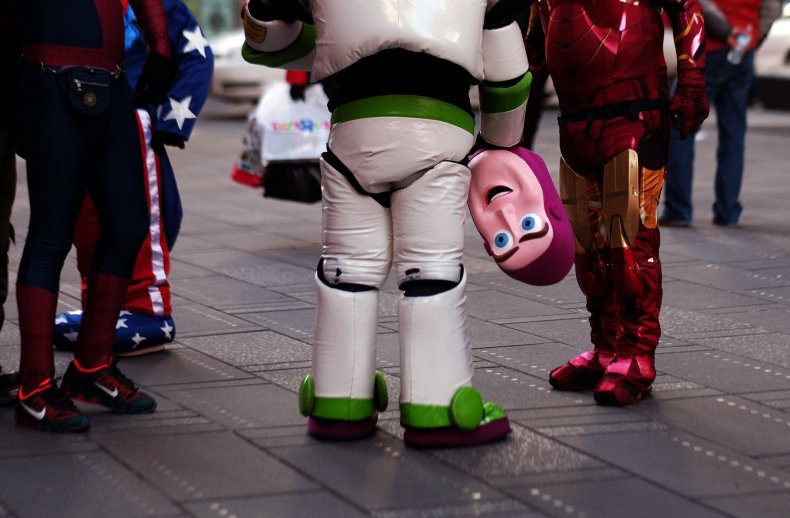 To deal with the issue, the New York City Council enacted "designated activity zones" in 2016. Performers in Times Square are required to stay within these demarcated areas if they wanted keep busking. But the Times Square Alliance, a coalition dedicated to improving commerce and cleanliness in the district, claims entertainers are still venturing outside of the zones to solicit customers. And even within the zones, they may become aggressive or inappropriate: On September 7, an Elmo impersonator was arrested after reportedly fondling a 14-year-old girl on the buttocks while posing for a photograph with her near West 46th Street.
According to a survey commissioned by the Alliance, one in five New Yorkers has been touched without consent by a costumed entertainer in Times Square. And nearly half have had some kind of "unpleasant interaction." In a one-hour window on June 12, 2019, researchers spot-checking the area saw 41 people touched without their consent in the promenade between 46th and 47th Streets.
Former New York City council member Dan Garodnick, who authored the measure creating the designated activity zones, estimates 120,000 to 160,000 people are touched nonconsensually in Times Square each year. "Assume my assumptions are off slightly, or a lot—cut the numbers in half," Garodnick asked in a statement. "Is 60,000 to 80,000 acceptable? We envisioned having areas in Times Square where you can engage with the characters, or avoid them, as you wish. Allowing people to be approached and dragged into the zones defeats the whole purpose."
New Yorkers named costumed characters and solicitors as the second biggest problem in Times Square after pedestrian congestion. For tourists, it was the third biggest issue, after congestion and car traffic.
"An Elmo character tried to touch my breast during a photo op," recalled one 68-year-old woman in the report. "Then became very agitated and hostile because I did not offer him money right away."
Other respondents claimed performers pushed their bodies against them or ignored requests not to touch their children. One woman in a wheelchair said a costumed character tried to sit in her lap: "He thought he was being funny," she added. "I wasn't in the mood."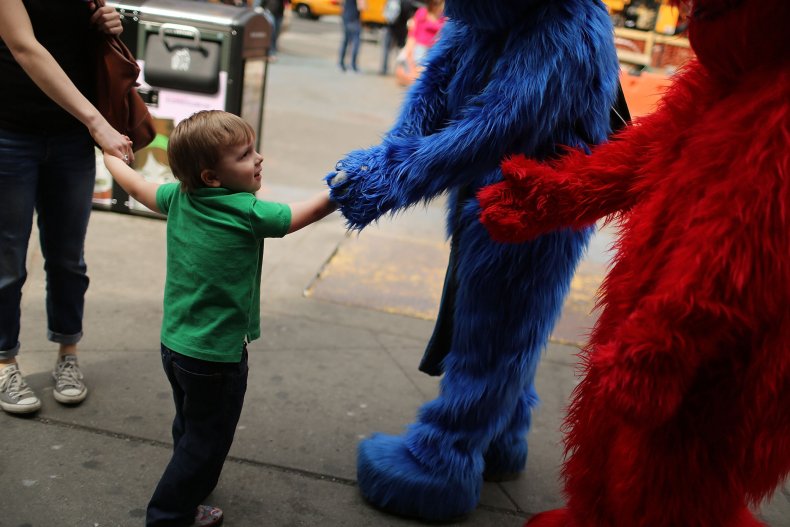 The Alliance wants to strengthen existing legislation so that solicitation is only allowed within the activity zones. But even that may not be enough.
"We've always felt [the costumed characters] are part of the Times Square experience," Times Square Alliance President Tim Tompkins tells Newsweek. "Quirky is fine, creepy is not—that's the key thing. If you want to engage with them, great. But you can't be cornered or stopped. When they're engaged in their commercial activity, and that's what it is, it all has to happens within the zones."
Politically, the issue is delicate: The courts have generally held that, as street performers, the characters are protected by the First Amendment and cannot be forcibly removed. And many are undocumented immigrants with limited means of support, making sympathetic lawmakers leery of requiring licensing or registration.
"Theres no doubt a lot of these folks have no other options," Tompkins says. "That's why we've never advocated banning them. But public spaces are shared spaces for everyone."
Tompkins says the Alliance is open to other suggestions from the city on dealing with the problem but maintains "it's been radio silence for five years."
"If the De Blasio administration doesn't like our solution, we welcome their ideas. Come up with something different. But I'm still waiting for a call from City Hall."