A Russian village located about 9 miles from the Ukrainian border has seen two separate instances of ammunition exploding or catching fire nearby in one week, according to local authorities.
Vyacheslav Gladkov, the governor of the Belgorod region in western Russia, wrote on Telegram Tuesday that there was a "spontaneous combustion" of ammunition in the area of a village called Timonovo, according to an English translation. On August 18, Gladkov also announced on Telegram that an ammunition depot near Timonovo had caught fire.
Social media videos were circulating on August 18 that some users, including Ukrainian government official Anton Gerashchenko, said showed a fire and explosions at a Russian ammo depot in Belgorod, but Newsweek was not able to independently verify at the time if the videos showed the same fire that was confirmed by Gladkov.
In Belgorod, whose administrative center is a city with the same name, several mysterious explosions and fires have been reported in the region since the start of the Russia-Ukraine War. Russia blamed Ukraine for one of those instances—when a string of blasts hit dozens of residential buildings in the city of Belgorod in early July—but Ukraine denied involvement.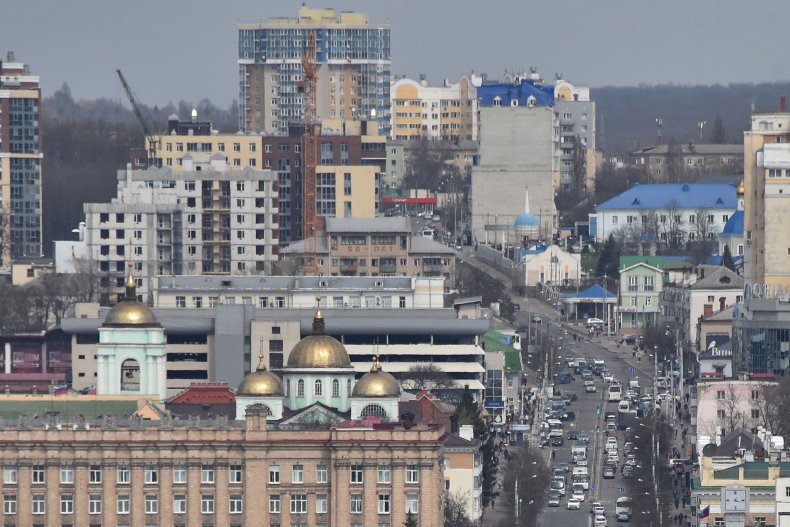 On Tuesday, Gladkov pointed away from a potential Ukrainian attack as the cause of the ammunition combustion, saying instead that the blasts were caused by hot weather.
"There were no casualties, but in order to ensure the safety of residents, the head of the Valuysky district organized the transportation and accommodation of residents in the Krasnaya Polyana sanatorium," he wrote in the Telegram post. "Some of the villagers left on their own to live with relatives in other settlements. I keep the situation under personal control, operational services are working on the spot."
When Gladkov confirmed the initial fire near Timonovo last week, he said that there were no casualties and authorities were investigating the cause of the blaze. He also wrote in the post that residents of the villages of Timonovo and Soloti, which Reuters reported are located about nine miles from Ukraine, were evacuated to a "safe distance."
It was not immediately clear if the same ammunition site near Timonovo was the center of both incidents. Newsweek reached out to Russia's defense ministry for further information and comment.
On August 20, two days after the depot fire, Gladkov wrote on Telegram that specialists were inspecting the territory of Timonovo and three other nearby villages to make sure they were safe for residents.
"After returning, you should be vigilant and careful, do not leave children unattended and be attentive to all suspicious objects!" he wrote.
Gladkov announced two days later that there would be a "yellow" level terrorist threat until September 7 in the Belgorod region. A ban on the launch of firecrackers and fireworks was also extended until that date, he said.