Timothée Chalamet's Metallic Suit Steals the Show at Cannes
Timothée Chalamet gifted the Cannes red carpet with a delightful fashion moment courtesy of a brightly colored metallic suit.
Standing out in a sea of dark suits, the 25-year-old heartthrob delighted fans and fashion lovers alike when he walked the red carpet in an eye-catching Tom Ford number.
"timothée chalamet is the moment and he knows it," read one tweet with 12,000 likes.
Another person tweeted: "timothée chalamet looking like fine art today."
"timothee chalamet in tom ford is something so personal to me," joked another.
Another added that the actor's "fashion and style is unmatched."
"the suit the hair EVERYTHING about timothée chalamet tonight #Cannes2021," said another.
The actor was at the 74th annual Cannes Film Festival for the premiere of his latest film, Wes Anderson's The French Dispatch.
The silver and gold metallic ensemble was completed with a white collarless shirt, white boots and black sunglasses.
He was joined by his co-stars Bill Murray, Tilda Swinton, Adrien Brody, Benicio Del Toro, and Owen Wilson.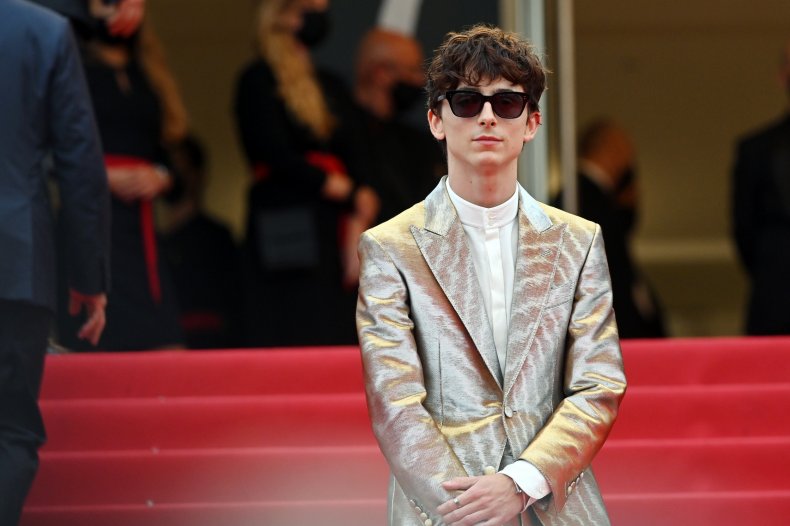 Chalamet and Swinton made headlines after their red carpet appearance when the actress pranked her co-star during the film's standing ovation.
Swinton hugged Chalamet while sneakily sticking her 'Tilda Swinton' seat-holder sign to his back.
The French Dispatch follows three different storylines, as the French foreign bureau of a fictional Kansas newspaper creates its final issue.
The movie's synopsis lists it as "a love letter to journalists set in an outpost of an American newspaper in a fictional 20th-century French city that brings to life a collection of stories published in 'The French Dispatch.'"
Some of the real journalists the film pays credit to include The New Yorker's Harold Ross, William Shawn, Lillian Ross, Janet Flanner and James Baldwin.
It is scheduled to open in theaters in the U.S. on October 22, 2021.
The film received a nine-minute standing ovation at Cannes.
Briefly addressing the crowd, Anderson said: "I hope we come back with another one soon. Thank you."
Swinton, also a renowned fashionista, wore a striking pink and orange ensemble by designer Haider Ackermann.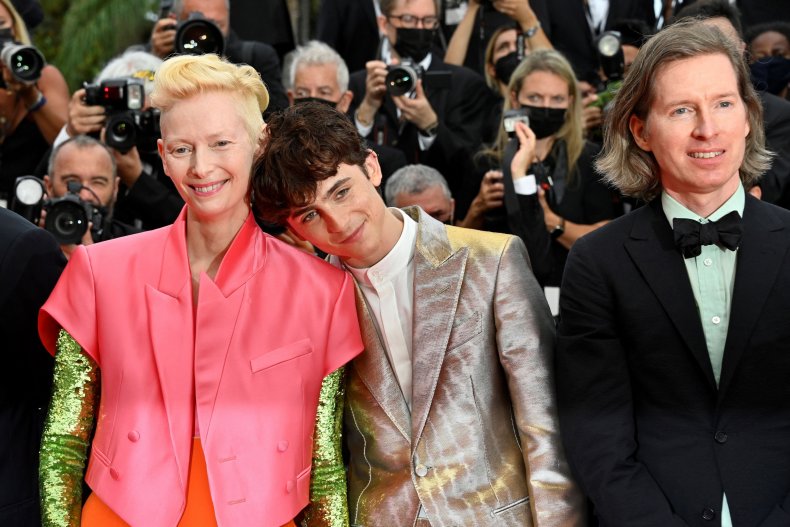 Outlandish fashion moments are having a comeback with the return of red carpets following a year's absence during the pandemic.
Elsewhere at Cannes, supermodel Bella Hadid all but broke the internet this week when she stepped out in a jaw-dropping avant-garde gown designed by Daniel Roseberry, complete with an ornamental gold necklace breastplate in the shape of lungs.