Timothée Chalamet portrayed a whole array of characters during his Saturday Night Live hosting debut—including the coronavirus.
The Little Women actor played Harry Styles in one sketch, an eager contestant on a holiday baking competition in another and a keen Jets fan in a sketch mocking pro-Trump network Newsmax.
But in a particularly memorable sketch titled "A Rona Family Christmas," he played Spike, the disappointing son in a family of coronavirus particles.
The sketch begins with the mother and father, portrayed by Cecily Strong and Beck Bennett, reminiscing about the year's achievements while home for the holidays.
"I can't believe 2020's almost over, I'm gonna miss it," Bennett's character says.
"I know, We've been traveling non stop all year," Strong's character replies. "China, Italy, New York, Florida... how great is Florida?"
Bennett continues: "I just wish we had a break from all the holiday parties, I mean how many can the White House throw?"
A knock on the door announces the arrival of their daughter, portrayed by Lauren Holt.
She tells her parents that her first semester at college was "incredible."
"I took out, like, a whole dorm," she says.
"We are so proud of you, honey," Strong tells her.
"Our little girl is a superspreader," Bennett adds.
Holt's character then introduces her parents to her "kind of famous" boyfriend who she met "on the contact tracing app."
"It's no big deal, but I was the one who infected [Tom] Hanks," he tells her parents.
"Wow! That was basically the Super Bowl of infections!" Bennett exclaims. "This one's a keeper!"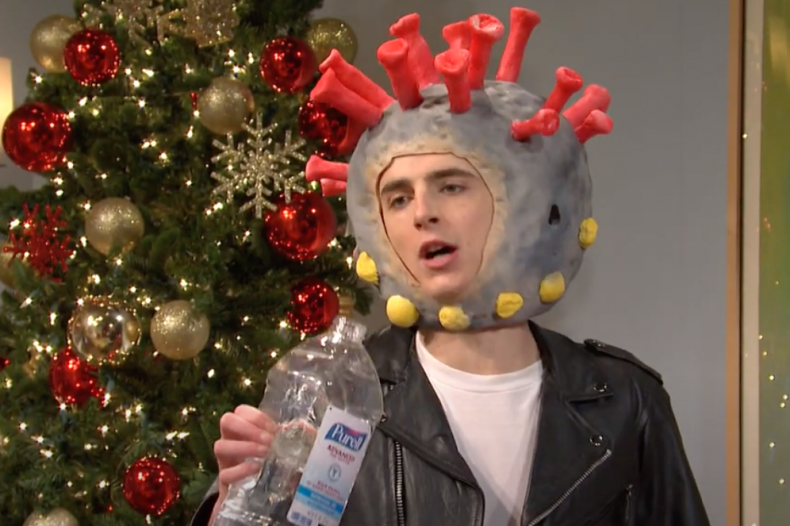 Later, when the neighbors—the Herpes—pop over to say hello, Chalamet appears in a leather jacket drinking from a bottle of Purell hand sanitizer.
'Wow, look who's awake before 6pm just in time to start drinking?" Bennett says.
"Oh, I'm sorry, am I little... disinfected? Chalamet retorts. "At least I'm not a hoax like the rest of this family!"
"If you don't start infecting again, your career's over," Bennett tells him. "You're gonna end up like those washed-up viruses on 'Dancing with the SARS.'"
"Maybe you'd feel better if you just dined indoors more," Strong adds.
"Hey, I'm just following [Governor] Cuomo's stay-at-home order!" Chalamet says.
"You do not mention Cuomo in this household!" his father yells. "You know damn well that President Trump is the only one looking out for us! We wouldn't still be here without Trump!"
Strong adds: "And Trump introduced us to everyone he knows, even after he was infected. Now that's a class act!
As the argument escalates, Beckett tells Chalamet's character "sometimes I wish you weren't my son!'
Chalamet responds, saying his father's wish is coming true because "I'm getting the vaccine!"
Ultimately, the pair reconcile after Chalamet's character reveals that he's been feeling neglected because his father has been so focused on the second wave.
"I know the odds are stacked against us, but maybe 2021 will be even better," Strong says.
Holt's character then announces that she and her boyfriend are engaged. "And we're moving into Rudy Giuliani," he adds.