Tina Peters Blames Election Fraud for Finishing 3rd in Colorado Primary
Mesa County, Colorado, Clerk Tina Peters, who was indicted in March on multiple charges related to a breach in her county's election system, blamed voter fraud for her third-place finish in Tuesday's Republican primary for Colorado secretary of state.
Peters, who received 28.3 percent of the vote finished third behind winner Pam Anderson, who had 43 percent, and Mike O'Donnell, who finished with 28.5 percent, according to results reported by the Associated Press.
Peters' defeat was somewhat of a surprise as she received significant support from the Colorado Republican Party Assembly and Convention, which backed her with 60 percent of the vote in April. O'Donnell also won enough support at that time to get on the ballot.
Anderson, a former Jefferson County clerk, petitioned her way onto the ballot and has publicly said there is no evidence of voter fraud in the 2020 presidential election in Colorado.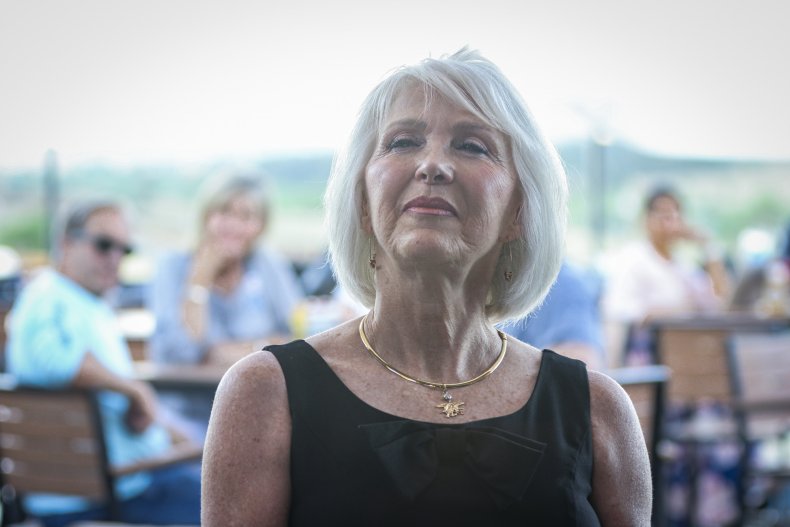 Peters was indicted by a grand jury on 10 felony and misdemeanor charges related to allegations that she allowed an unauthorized person to attend a Dominion voting machines software installation in May 2021 and that she allegedly helped an unauthorized person to make copies of hard drives of Mesa County voting machines. Peters has denied any wrongdoing.
Peters has been barred from overseeing elections in the county and has enjoyed the support of MyPillow CEO Mike Lindell, who has pushed unfounded claims about voter fraud in the 2020 presidential election.
"This is not over," Peters told supporters at an election watch party, according to a report from The Denver Post. "I'm sorry we had faith in the system once again."
Sara Wilson, a reporter with Colorado Newsline, said onTwitter that Peters also reportedly said, "We didn't lose, we just found evidence of more fraud ... they're cheating and we'll prove it once again."
Denver Post reporter Saja Hindi reported that Peters said that the results of the election were "flipped" and fraudulent.
Lindell appeared to support Peters' claim of fraud in text messages sent to The Daily Beast on Tuesday.
"Biggest fraud!!! We caught them!!!" Lindell reportedly wrote, according to The Daily Beast's report. "We caught them in their fraud!!! Prison for Dominion!"
Anderson will now go on to face incumbent Democratic Secretary of State Jena Griswold in November. Lindell has previously accused Griswold of committing "murder" before saying he meant it as an analogy.
Newsweek has reached out to Peters' campaign for comment.