The 8 Biggest Things That Have Happened in Simon Leviev's Life Since 'The Tinder Swindler'
True-crime documentary The Tinder Swindler is still dominating the Netflix Top 10 across the world and audiences are curious to know more about Simon Leviev today. As revealed at the end of the documentary, Leviev remains a free man after serving five months in an Israeli prison for various fraud-related offenses dating back to 2011.
Leviev declined to be a part of the Netflix documentary, threatening in a voice message to the team behind the documentary he would "proceed with the lawsuit" for "defamation and lies." However, as The Tinder Swindler director Felicity Morris told Newsweek, he can no longer hide behind the "guise" of Simon Leviev "the heir of the Israeli diamond fortune" anymore after his elaborate scams were uncovered for the whole world to see via Netflix.
So much has unfolded since the documentary premiered on February 2, from Leviev hopping on and off Instagram, celebrities sharing their pictures with Leviev, and more victims coming forward. Newsweek has a recap of the eight biggest things that have happened in Simon Leviev's life since The Tinder Swindler.
The 8 Biggest Things That Have Happened in Simon Leviev's Life Since The Tinder Swindler
1. More Victims Come Forward
Simon Leviev never served any prison for the crimes he committed against Cecilie Fjellhøy, Pernilla Sjoholm, and Ayleen Charlotte. Between 2017 and 2019, Leviev met Fjellhøy, Sjoholm, and Charlotte individually on Twitter, and under the pretense his life was in grave danger, was able to defraud them out of thousands of dollars.
Today, Fjellhøy, Sjoholm, and Charlotte are still campaigning for justice, even setting up their own GoFundMe page with a goal of £600,000 ($810,255). At the time of writing, they had received £125,813 ($169,901) in donations.
Fjellhøy, Sjoholm, and Charlotte are not the only women to have been scammed by Leviev between 2017 and 2019. As heard in The Tinder Swindler, Leviev is believed to have stolen an estimated $10 million over the years from numerous women.
Since the release of the documentary, Fjellhøy and Sjoholm have shared they have been contacted by others who may be potential victims of Leviev.
The Tinder Swindler's producer Bernie Higgins told Newsweek: "We are expecting to hear from more people. There are loads of stories that we found that didn't make it into the film because you know we have to hit that streamline, or we're aware of dozens and dozens more victims so if there's anything that we can do to stop him from being able to continue, then that will be something."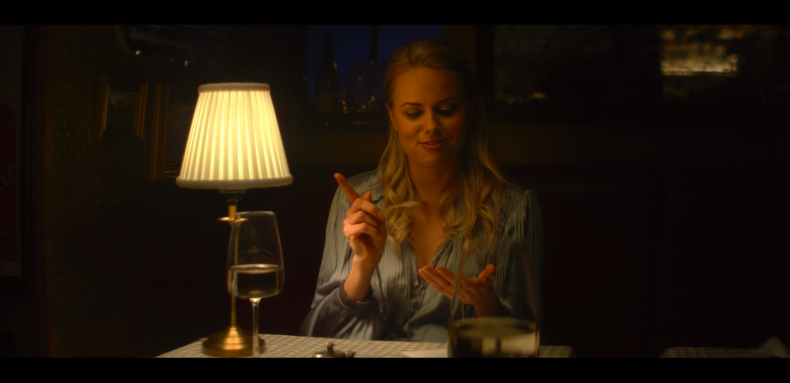 2. Leviev Disappears From Instagram After Addressing Documentary
On February 7, just five days after the Netflix documentary dropped, Leviev's Instagram account disappeared.
In an Instagram post, he had thanked his followers for their "support," writing: "I will share my side of the story in the next few days when I have sorted out the best and most respectful way to tell it, both to the involved parties and myself. Until then, please keep an open mind and heart," reports The Independent.
Leviev's Instagram account, which had been made public, returned to private and later disappeared. Whether he deleted the account or Instagram removed the account remains unknown. Newsweek has contacted Instagram for comment.
3. Tinder Removes Leviev's Profile
Just 48 hours after the release of The Tinder Swindler, the dating app Tinder confirmed to Newsweek Leviev was no longer able to use Tinder.
The statement read: "We have conducted internal investigations and can confirm Simon Leviev is no longer active on Tinder under any of his known aliases."
On February 1, a day before the documentary was released, Tinder published a set of new guidelines titled "Romance Scams: How to Protect Yourself Online."
Tinder is not the only dating site Leviev is banned from. NBC News reported shortly after the release of The Tinder Swindler, Leviev was banned from other apps under Match Group Inc, including Match.com, Plenty of Fish, and OkCupid.
4. LLD Diamonds Puts Out Statement
Using the name Simon Leviev, Israeli conman Shimon Hayut pretended to be the CEO of luxury diamond company LLD Diamonds and the son of its founder, Lev Leviev.
Under the guise of being the LLD Diamonds heir and CEO, Leviev was able to con numerous women who he had met on Tinder out of up to $10 million in total. In reality, Hayut had no connection to Lev Leviev or the LLD business.
Shortly after the release of the Netflix documentary, LLD Diamonds responded to Leviev's lies, shutting down his claims he was affiliated with the company.
In a statement to Newsweek, LLD Diamonds said: "LLD Diamonds has been a well-regarded leader in the diamond industry for three decades. Our company has no connection whatsoever with Shimon Hayut. He is a fraud who has tried to exploit our good name to con victims out of millions of dollars.
"Our sympathies go out to his victims. His fraud has also caused ongoing confusion about our company. Nothing he has said, about LLD or anything else, should be believed.
"As soon as we learned of the fraud, we filed a complaint with the Israeli police, and we hope that Mr. Hayut faces the justice he deserves."
LLD Diamond's statement is another blow to Leviev if he is still falsely claiming to be the son of Lev Leviev to other potential victims today.
5. French Montana Shares Image of Him and Leviev
"Unforgettable" rapper French Montana took to Instagram to share he had once crossed paths with Simon Leviev.
"I can't believe I met the swindler," Montana wrote on Instagram with the laughing emoji. Later reposting the image with a different caption.
In his second post, Montana poked fun at Leviev, referencing the lies Leviev would tell his victims about being in the hospital after a fight and needing money to protect him from his enemies.
He wrote: "Hey we just left the hospital. French Montana is fine again, we are fine again, but our enemies are after us. Please send 50k fast. Please," alongside several crying face emojis.
6. Cardi B Mocks Leviev on Twitter
Tweeting to her 21 million followers, Cardi B also poked fun at Leviev.
She wrote: "My enemies are after me. Please send me 100K" alongside the sad face emoji.
7. Leviev Returns to Instagram
On Valentines Day, after a one week hiatus, Leviev returned to Instagram. He also opted to make his account public, where visitors can see him living a lavish lifestyle.
In his most recent post on Monday, February 14, Leviev shared a photo of him sitting in a car with a white shirt, jeans, and blue vans.
He captioned the post: "The past few days was not easy for me . Thank you all for your love and support . I will keep fighting as I always did . ( ככל שיענו אותו כן ירבה וכן יפרוץ )"
He also posted a short story on his Instagram, where he said @simon_leviev_official was the only form of social media he used.
Leviev said in the clip: "I don't have any social media accounts but this one. No Tinder, no Instagram, no Facebook, no TikTok, nothing. Only this one. Anything else is fake."
8. The Tinder Swindler Film
According to a report by Variety, Netflix is currently in talks with The Tinder Swindler producers about turning their gripping documentary into a drama series.
Variety reported: "Sources indicate that the conversation is in early stages and that the tone of a potential film is still being worked out."
If this is the case, it looks like the story of Simon Leviev aka The Tinder Swindler is not going away anytime soon.
The Tinder Swindler is streaming on Netflix now.